Research Resources
Find resources to help guide you in your student or faculty research project development, enhance your skills, connect with the TUN research community, and share your projects.
Starting a New Project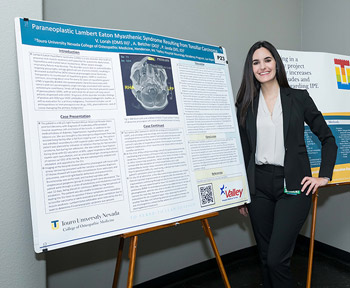 Register your research project.
All new projects must be registered and approved by the research oversight boards. Registration will ensure the Research Department can assist in reporting, planning for, supporting, and understanding your project.
Resources
Research Toolkits
Student and Faculty Research Toolkits contain resources to see a research project through to a successful presentation. Find presentation opportunities, research development plans, journal guidance, templates, and more inside the Research Toolkit.
Grants & Sponsored Programs
Dean's Research Communication Award - A

program to support the

dissemination of research and

scholarly activities

, generously funded by the Engelstad Foundation

.
Policies and Compliance
Institutional Animal Care and Use Committee (IACUC)
Institutional Biosafety Committee (IBC)

CITI Training

The Collaborative Institutional Training Initiative (CITI Program) is offered to the Touro University Nevada community through an institutional subscription. Areas of training include Health information and privacy, Good clinical practice (FDA-regulated research), Human subjects research, Animal research, and Biosafety/biosecurity.
Stay in Touch
Connect with the TUN Research community and improve your research skills through additional learning opportunities.
Campus Groups (for students)
Medical Journal Club
Improve your ability to interpret and analyze scientific information that pertains to medical practice.
Join the Medical Journal Club
Share Your Successes!
Monthly newsletters to your email inbox will detail the research that was published or presented out of TUN, as well as announcements and opportunities.
Let us know when you publish or present your work. We want to be the first to congratulate you and broadcast your accomplishment to the campus community in our newsletter. It also helps us keep better records. It's easy - just forward us your acceptance email, and we will put it in the newsletter when it is published. Contact Lori Suleski at lsuleski@touro.edu.
Join a TUN Study
If you are interested in becoming part of the TUN Research Subject Pool, you can sign up for the current school year by filling out the Research Subject Survey. If you meet the inclusion criteria for a study, you will be asked if you are interested in participating.