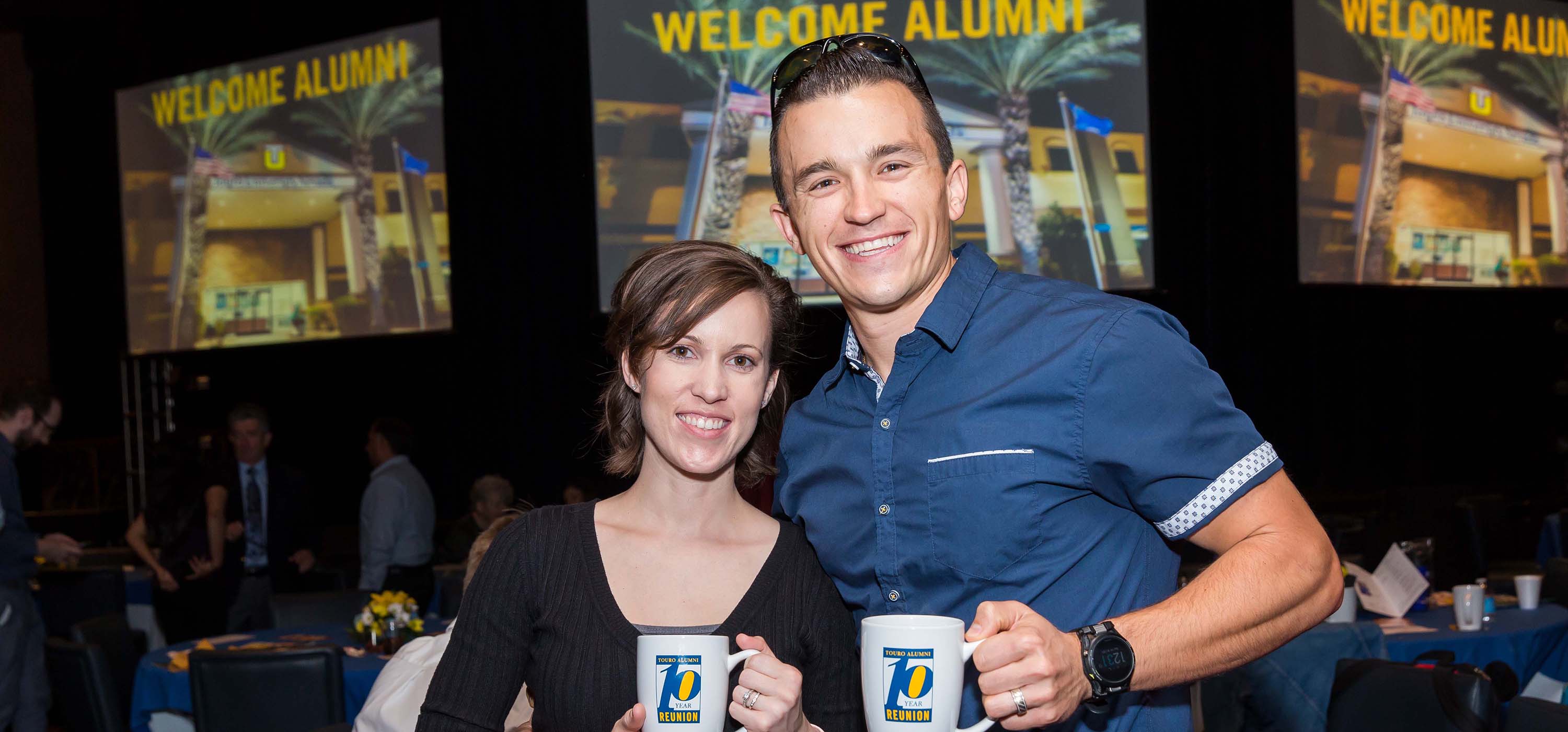 Alumni/ae
The day you crossed the stage and were handed your diploma was not your last day with Touro Nevada. It was your first day as an esteemed alumni/ae.
You are a part of a vital community, Touro Nevada is more than a place where you earned your degree. It is a place that enabled you to live the life you live today and pursue the career you love. Most of all, it is the place that provided you the foundation of how to live the Touro Nevada mission of social justice, intellectual pursuit, and service to humanity.
TUN isn't your past, we are with you here and now. It is a privilege to be a part of your journey, every step of the way.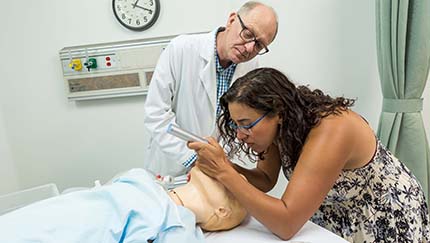 Volunteer
Use your expertise, knowledge and unique perspective in one of our volunteer opportunities.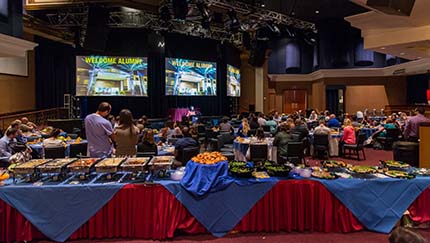 Alumni/ae Reunion
Information about the Touro University Nevada Alumni/ae Reunion is forthcoming.
Connect With TUN Alumni/ae

The Office of Alumni/ae Relations recently launched a brand new social networking platform specifically designed for TUN alumni/ae called TUNConnect. Any TUN alumni/ae can join and start networking with fellow graduates. The platform is a great way to learn more about getting involved with Touro Nevada.
Alumni/ae Resources
Alumni/ae Class Notes
Class Notes Submitted in 2020
Suzanne Roozendaal, DO 2009: Dr. Suzanne Roozendaal works in Las Vegas as an emergency physician.
Ori Devera, DO 2015: Dr. Ori Devera was named one of MyVegas Magazine's "Top 40 Under 40" professionals in November 2019.
Dr. Sandy Olguin, DNP 2015: Dr. Sandy Olguin works as an Assistant Professor of Nursing at the University of Nevada, Reno, in addition to working as a nursing faculty, Dr. Olguin is President and CEO of the non-profit Nevada Nurses Foundation (NNF), which provides scholarships and professional development opportunities for nurses across the state.
Cristina Belanger, PA 2008: Dr. Cristina Belanger is now an Assistant Professor in the Touro University Nevada School of Physician Assistant Studies. Before rejoining Touro, Dr. Belanger spent 11 years as both a hospitalist and internal medicine PA at a North Las Vegas clinic.
Michelle Reyes, DPT 2013, and Ian Gilkison, DPT 2013: Dr. Michelle Reyes and Dr. Ian Gulkison, both 2013 graduates of the School of Physical Therapy, were married on September 22.
Aaron Harward, DPT 2014: Dr. Aaron Harward has worked for FIT Physical Therapy for the last six years. He has served as director of the FIT Summit location in St. George, Utah for the past three years. He and his wife Jessica have been married for 12 years. They have two children; seven-year-old Gramm and three-year-old Ivy.
Zaki Azfal, DPT 2015: Dr. Zaki Azfal had his case report, titled "Return to Advanced Strength Training and Weightlifting in an Athlete Post-lumbar Discectomy Utilizing Pain Neuroscience Education and Proper Regression: Resident's Case Report," published in The International Journal of Sports Physical Therapy in October, 2019.
Nicky Giovine, DPT 2017, and Sam Longo, DPT 2017: Dr. Nicky Giovine and Dr. Sam Longo, both 2017 graduates of the School of Physical Therapy, were recently married.
Zaivy Matta, DPT 2017, and Logan Bretney, DPT 2017: Dr. Zaivy Matta and Dr. Logan Bretney, both 2017 graduates from the School of Physical therapy, were married on December 6.
Kyle Warner, DPT 2018: Dr. Kyle Warner and his wife Madison welcomed their second child, Brooks, on October 3rd.
Matthew Hobbs, DPT 2018: Dr. Matthew Hobbs and his wife Amber welcomed their second daughter, Haddisyn, on November 23. Dr. Hobbs was also promoted to the Director of Registered Physical therapists rehabilitation and sports clinic in Saratoga Springs, Utah.
Ryan McGiven, OT 2009: Ryan McGiven works as a certified hand therapist at a private, outpatient clinic in Layton, Utah. He and his wife have four sons" 12-year-old twins, a nine-year-old, and a seven-year-old.
Class Notes Submitted in 2019
Stephanie Persondek, DO 2010: Dr. Stephanie Persondek (nee Morbeck) recently relocated to her hometown of Spokane Valley, Wash. to work in private OBGYN practice. Previously, she worked as an OBGYN laborist at Henderson Hospital in Southern Nevada. She was recently appointed as the Director of the Women's Health clinical rotation at Rocky Vista University in Ivins, Utah. She has also been working as an item writer and reviewer for multiple exams within the National Board of Medical Examiners. Dr. Persondek has also been on faculty at America's Board Review, a company that trains OBGYNs for the written, oral, and maintenance of certification for the American Board of Obstetrics and Gynecology and the American Osteopathic Board of Obstetrics and Gynecology. She previously served as an adjunct clinical faculty at Pacific Northwest University College of Osteopathic Medicine and Midwestern University Chicago College of Osteopathic Medicine.
Tiffany Bujak, DO 2013: Dr. Tiffany Bujak is practicing flight medicine at Fort Riley Military Base in Kansas where she was recently promoted to the rank of Major. She and her husband welcomed twin boys in November 2018.
Medina Culver, DO 2015: Dr. Medina Culver came back to Southern Nevada after completing her Family Medicine residency at Montana Family Medicine, an affiliate of the University of Washington. She is a physician at Wikler Family Practice in Henderson, Nev.
Adrienne Chan, PA 2015: Adrienne Chan (nee Mar), a 2015 graduate of the Touro University Nevada PA program, married Joshua Chan on June 23, 2018.
Matthew Demas, PA 2017: Matthew Demas works as an emergency room PA for the Valley Health System in Southern Nevada.
Craig Hadfield, DPT 2013: Dr. Craig Hadfield was recently selected for a fellowship in Orthopedic Manual Physical Therapy from the American Academy of Manipulative Therapy.
Scott Harris, DPT 2015: Dr. Scott Harris received a certification in Mechanical Diagnosis through the McKenzie Institute.
Gerald Dolce, DPT 2017: Dr. Gerald Dolce was recently certified as an orthopedic clinical specialist by the American Board of Physical Therapy Specialties (ABPTS).
Laura Marsh, DPT 2017: Dr. Laura Marsh works as a physical therapist at FYZICAL Therapy and Balance Center in Las Vegas.
Logan Deroin, DPT 2019: Dr. Logan Deroin was accepted to the Evidence in Motion Sports Physical Therapy Residency in Boise, Idaho.
Kin Lok Leung, DPT 2019: Dr. Kin Lok Leung was accepted to the Orthopedic Physical Therapy Residency at Kaiser in Union City, Calif.
Sheing Lin, DPT 2019: Dr. Sheng Lin was accepted to the Orthopedic Physical Therapy Residency at Kaiser in Santa Clara, Calif.
Javaid Kham, DO 2008: Dr. Javaid Khan works at Kaiser Permanente in Marin and Sonoma Counties in the field of Allergy and Clinical Immunology. He is dually board-certified in Internal Medicine as well as Adult and Pediatric Allergy and Clinical Immunology. He lives in the Mission Bay neighborhood of San Francisco.
Jessica Zarndt, DO 2008: In October of 2018, Dr. Jessica Zarndt left her position as the Associate Team Physician for the University of Texas Longhorns and started as an Assistant Team Physician for the UCLA Bruins, as well as an Assistant Clinical Professor in the Departments of Family Medicine and Orthopaedic Surgery at UCLA's David Geffen School of Medicine. Dr. Zarndt is also proud to have matched her first D.O. into the UCLA Sports Medicine Fellowship, former Touro University Nevada student, Dr. Sabrina Sawlani. Dr. Zarndt taught Dr. Sawlani at Touro as a faculty member during the 2012-13 school year. She is very proud to be her teacher again.
Mallroy Novack, DO 2012: Dr. Mallory Novack completed her OB/GYN residency at the University of California San Francisco, Fresno (UCSF). She currently works in private practice in Montana and works as a faculty for the UCSF Fresno OB/GYN residency.
Barbara Kiersz, DO 2014: Dr. Barbara Kiersz works in a group family practice doing osteopathic manipulative treatment in Austin, TX.
Jessica Kudisch, EDU 2007: Jesica Kudisch, who graduated with a Master's degree in Special Education, is the Assistant Principal at Western High School in Las Vegas.
Dennis Dey, PA 2012: Jesica Kudisch, who graduated with a Master's degree in Special Education, is the Assistant Principal at Western High School in Las Vegas.
Mousumi Dey, PA 2013: Mousumi Dey works as a gastroenterologist PA at John Peter Smith Hospital in Fort Worth, TX.
Lindsay Casci (Nee Smith), BSN 2011: Lindsay Casci works in the PICU and Pediatrics Acute Care units at Renown Children's Hospital in Reno. She is dual certified as an Acute Care Pediatric Nurse Practitioner and a Family Nurse Practitioner. She is married with a 2-year-old daughter and has another one due in July.
Joanne Falsetta, DNP 2017: Joanne Falsetta teaches critical care/cardio-pulmonary at Grossmont Community College and recently started as a course instructor with Western Governors University.
Class Notes Submitted in 2018
Bart Anderson, PA 2008: Bart Anderson works in a myriad of specialties, including family practice, emergency medicine, and rural care. He also works as a rural firefighter, first responder, and a special officer in Lincoln County. Nev. In addition, Bart works as an EMT course instructor and a PA student preceptor at Grover C. Dils Medical Center in Caliente, Nev. He is expecting his first grandchild in December.
Cassandra Sobkiw-Kurtz, PA 2008: Cassandra Sobkiw-Kurtz works in emergency medicine at AtlantiCare Health System. She moved to Egg Harbor Township, N.J. three years ago. She and her husband have two kids, 6-year-old Madison and 2-year-old Bradyn.
Adrienne Mar, PA 2015: Adrienne Mar works as a primary care physician assistant in Los Angeles. Since graduating from Touro, she's worked with the underserved community of Boyle Heights at the Los Angeles Christian Health Center. She also serves the Spanish-speaking and under-insured populations at Pico Alison Community Clinic and Gateways Percy Village in L.A.
Nick Sidwell, OT 2008: Nick Sidwell runs his own pediatric occupational therapy clinic in Layton, Utah. Opening his own business was a dream of his ever since he studied at Touro, and he is extremely proud that his clinic has grown exponentially over the last few months. He is looking to add therapists to his clinic, specifically those who specialize in animal assisted therapy, play-based therapy, sensory focusing, martial arts therapy, and PUSH therapy.
Alesha Scott, DO 2011: Alesha Scott is an Orthopedic Trauma Surgeon working at Bryan Health, the busiest of only two Trauma Centers in Nebraska, and the home of Advanced Trauma Life Support (ATLS). Before moving to Lincoln, she completed her orthopedic surgery residency through Michigan State University in Pontiac, Michigan, and her orthopedic trauma fellowship at the University of Kentucky in Lexington. Alesha serves as her institution's Orthopedic Liaison for the trauma performance improvement and patient safety (PIPS) program. She is board-eligible and on-track to certify with the AOBOS. She enjoys teaching PA/NP students and medical residents the fundamentals of orthopedics.
Chadwell Vail, DO 2014: Chadwell Vail recently became a fellow of the American College of Osteopathic Internists. He serves as the Director of Medical Education and Vice Chairman of Internal Medicine at Phelps County Regional Medical Center in Rolla, Mo.
Karen Nelson, DO 2014: Karen Nelson is a fifth-year orthopedic surgery resident at Henry Ford Macomb Hospital in Michigan.
Keith Reisinger-Kindle, DO 2016: Keith Reisinger-Kindle is in the third year of his OB/GYN residency at Baystate Medical Center at the University of Massachusetts. He is also the District 1 Junior Fellow Vice-Chair of the American College of Obstetricians and Gynecologists (ACOG).
Whiitney Williams, DO 2018: Whitney Williams is entering her first year of residency at the University of Kansas School of Medicine – Wichita Family Medicine Residency Program at Wesley Medical Center.
Kathryn Kolonic, DO 2009: Kathryn Kolonic works as the Corporate Medical Director for Marquis Companies and AgeRight in Portland, Oregon. She also serves as the Medical Director for Mt. Hood Hospice in Sandy, Oregon. After graduating from Touro, Kathryn finished her residency in Las Vegas where she practiced in primary care for nearly six years. In Oregon, Kathryn also volunteers with the Oregon Academy of Family Physicians (an organization that provides scholarships for primary care students and residents) where she serves as President of their foundation board. She and her husband Andjrijano "Dino" Kolonic (OT11) live in Milwaukie, Oregon with their two children.
Travis Synder, DO 2009: Travis Snyder completed his Radiology residency at McLaren Macomb in Michigan and his Neuroradiology fellowship at the University of Miami. He has since returned to Southern Nevada to practice at SimonMed Imaging in Las Vegas. Travis also serves as an assistant adjunct professor of Radiology and Neuroradiology at Touro University Nevada. He has a special interest in teaching rotating medical students, lecturing, and research on advanced imaging techniques for traumatic brain injury and carbon monoxide poisoning.
Matt Weigand, DO 2010: Matt Weigand completed his residency at the Henry Ford Macomb Hospital in Clinton Township, Michigan. An AOBEM board-certified physician, Matt works for Baylor Scott & White Health in Round Rock, Texas.
Stephanie Persondek (Nee Morbeck), DO 2010: Stephanie Persondek has spent the last three years in Yakima, Washington where she practiced as an OB/GYN at a federally qualified health center and served on faculty at the Pacific Northwest College of Osteopathic Medicine as a preceptor. After she becomes board certified in the Fall, she and her husband plan to move back to Nevada where she will work as a laborist at Henderson Hospital. She enjoys teaching for ABC board review as well as item writing for the COMLEX and COMAT at NBOME. She and her husband recently completed travel to all seven continents, a life dream of hers.
Chadwell Vail, DO 2011: Chadwell Vail served as the Chief Resident at Carolinas Health care System-Blue Ridge in Morganton, North Carolina from 2013-14. Currently, he serves as the Director of Medical Education and Vice Chair of Internal Medicine at Phelps County Regional Medical Center in Rolla, Missouri. He is also an adjunct clinical assistant professor of internal medicine at ASU-KCOM and KCUMB.
Christine Kha, DO 2015: Christine Kha works as the Chief Resident of her internal medicine residency program at Trios Health in Kennewick, Washington. She will begin her endocrinology fellowship training at NYCOMEC/Coney Island Hospital in Brooklyn, N.Y. in July.
Catherine Taosuvanna (Nee Nguyen), PA 2010: Catherine Taosuvanna lives in Orange County, California and works in Orthopedic Spine Surgery with St. Jude Heritage Medical Group in Fullerton. Catherine married her high school sweetheart in 2014 and they had their first child in 2017.
Clayton Halford, PA 2015: Clayton Halford is a board-certified physician assistant working in rural medicine in Texas. Currently, he specializes in trauma.
Sara Taraborelli, PA 2017: Sara Taraborelli has worked as an internal medicine physician assistant at MIHS Comprehensive Health care Center in Arizona since January. After graduation, she received the NHSC scholarship that involves working with the underserved at an urban or rural clinic.
Janet Van Gelder, DNP 2010: Janet Van Gelder is the Director of Quality and Regulations at Tahoe Forest Hospital District in Truckee, California, an organization she has worked with in several roles since 1994. She and her husband, Bob, have three children: Erica, Marc, and Amy, who are all avid soccer players. She also has two pugs, Rosie and Ozzy. She and her family enjoy snow skiing, cycling, and water sports.
Geraldine Clark-Hall, DNP 2014: Geraldine Clark-Hall works as the Preoperative Director of Kaiser Permanente in Woodland Hills, California. She is also a member of Sigma Theta Tau International.
Robin Kirschner, DNP 2015: Robin Kirschner lives in Gilbert, Arizona where she works as the national dean of the MSN specialty tracks for the Chamberlain University College of Nursing. She is currently a candidate for president of the American Nurses Association, an organization that represents 3.6 million nurses.
Sandra Olguin, DNP 2015: Sandra Olguin teaches in the graduate and undergraduate nursing programs at the University of Nevada, Reno. While attending Touro, she and several colleagues established the Nevada Nurses Foundation (NNF) where she has served as CEO since its inception. The NNF has recognized more than 500 nurses and awarded nearly $70,000 in scholarships.
Dassy Kofman, OT 2007: Dassy Kofman works as an occupational therapist in New York. As a business owner, she has private contracts with the Board of Education for preschool and school-age programs in Manhattan and the Bronx. During her spare time, she takes education classes and collaborates with other therapists.
Stephanie Anderson (Nee Newman), OT 2010: Stephanie Anderson lives in Las Vegas where she specializes in medically complex pediatric care. She works as the Regional Director of Rehab for Care Meridian and serves as the co-vice president of the Nevada Occupational Therapy Association. She is also an adjunct faculty member at Touro University Nevada and is married with a son.
Class Notes Submitted in 2017
Brian Enriquez, DO 2008: Brian Enriquez works as an Urgent Care Physician in Abingdon, Virginia. He and his wife have one daughter.
Sartaj Kadiwala Siddiqui, DO 2008: Sartaj Kadiwala Siddiqui works as a Neonatologist with Onsite Neonatal Partners, Inc. in Texas.
Esha Behl, DO 2009: Esha Behl is a Perinatologist at Rochester General Hospital in Rochester, New York. After graduating from Touro, he completed his OB/GYN residency at Michigan State University's SJMO Hospital in Pontiac, Michigan where he also completed his Maternal Fetal Medicine fellowship. He is a board-certified OB/GYN and is married with two daughters.
Taleen Akopian, DO 2013: Taleen Akopian works as an Internist in Southern California. After graduating from Touro in 2013, she completed an internal medicine residency program at Huntington Memorial Hospital in Pasadena where she served one year as chief resident.
Barbara Kiersz, DO 2014: Barbara Kiersz is an Attending Physician at a multi-specialty group in Austin, Texas. During her residency, Barbara was appointed as the first Wellness Chief Resident where she focused on building resiliency and burnout prevention among residents and faculty. She received the Society of Teachers of Family Medicine Outstanding Teacher in Residency Award; the Outstanding Resident Community Involvement Award; and Departmental Award for Research. In addition, she was the scholarship recipient for a Cranial Academy annual course and was appointed the Resident Representative for the Texas Academy of Family Physicians' Commission on Health Care Services and Managed Care.
Heather Wells, DO 2014: Heather Wells works in a rural outpatient clinic for Sacred Heart Medical Group/Ascension in Wewahitchka, Florida. After finishing medical school, she attended a Family Medicine Residency in Minnesota with the University of Minnesota/Mankato in affiliation with the Mayo Clinic.
Sabrina Sawlani, DO 2016: Sabrina Sawlani is in a Family Medicine Residency at the Presence Resurrection Medical Center in Chicago, Illinois. She plans to pursue a Sports Medicine Fellowship upon completion of her residency.
Stephanie Wallace, PA 2007: Stephanie Wallace (née DeJarnett) is the Site Director for a Women's Center in San Diego where she has worked for the last nine years. After graduating from Touro, she completed a post-graduate OB/GYN residency at Arrowhead Regional Medical Center in Colton, California. She and her husband married in 2010 and have three beautiful daughters: Liana, 3; Juliet, 2; and Eliza, 3 months.
Mousumi Dey, PA 2013: Mousumi Dey works as a G.I. Physician Assistant at the University of Northern Texas Patient Care Center in Fort Worth where she runs the Hepatitis Clinic and mentors DO, PA, and MPH students. She is married to Dennis Dey, a fellow graduate of Touro's PA program. Together, they have two sons. Their oldest son, Atish Dey, graduated from the Touro University Nevada College of Osteopathic Medicine in May and is in the first year of his residency at Arrowhead Community Hospital in California. Their younger son works as an Economist in London. Mousumi is also a fellow of the American Association of Physician Assistants and a member of the American Association for the Study of Liver Diseases.
Melissa Arcella, PA 2014: Melissa Arcella is employed by Envision where she practices Emergency Medicine in the Emergency Department of the Valley Health Systems. She lives in Henderson and has two amazing children who keep her very busy outside of work.
Cory Hatch, BSN 2009: Cory Hatch works as a Nurse Anesthetist in Spokane, Washington. After graduating from Touro, Cory worked as a Cardio-Thoracic ICU Nurse at Sunrise Hospital in Las Vegas for three years. He later joined the U.S. Army Nurse Corps as an Officer in the U.S Army Reserves and graduated with a MSN as a CRNA in 2015. In 2017, he served one deployment as a CRNA. He is married with four beautiful daughters who occupy all of his time after work.
Mary Lawson Carney, DNP 2016: Mary Lawson Carney works as Indiana's State Associate Director of Nursing for Western Governors University. In her role, she directs the pre-licensure BSN program, a unique competency-based program that produces new nurses to meet the increasing demand for RNs.
Stephanie Trombley, OT 2013: Stephanie Trombley (née Perry-Brideau) works in both pediatrics and home health in Michigan. She also launched her own Occupational Therapy LLC with a heavy focus on early intervention and pediatrics.
Lauren Hawkins, OT 2016: Lauren Hawkins works as a Lead Occupational Therapist in the acute inpatient rehabilitation unit at Bryan West Hospital in Lincoln, Nebraska.
Contact Us
Office of Alumni/ae Relations
Monday-Thursday
8:00 AM-5:00 PM