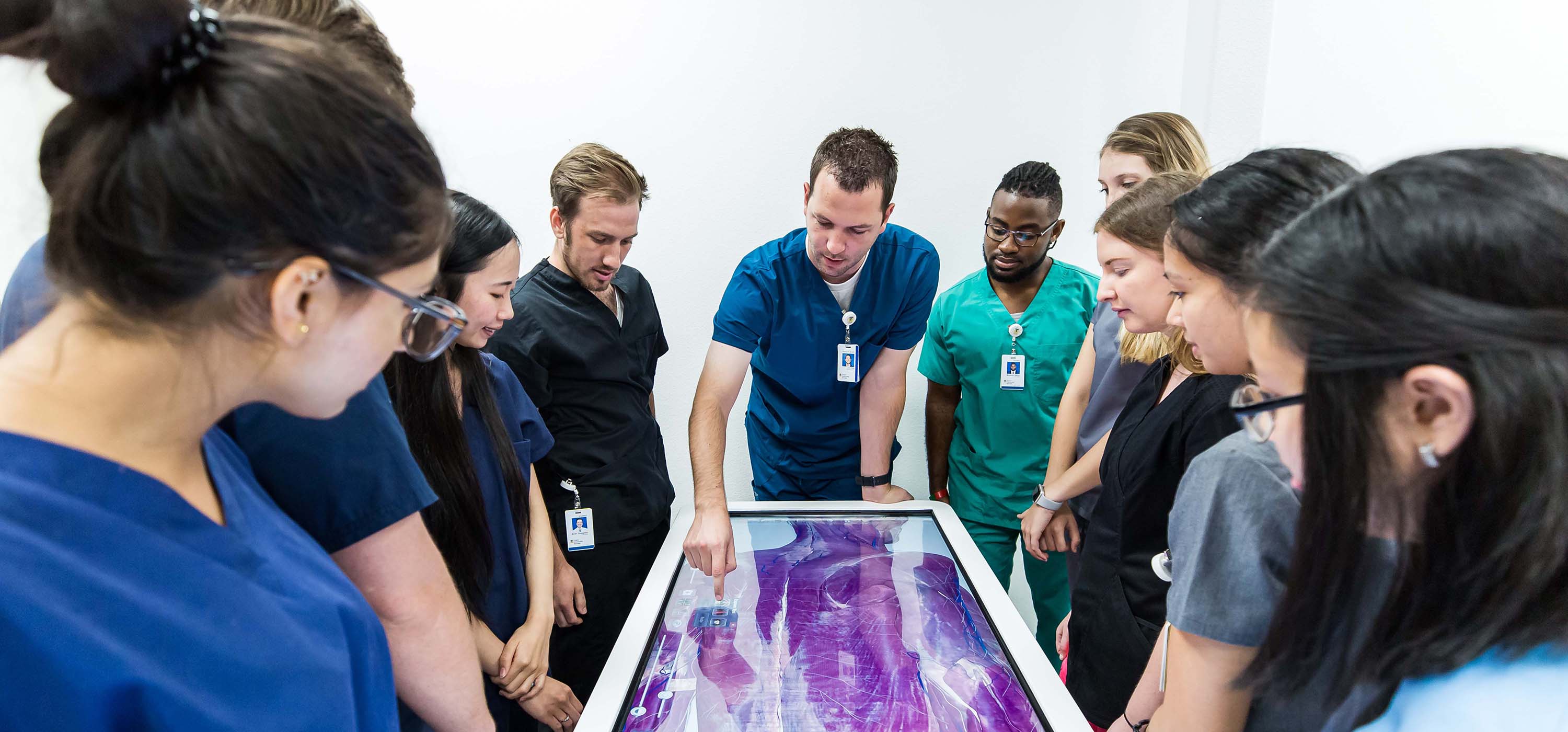 Occupational Therapy
At Touro Nevada, you will join the longest accredited occupational therapy doctoral degree program in the state. You will thrive in a group setting while learning about this dynamic, growing field that provides a pathway to help solve everyday challenges for patients of all ages. You will learn how to positively impact the ability of clients to do the daily tasks of living.
Touro University Nevada's School of Occupational Therapy offers the only occupational therapy doctoral degree in the state of Nevada, educating students to be adept at making a positive impact on a diverse array of patients. Our faculty are committed to seeing our students succeed, with an open door policy that establishes a critical line of open communication and academic support.

"Our faculty and our students are really close, so they really foster an environment where we can go in as students and ask questions and ask for advice just about school and practice wise as well so it's a really warm environment to be in. "

"The faculty really help us to succeed both in the classroom, out in fieldwork, and in our lives as a whole as future occupational therapy practitioners. They really want us to succeed. Their open door policy is really an open door policy. They know each of us I think on a deeper level than just a student in a lecture hall."

The School of Occupational Therapy utilizes multi-format classes, including lecture, discussion, web enhanced modules, collaborative groups, and interactive laboratories.

"More days than not we are doing something hands-on. We usually have some kind of lecture portion, but then we're really moving over to the back of the classroom where all the fun OT equipment is, and we're working on different case studies with our partners, or practicing different transfer techniques, or working with different assistive technology, or medical equipment. We're really practicing what we've learned in the lecture prior."

"So I really enjoy the hands on experience that we get in the occupational therapy program, especially having that experience with our fellow peers, just because we can give each other advice and provide each other with encouragement on how to interact with these standardized patients and it really helps us when we go out to our fieldwork, and then eventually out to practice."

The Touro campus is designed to provide a supportive community environment for students every step of the way, from their White Coat Ceremony through graduation. Our School of Occupational Therapy is one of the first schools in the country that has made the transition to offer only the entry level doctorate, leading the way with a program that focuses on advanced clinical practice, research, administration, leadership, program and policy development, efficacy, and education skills. Each year, we look forward to welcoming a new cohort of passionate, driven students who share our commitment to improving healthcare. A group of future medical professionals, and leaders, who's journeys all begin right here. See yourself here at Touro Nevada.
OT Program Features
Your classroom setting will be defined by engaging and challenging hands-on learning. You will grow personally and professionally in a group setting at Touro Nevada.
In April 2018, the School of Occupational Therapy achieved a seven-year full accreditation for the entry-level doctorate degree by the Accreditation Council for Occupational Therapy Education (ACOTE) of the American Occupational Therapy Association (AOTA), located at 6116 Executive Boulevard, Suite 200, North Bethesda, MD 20852-4929. ACOTE's telephone number, c/o AOTA, is 301-652-AOTA and its web address is www.acoteonline.org.
You can view school performance data at National Board for Certification in Occupational Therapy (NBCOT) School Performance.
OTD Tuition and Fees Information (This includes fees associated with distance education.)
You will extend and refine your knowledge in a specific area of study during the 14-week Doctoral Capstone Experiential Component. You will enhance your professional development through community interaction and faculty-led mentoring.
Our Students
Pass rate on the National Board Exam for 2018, 2019, 2020, and 2021
Employment rate of graduates within 6 months of graduation/passing NBCOT
Admission Requirements
Touro Nevada was established to help address critical needs in healthcare and education, and as a resource for community service in the state of Nevada. Come be a part of our family.
Requirements Overview
Baccalaureate degree or higher
Cumulative GPA of 3.0 or higher
Prerequisites of human development, abnormal psychology, psychology, anatomy w/lab, physiology w/lab, statistics, humanities, natural science, and writing/composition
Two letters of recommendation
Shadowing or volunteer experience (recommended)
GRE is not required
Application & Requirements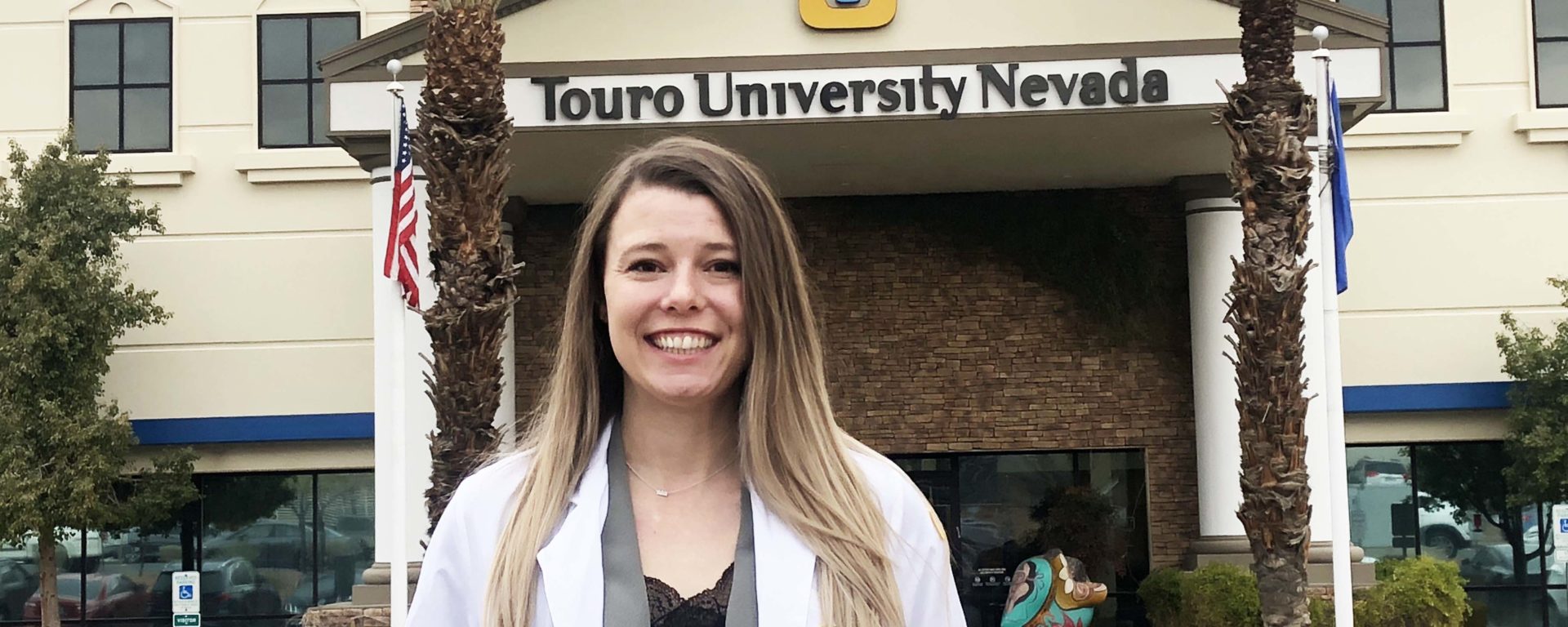 You are joining a community of motivated and successful leaders in the healthcare field.
Touro Nevada Stories
Frequently Asked Questions
What is occupational therapy?
Occupational therapy is a healthcare profession that helps individuals participate in meaningful occupations so they can live their lives with the highest possible functional performance.
What do occupational therapists do?
Occupational therapists provide highly skilled, individualized evaluations of clients and provide holistic care to help improve their daily function so they can live life to the fullest. Occupational therapists work with clients to understand what is most important to them, to prioritize intervention, and promote health and wellness physically, mentally, and emotionally.
Which specialties can occupational therapists work in?
Occupational therapists can work in several specialties, including pediatrics, geriatrics, behavioral health, community-based, and more. Occupational therapists can also receive certifications in stroke, behavioral rehab, driving rehab, hand therapy, animal therapy, and more.
How much do occupational therapists make?
It depends on the region and area of practice, but the general range for an occupational therapist's salary is between $70,000-$105,000. Salaries are closer to $70,000 after graduation but will increase with more experience in the field.

Occupational therapists in Nevada make the highest hourly and annual mean wages of any state in the country, according to the most recent data from the Bureau of Labor Statistics.
How do I start my career in occupational therapy?
Complete your undergraduate prerequisites concurrent with observing different occupational therapy settings which will help you get accepted into an accredited Occupational Therapy program. For additional information on Touro University Nevada's OTD program, please contact the Office of Admissions.
Why should a student pursue an Occupational Therapy Doctorate instead of a Masters?
In the Occupational Therapy Doctorate (OTD), students have the chance to learn several advanced skills, including program development, fiscal management, leadership, and research. These skills are more advanced with an OTD than through the Master's program. Practitioners with an OTD have more opportunities to take on leadership roles, pursue academia, and research opportunities.
The OTD also offers more opportunities for faster upward mobility in the profession.
Meet Our Director
Thank you for your interest in the Occupational Therapy Doctorate program (OTD) at Touro University Nevada.
As a future occupational therapist, you have shown the commitment to providing quality care to your clients. At Touro Nevada, our graduates are prepared with the skills in client care, entrepreneurship, leadership, and confidence to make a difference in the lives of everyone they work with.
We know you want to make a difference in the field as an occupational therapist. At Touro Nevada, we will work with you every step of the way to help you achieve your goals.
We have revised our curriculum to allow our students more balance to enhance their academic goals and participate in personal occupational opportunities outside the classroom. The emphasis we put on the capstone component of the OTD will help you strengthen your skills as a future occupational therapist.
At Touro Nevada, we pride ourselves on our open-door policy. Our renowned faculty are kind, sympathetic, and passionate about seeing our students succeed in the classroom and out in the community.
I encourage you to learn more about our OTD program here at Touro Nevada. I hope you will submit your application and take this exciting next step in pursuing a career as an occupational therapist.
All my best,
Shannon Martin, OTD, OTR/L, BCG
Our Mission
The values of social justice, intellectual pursuit, and service to humanity of Touro Nevada provide the foundation for the School of Occupational Therapy. Our graduates are grounded in an occupation-based perspective of health, skilled in therapeutic techniques, and educated to be both consumers and contributors to evidence-based practice. The occupational therapy program emphasizes respect for values, a recognition of needs and challenges, and strong leadership skills.
---
We value the safety of all members of the Touro University Nevada (TUN) community. The TUN Annual Security Report provides crime statistics for the prior three years, policy statements regarding various safety and security measures, campus safety awareness and prevention program descriptions, and other important safety information. A paper copy of the document is available at the Dean of Student's Office or by calling Dean of Students at 702-777-1761 or electronically.
Here For You
Your goals are supported at Touro Nevada. You can receive academic and personal support, get involved in clubs and organizations, and enjoy life in Southern Nevada.
Life at Touro Nevada
Technology & Facilities
Touro Nevada understands that innovation in technology and our facilities are a vital component to your success. Investment into equipment, technology, classrooms are on-going and part of Touro Nevada's commitment to students.
Explore Campus Facilities
Your Faculty
Your Touro Nevada faculty are more than professors. They are leaders in their respective fields. You will also be supported by staff who are dedicated to students and the university.
Your Faculty & Staff