Student Involvement
You are more than a student and the classes you take at Touro Nevada. Participate in student-led organizations or serve on university committees to enhance your experience. Build life-long peer and professional relationships initiated and inspired by you.
Enrich your extracurricular life, take part in student-led events, and make new connections when you get involved at Touro Nevada. You will meet your fellow students outside of the classroom during intramurals, seminars, lectures, debates, dinners, banquets, trips, student government, and student groups. Blood drives, sporting events, mixers, and fundraisers are just a few ways to participate during your time here.
Plan an event customized by you by reaching out to your faculty advisor and emailing the Office of Student Involvement.
Volunteering & Community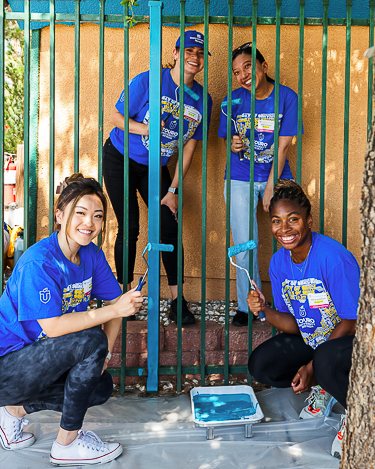 As a student at Touro Nevada, you play an important role in Touro's commitment to community health and service. You will have the opportunity to provide healthcare, counseling, meals, and job aid to Southern Nevada residents alongside university faculty and staff. Join Touro's mission to serve our community by speaking to youth, raising funds, or facilitating environmental clean-up.
Prepare for your future clinical rotations, deepen relationships, and build connections by volunteering at university initiatives such as the Mobile Healthcare Clinic, Project Homeless Connect, or the Stallman Touro Clinic at the Shade Tree.
Read Touro Nevada Stories of Outreach
Student Organizations & Interest Groups
Through student organizations, you have the opportunity to plan and launch university events, encourage student collaboration and leadership development, and learn valuable leadership skills to enhance your personal and professional relationships at Touro Nevada. Organization opportunities include managing and coordinating events such as commencement, pinning, and white coat ceremonies.
Medical Interest Groups
ACOFP – American College of Osteopathic Family Physicians
ACOS-MSS - American College of Osteopathic Surgeons Medical Student Section
AIG – Anesthesiology Interest Group
AMA-MSS – American Medical Association-Medical Student Section
AMSA – American Medical Student Association
AMWA – American Medical Women's Association
AOASM – American Osteopathic Academy of Sports Medicine/Student American Osteopathic Academy of Orthopedics
AOCPMR - PM&R Interest Group
APAMSA – Asian Pacific American Medical Student Association
CIG - Cardiovascular Interest Group
CMDA - Christian Medical and Dental Association
CLM - Community and Lifestyle Medicine
DIG – Dermatology Interest Group
EMIG – Emergency Medicine Interest Group
EM - Exploring Medicine Interest Group
GIG – Geriatrics Interest Group
GHCO - Global Health & Community Outreach
HAPSIG - Health Administration & Policy Student Interest Group
LMSA - Latino Medical Student Association
MSFC – Medical Students for Choice
MMIG - Military Medicine Interest Group / Association of Military Osteopathic Physicians and Surgeons (AMOPS)
NAHA - Native American Healthcare Ambassadors
NPSIG - Neurology and Psychiatry Student Interest Group
OIG – Oncology Interest Group
OMSGA - Osteopathic Medical Student Government Association
OSMIG - Orthopedics and Sports Medicine Interest Group
PIG - Pathology Interest Group
PCCAII – Pulmonary Critical Care, Allergy & Immunology Interest Group
PEDS – Pediatrics Interest Group
PMRIG – Physical Medicine & Rehabilitation Interest Group
PHPIG - Public Health and Policy Interest Group
RIG – Radiology Interest Group
RHC - Rainbow Health Coalition
SAMSA – South Asian Medical School Association
SAOAO – Student American Osteopathic Academy of Orthopedics
SAOG – Student Association of Obstetrics & Gynecology
SNMA – Student National Medical Association
SNAC - Student Nutrition Action Collection
SOIMA – Student Osteopathic Internal Medicine Association
SOSA – Student Osteopathic Surgical Association
SOTA - Student Occupational Therapy Association
SSP – Sigma Sigma Phi
TUN-LMSA - TUN Latino Medical Student Association
WEM - Wilderness Emergency Medicine
Special Interest Groups
Alcohol and Other Drug Committee
CMDA – Christian Medical and Dental Association
DPTSGA - Physical Therapy Student Government Association
inTUN – TUN Performing A cappella
LMSA - Latino Medical Student Association
LDSSA – Latter-day Saint Student Association
MABIG - Martial Arts and Boxing Interest Group
MHSSGC - Medical Health Sciences Student Government Association
MJC - Medical Journal Club
MSC - Medical Spanish Club
Muslim Student Association
Nutrition Club
OTDSGA - Occupational Therapy Doctorate Student Government Association
PASGA - Physician Assistant Student Government Association
PTE - Pi Theta Epsilon
PHPIG - Public Health and Policy Interest Group
Sigma Sigma Phi
SNAC - Student Nutrition Action Collective
SS - Student Senate
TUN JSA - TUN Jewish Student Association
TUN Student to Student Outreach
UC- Ultrasound Club
WMIG – Wilderness Medicine Interest Group
Student Government
Become a part of the Student Government Association and be a respected voice for students. Through this dynamic organization, you take part in student council, student senate, or be a class officer to help create policies, and plan activities for your peers while gaining valuable experience that will enhance your academic experience.