Michael Tang Regional Center for Clinical Simulation
In our state-of-the-art medical simulation facility, we provide realistic learning opportunities for the next generation of healthcare providers. You will develop your medical knowledge, patient care, professionalism, and communications skills in our educational center.
Facilities and Training
Our students gain hands-on experience through The Michael Tang Regional Center for Clinical Simulation. You will be prepared to treat your patients with simulations using patient actors, manikins, task trainers, and more at our 18,000 square foot facility.
Facilities: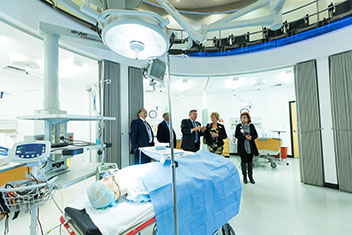 Six-bed multifunctional hospital unit with an observation deck
11 standardized patient (OSCE) rooms with A/V system
85 seat lecture hall
50 person common area
Kitchen
Training Equipment: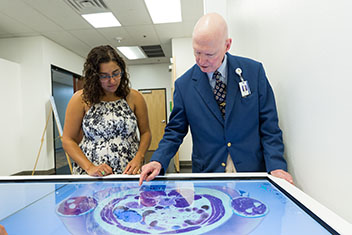 Anatomage Table
Student Auscultation Trainer
SimMan Essential
Task Trainers

Abdominal examination trainer
PROMPT FLEX Birthing Task Trainer
Knee Aspiration and Injection Trainers
Shoulder Injection Trainer
Venipuncture Arm Task Trainer
Breast Examination Trainer
Clinical Female Pelvic Trainer
Clinical Male Pelvic Trainer
Rectal Examination Trainer
Eye Examination Trainer
Ear Examination Trainer
Contact Us
Michael Tang Regional Center for Clinical Simulation
702-777-3909
The facility is available to the public. Please contact David Clegg for additional information and pricing.
Monday-Thursday
8:00 AM-5:00 PM