Michael Tang Regional Center for Clinical Simulation
In our state-of-the-art medical simulation facility, we provide realistic learning opportunities for the next generation of healthcare providers. You will develop your medical knowledge, patient care, professionalism, and communications skills in our educational center.
Mission Statement
To develop, deliver, and evaluate pre-clinical, graduate, and interprofessional healthcare simulation education and training activities for students, faculty, staff, and clinical practitioners through simulation techniques, training technology, and practice assessment to enhance competencies and strengthen collaborative practice.
The Basic Assumption
We believe that everyone participating in activities at Touro University Nevada is intelligent, capable, cares about doing their best and wants to improve.™ - The Center for Medical Simulation
Accreditation
The Michael Tang Regional Center for Clinical Simulation (Center) has been awarded provisional accreditation from The Society for Simulation in Healthcare (SSH), and is working towards earning full accreditation, a recognition currently held by fewer than 180 simulation programs around the world.
Facilities and Training
Our students gain hands-on experience through The Michael Tang Regional Center for Clinical Simulation. You will be prepared to treat your patients with simulations using patient actors, manikins, task trainers, and more at our 18,000 square foot facility.
Facilities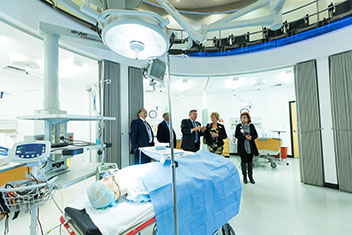 Six-bed multifunctional hospital unit with an observation deck
20 standardized patient (OSCE) rooms with A/V system
OptumCare Ultrasound Training Facility with nine beds
75 seat lecture hall
50 person common area
Kitchen
Three simulation suites
Three debriefing rooms
Training Equipment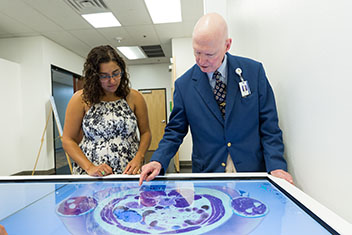 Anatomage Table
Victoria Obstetric Simulator
SimMan Essential
SimMan 3G
SimMan 3g Plus
Standardized Patients
Student Auscultation Trainer
PROMPT FLEX Birthing Task Trainer
Knee Aspiration and Injection Trainers
Shoulder Injection Trainer
Venipuncture Arm Task Trainer
Wound Packing
Tourniquet Trainers
IO Trainers
Breast Examination Trainer
Clinical Female Pelvic Trainer
Clinical Male Pelvic Trainer
Rectal Examination Trainer
Eye Examination Trainer
Ear Examination Trainer
Catheterization Trainer
Intubation Trainers
Abdominal Exam Trainers
Courses
Basic Cardiac Life Support - Learn how to react in life-threatening emergencies with the proper basic life-saving skills. This course is available upon request.
Advanced Cardiac Life Support - Be prepared to care for a patient experiencing a cardiac emergency with the advanced techniques taught in this course available upon request.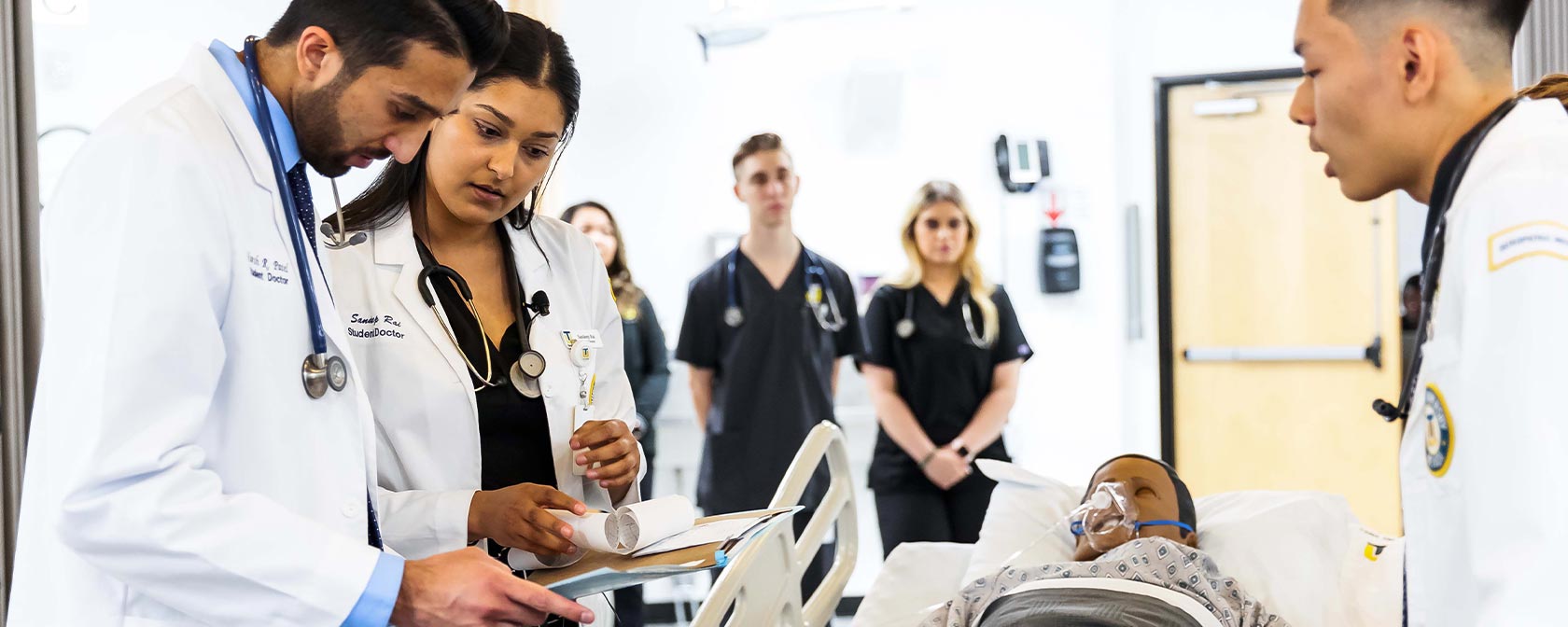 You are joining a community of motivated and successful leaders in the healthcare field.
More News and Stories
Tang Center Forms, Guides, and Resources
The forms, guides, and resources are for faculty members.
Standardized Patient Experience
Touro Nevada uses standardized patients as a simulation tool to teach and evaluate our students. A Standardized Patient is a person who is trained to portray a patient in a medical scenario by acting out the symptoms, characteristics, and concerns of a real patient. The standardized patient is given a case based on a real patient and is interviewed or examined as if in a doctor's office or clinic.
Contact Us
Michael Tang Regional Center for Clinical Simulation