Commencement
We are pleased to announce the date for the 2021 Spring Commencement Ceremony celebrating the graduates of the College of Health and Human Services programs. TUN is excited to share that we will be able to have an in-person ceremony this year. Congratulations Class of 2021!
2021 Spring Commencement Ceremony - College of Health and Human Services Class of 2021
Monday, June 21, 2021 1pm Thomas & Mack Center
Ceremony Information: While this ceremony will be different than in the past, including limited tickets and social distancing measures observed at all times, we believe we can celebrate our graduates' milestone while still prioritizing the health and safety of all attendees. To ensure proper social distancing, students are limited to 12 tickets each. Students will be emailed a link to request tickets that can be transferred to their guests. Masks must be worn at all times while in the Thomas and Mack. For guests who cannot attend in person, the ceremony will be livestreamed via the Touro University Nevada YouTube channel. The link will be posted to this webpage and the social media pages on the morning of the ceremony. While no food is allowed in the arena, guests are encouraged to bring their own water bottles. Concessions will not be open during the event due to current COVID-19 restrictions.
You can watch the ceremony on our YouTube channel: https://youtu.be/k-Xtwe1EKYc.
Touro holds a winter and spring commencement ceremony each year. There are a number of responsibilities and requirements, from applying for graduation to ordering your cap and gown, that need to be completed to ensure this final step is as seamless as possible.
A comprehensive list of information is provided to help facilitate your graduation process. From announcements to photographs, the information is here for you.
June 2021 Commencement Ceremony
Frequently asked questions for students, faculty, and staff.
Parking
Parking is available in any flat lot or the parking garage in spaces not designated for staff or students.
Guests enter from one of 2 stairway entrances (Guest entrance color is indicated on the electronic ticket from UNLVtickets.com. Be sure your guests enter using the correct entrance!)
The garage is the closest parking to the entrance for graduates.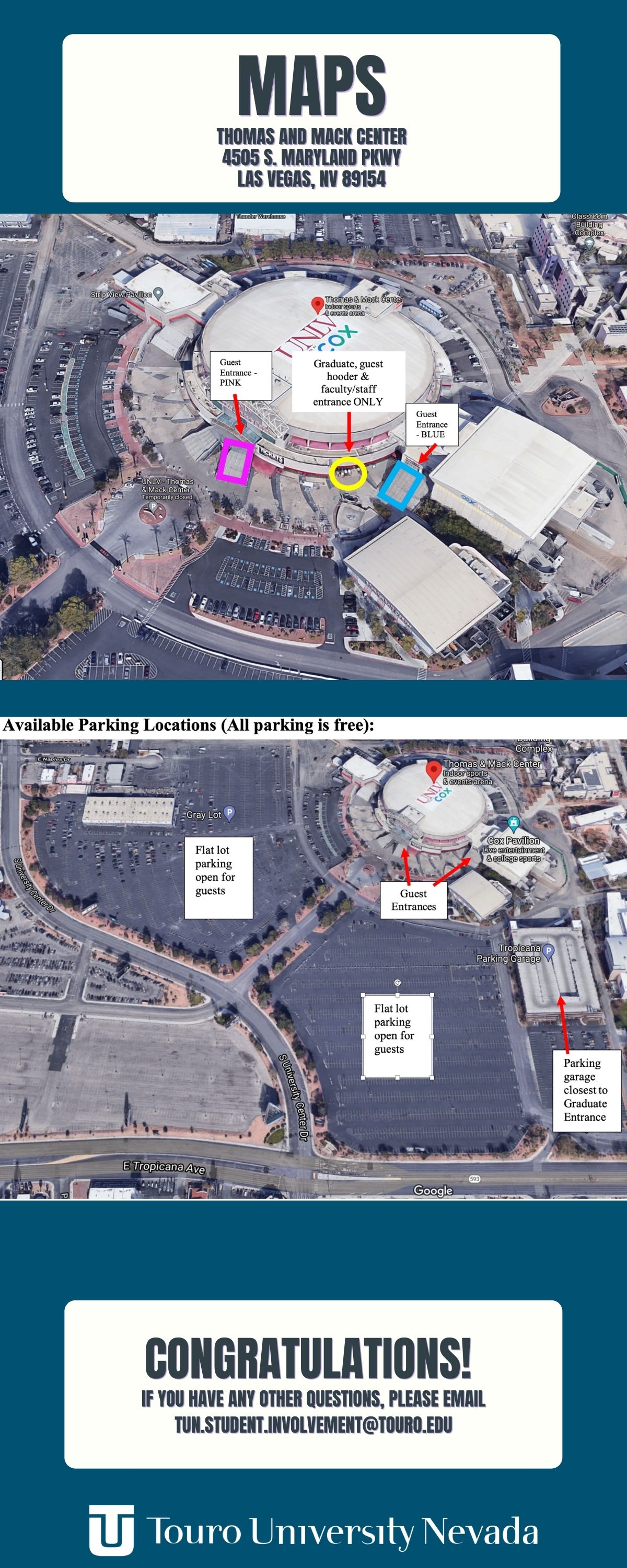 Guest Hooder Training
REQUIRED TRAINING - Starts promptly at 11:10 AM. All guest hooders must be checked in by 11:00 AM for training.
Masks and Social Distancing
All graduates, faculty, staff, hooders, and guests MUST wear a mask at all times.
Except for bottled water, no outside food or beverages will be allowed in the arena due to COVID-19 restrictions.
When You Arrive
Students should bring their cap, gown, and hood with them to the ceremony ready to wear. Once the graduates check in, they will immediately go to the photo room to get their professional photo taken.
YOU WILL NOT WEAR YOUR CAP/TAM in the photo! Please do NOT pin your cap/tam to your hair as you will be asked to remove it for the photo.
Personal Belongings
Students should not bring any personal belongings with them into the lineup room. There is no security and items will not be allowed on the arena floor. Please leave all belongings with your family or friends or in your car.
After The Ceremony
After the ceremony, special backdrops will be setup for family photos. The graduates can exit the Cox tunnel and then walk around to the Cox Entrance (up the stairs) and meet friends & family inside the concourse area between the TMC and Cox Pavilion.
Future Commencement Dates
2021 Spring Commencement Ceremony - College of Health and Human Services Class of 2021
Monday, June 21, 2021 1pm Thomas & Mack Center
Office of Student Involvement
Student Involvement