Researchers Find New Pathway for HIV Invasion of Cell Nucleus
Discovery Out of the Engelstad Research Complex for Biomedical & Human Performance Research May Lead to New Treatments for AIDS
"The ground-breaking research of Dr. Lorico and his team is a testimony to the importance that Touro University gives to its mission of service to humanity. The potential therapeutic applications of this new pathway to improve patient care are immense and may help us better navigate the next pandemic."
DR. ALAN KADISH | President, Touro University System
Research & Impact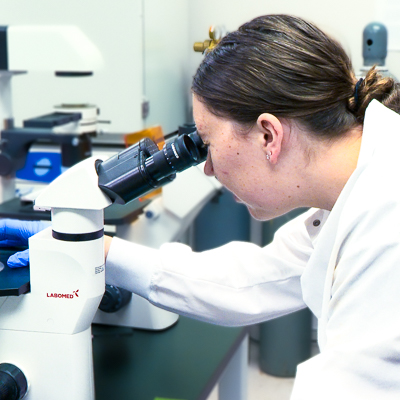 An international team of researchers led by Touro University Nevada's Dr. Aurelio Lorico and Technische Universität Dresden's Dr. Denis Corbeil has discovered a new pathway within our cells which contains a complex of three proteins that are required for the entry of viruses into the nucleus of a cell.
The team has developed molecules (drugs) that block the entry of a virus into a cell's nucleus. The synthesized drugs may have therapeutic activity in AIDS, other viral diseases, and possibly metastatic cancer and other diseases where nuclear transport is involved.
Research is at a pre-clinical stage; the team continues to study this new pathway's biology and is looking to develop potential drugs that may help alleviate disease burdens on patients.
"This research has been made possible by the selfless collaboration of many investigators and the support of many Touro administrators. I'm excited to see what we will be able to accomplish with this wonderful team of people, exploring whether other viruses use the same pathway to enter the nucleus of infected cells. This work has so much potential for addressing other diseases like cancer and Alzheimer's where the newly discovered nuclear pathway may constitute an important therapeutic target."
DR. AURELIO LORICO | Professor of Pathology, Interim Director of Research & Chief Research Officer, Touro University Nevada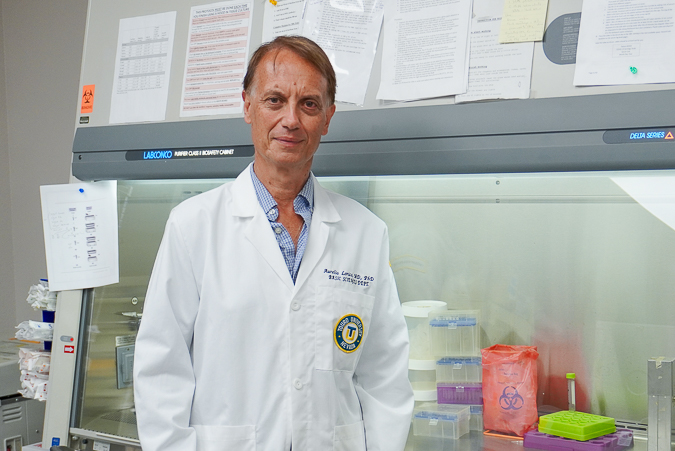 Senior Author
AURELIO LORICO, MD, PHD
Professor of Pathology
Interim Director of Research & Chief Research Officer
College of Osteopathic Medicine
Touro University Nevada

Dr. Lorico completed his post-doc at Yale University mentored in the pharmacology field by Dr. Alan Sartorelli. There, he clarified the biological function(s) of the MRP1 (multidrug resistance protein 1) gene by generating and characterizing MRP1 knockout mice and cell lines.
After eight years at Yale, he became senior scientist at the Norwegian Cancer Center in Oslo, where he designed new strategies for gene therapy of hereditary diseases.
Since returning to the United States, he has been working on intercellular communication in the tumor microenvironment, particularly mediated extracellular vesicles, and on the development of innovative therapeutic strategies for breast cancer, melanoma and glioblastoma.
First Author
MARK F. SANTOS, PHD
Research Laboratory Scientist
Touro University Nevada
Dr. Santos earned his PhD at the University of Mississippi Medical Center in Jackson, MS. Therein, his dissertation was focused on elucidating the function of the innate immune system in patients with high numbers of circulating tumor cells.
At Touro Nevada, he has characterized the proteins involved in transporting extracellular vesicle cargo and HIV into the nucleus of cells and developed techniques to visualize these vesicles in fixed and live samples by super-resolution microscopy.
"This work is particularly fascinating because it has implications both for viral diseases and cancer, two of the greatest health care challenges of our time."
DR. ANDREW PRIEST
Campus President & Provost
Touro University Nevada
"This is an exciting and promising payoff to the investments that Touro University has made to develop world-class research across campuses."
DR. SALOMON AMAR
Senior Vice President for Research Affairs
Chief Biomedical Research Officer
Touro University System
"The most frustrating situation for a physician is to correctly diagnose what is wrong and have no effective therapies to address it. It is work like that of Dr. Lorico and his team that allows us to develop new therapies to better serve patients."
DR. WOLFGANG GILLIAR
Dean
College of Osteopathic Medicine
Touro University Nevada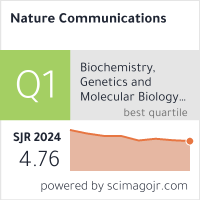 Learn More
View our article in Nature Communications journal to learn more about this groundbreaking discovery.
Read Article
Contact Us
Corresponding Authors
Aurelio Lorico, MD, PhD
Professor of Pathology
Interim Director of Research & Chief Research Officer
College of Osteopathic Medicine
Touro University Nevada
alorico@touro.edu
(702) 777-3942
Denis Corbeil, PhD
Biotechnology Center (BIOTEC) and Center for Molecular and Cellular Bioengineering
Technische Universität Dresden
denis.corbeil@tu-dresden.de