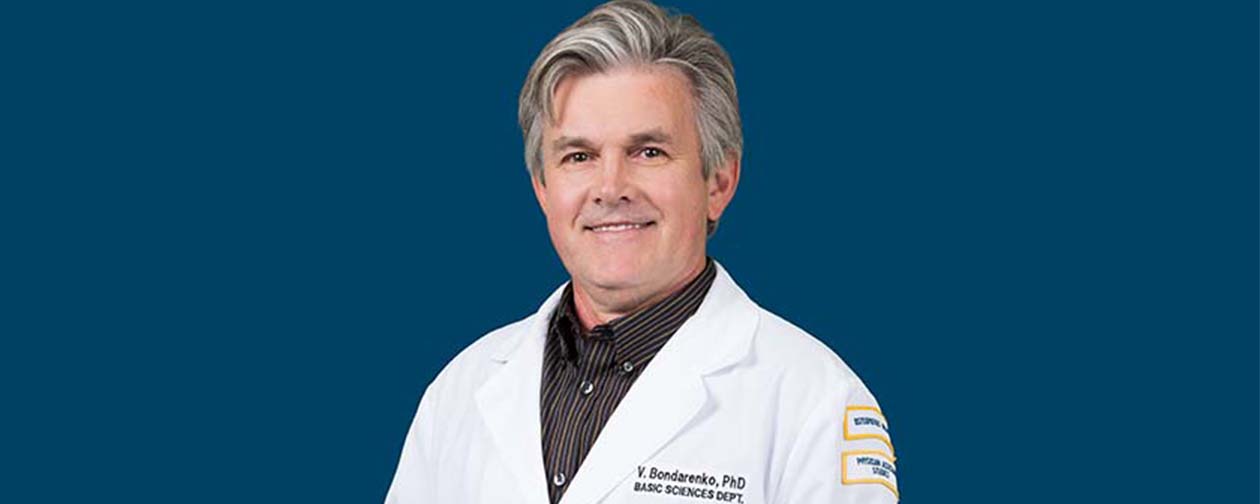 Faculty Focus: Dr. Vladimir Bondarenko, Professor, Department of Basic Sciences
In this edition of "Faculty Focus," we spoke with Dr. Vladimir Bondarenko, Professor in the Touro University Nevada Department of Basic Sciences
Dr. Vladimir Bondarenko grew up in a small remote town of Russia, where most people worked in the agriculture industry. He dreamed about becoming an engineer, but later his interests turned to biology.
After completing his mandatory military service in 1980, Bondarenko began a five-year Biochemistry Master's degree program at Moscow State University, the top research university in the Soviet Union at the time.
"When I arrived for the entrance examination at Moscow State University, the next day after discharge from the military, I was confused," he said. "My confidence of being accepted was very low. I also missed my family and wanted to go home. When I exited the building to go to the train station, I saw a young man who was also waiting for the entry exams. He asked me where I served and what my plans were. I told him that I came for the entrance exams, but did not feel that I am ready for University and was planning to go home. He said, 'If you do not try, you will regret it for the rest of your life.' I am glad that I listened to him, because I got accepted. It was one of the best decisions of my life."
In the late 1980s, Bondarenko began looking for jobs outside of the Soviet Union as the country closer approached its eventual collapse.
"The country had no money," he recalled. "When I worked in academia shortly before I left, I wouldn't get paid for months."
Bondarenko was offered jobs in both Europe and the U.S. He eventually accepted a position at Wayne State University's medical school in Detroit. For nine years, his research focused primarily on ophthalmology and biochemistry.

In 2003, he relocated his family to New Jersey to take a position at the University of Medicine and Dentistry of New Jersey (UMDNJ). Primarily a researcher, Bondarenko wanted to find a university that allowed him more time to teach.
In 2007, Bondarenko found what he was looking for when he accepted a position in Touro University Nevada's Department of Basic Sciences.
"The environment at Touro is completely different than at larger universities," he said. "At larger universities, sometimes the faculty don't even know the names of their students. It's not like that here. I love the students, the faculty, and the collegiality we've developed as a university."
Bondarenko has made it a priority to develop relationships with his students to help them succeed in the classroom. He is currently working with four students on two research projects, including identification of retinal protein markers to detect early stages of Alzheimer's disease; and analysis of antiproliferative properties of medicinal lichen's extracts using human cancer cell lines.
"The research is very promising, and we hope to submit our manuscripts for publication by the end of the semester," he said.
Bondarenko credited the working relationships between students and faculty as one of the most important reasons for staying at Touro University Nevada for the last 13 years. Because the University works well together, it has led to a more collaborative environment for students and faculty to succeed.
"Most of the decisions about any changes in curriculum are made together by the faculty and administration. I love the transparency and involvement with everyone," he said. "At Touro, the people around you appreciate what you are doing. It's created an environment where people want to do more so they can make the University the best it can be."
Learn More About Touro Nevada's MHS Program