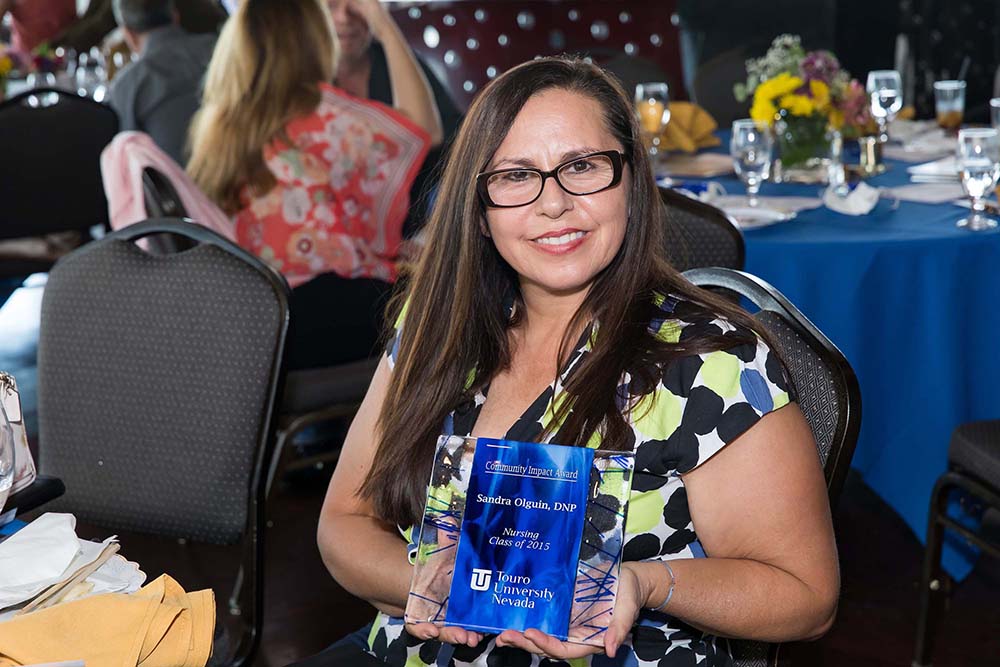 'Catching Up': Dr. Sandy Olguin, School of Nursing, Class of 2015
"Catching Up" is a monthly feature highlighting different Touro University alumni/ae and learning more about their journey after graduation.
In this edition of "Catching Up," we spoke with Dr. Sandy Olguin, a 2015 graduate from the Touro University Nevada School of Nursing Doctor of Nursing Practice program. A native of Los Gatos, Calif., Dr. Olguin works as an Assistant Professor of Nursing at the University of Nevada, Reno.
Growing up as the youngest of five children in Los Gatos, Calif., Sandy Olguin knew she'd become a nurse years before it actually happened.
When she was seven, her dad became disabled and her mom was forced to work long hours to provide for their family.
"Since my mom had to work so much, I spent a lot of time being my dad's pretend nurse," she said. "I went with him to doctor's appointments and really liked helping him. I enjoyed getting his medicine and going with him to physical therapy. It helped me realize at a young age that I wanted to become a nurse."While working full time as an Assistant Professor of Nursing at the University of Nevada, Reno, Olguin was advised by her dean to pursue her Doctor of Nursing Practice (DNP). From the very beginning, she was impressed by the welcoming environment at Touro University Nevada.
"From the admissions process to the curriculum and everything in between, Touro was perfect for me," she said. "The flexibility and the predictability of the schedule was great. My one year in the program was so fluid."
Since Olguin worked full time while going to school, Touro's online availability fit right in with her busy schedule.
"I would finish my school work at night and would always get quick responses from the faculty," she said.
During the one-year DNP program, Olguin said her writing skills dramatically improved, which eventually led to her being asked to contribute a chapter for a health coaching book.
"I would not have been able to do that without the help from the Touro faculty," she said.
In addition to working as nursing faculty at UNR, Olguin is President and CEO of the non-profit Nevada Nurses Foundation (NNF), which provides scholarships and professional development opportunities for nurses across the state.
In 2014, shortly before she began her DNP, Olguin served as part of the NNF's founding body of nurses.
"Since then, we've raised more than $95,000 in scholarships and grants to nurses," she said. "Our goal is to pay 100% of someone's education, but if we can make a dent in the cost, then I think we are doing something great."
Olguin is thankful to have had the opportunity to give back to her fellow nurses and promote the importance of education. Since graduating from Touro in 2015, she's referred three of her fellow faculty members to Touro's DNP program.
"Touro just has a diverse faculty and a really great DNP program," she said. "My advice to everyone is to be the change you wish to see in nursing and in healthcare."
Learn More About Touro Nevada's Nursing Program