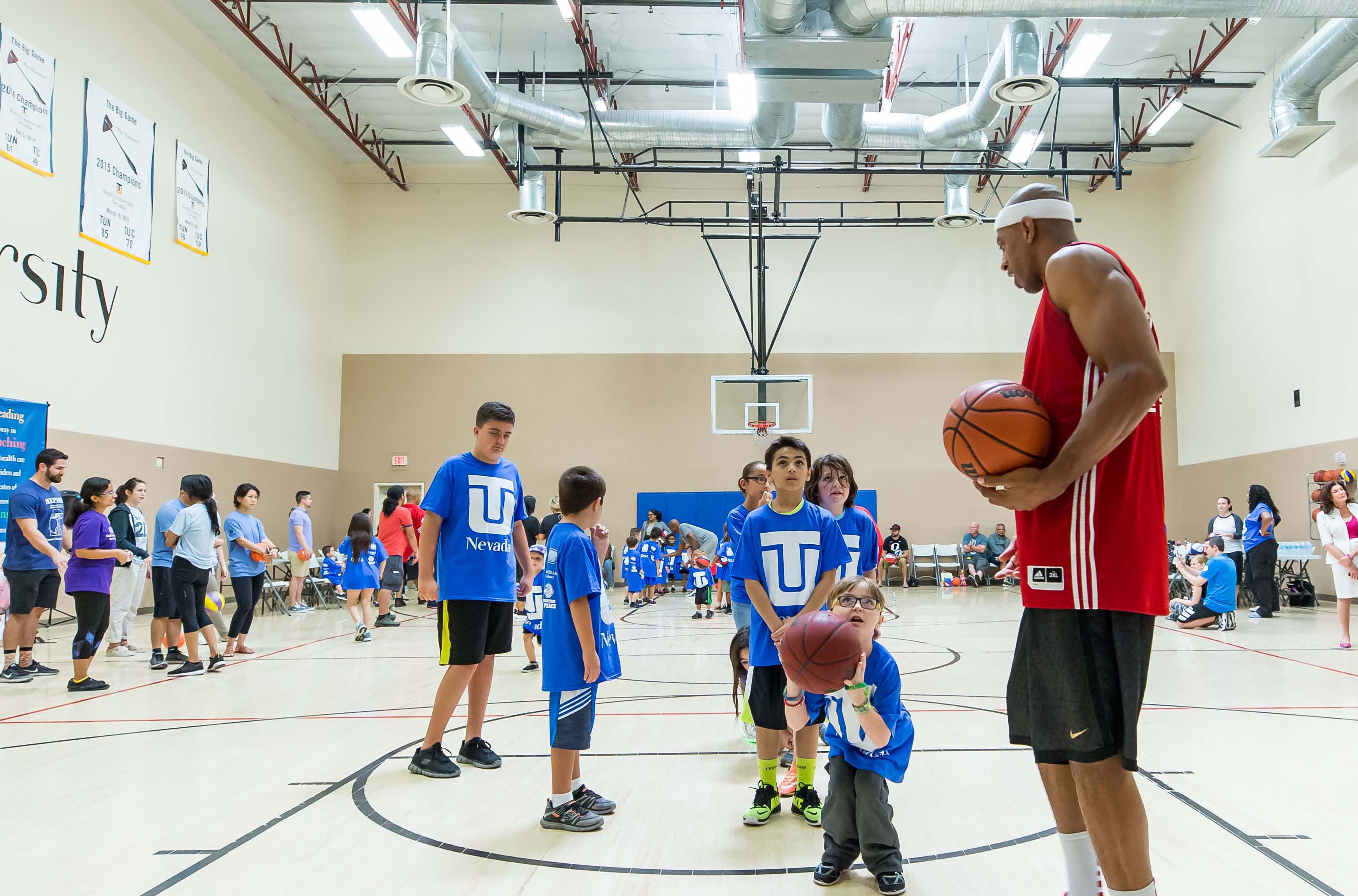 Touro's Center for Autism & Developmental Disabilities Hosts Annual Basketball Clinic
Children dribbled with former NBA player Jerome "Junkyard Dog" Wiliams during Touro's Center for Autism & Developmental Disabilities basketball clinic.
By the time the clock struck 10 a.m. on Sunday, Sept. 10, dozens of children donned in blue Touro University Nevada t-shirts were eagerly running around the university's gymnasium.
With mini-basketballs in their hands, their eyes beamed with excitement as former NBA player Jerome "Junkyard Dog" Williams welcomed them to the Center for Autism & Developmental Disabilities' annual basketball clinic. After a speech from Touro University Western Division CEO & Senior Provost Shelley Berkley, the kids ran to the baseline for some group calisthenics as Williams led the way.
With their parents cheering them on, the kids worked on their dribbling skills, learned how to put the ball between their legs, and even dunked with the help of Williams and his group of former professional basketball players.
"The best part of this clinic is just seeing the smiles on their faces," said Williams, the former first-round pick who spent 10 years in the NBA. "Nothing beats that. These kids are why we come back to Touro University Nevada for this clinic every year."
Pamella Eberhardt's children were all excited to get to the basketball clinic on Sunday morning. Aaliyah Hughes, her 4-year-old daughter, regularly goes to Touro's Center for Autism & Developmental Disabilities. Aaliyah has apraxia, which causes a speech delay, and muscle loss on the right side of her body.
Her apraxia has never dampened her spirit, which radiated throughout the gym as she dribbled her ball up and down the court.
"She loves doing anything and everything, just like all the other kids," Eberhardt said of Aliyah.
To assist with the event, Williams brought a star-studded group of basketball players, including former Chicago Bull Keith Starr, former first-round NBA draft pick James "Hollywood" Robinson, and former Harlem Globetrotter and UNLV standout Warren Rosegreen. Dozens of students from a variety of Touro's programs also volunteered their time at the clinic.
The kids were in awe of the former players, especially Rosegreen, the Harlem Globetrotter. With the basketball spinning upon his index finger, Rosegreen transferred it over to the finger of each child who waited in line to spin it. The excitement on their faces could hardly be contained, though Rosegreen admitted he enjoyed the experience just as much as the kids.
"This is a very special event for us every year, and it means so much to the children and their parents," Berkley said. "Touro University Nevada cares deeply about the community. With the help of all of our volunteers, we'll continue to make a difference in the lives of our children with autism and other developmental disabilities."
For Eberhardt, the basketball clinic allowed Aliyah the opportunity to be involved with her siblings and friends while being active and having fun.
"The basketball clinic is great because everyone is accepted for who they are," she said. "I like having my kids around that environment because it teaches them to treat everybody with kindness and equality."