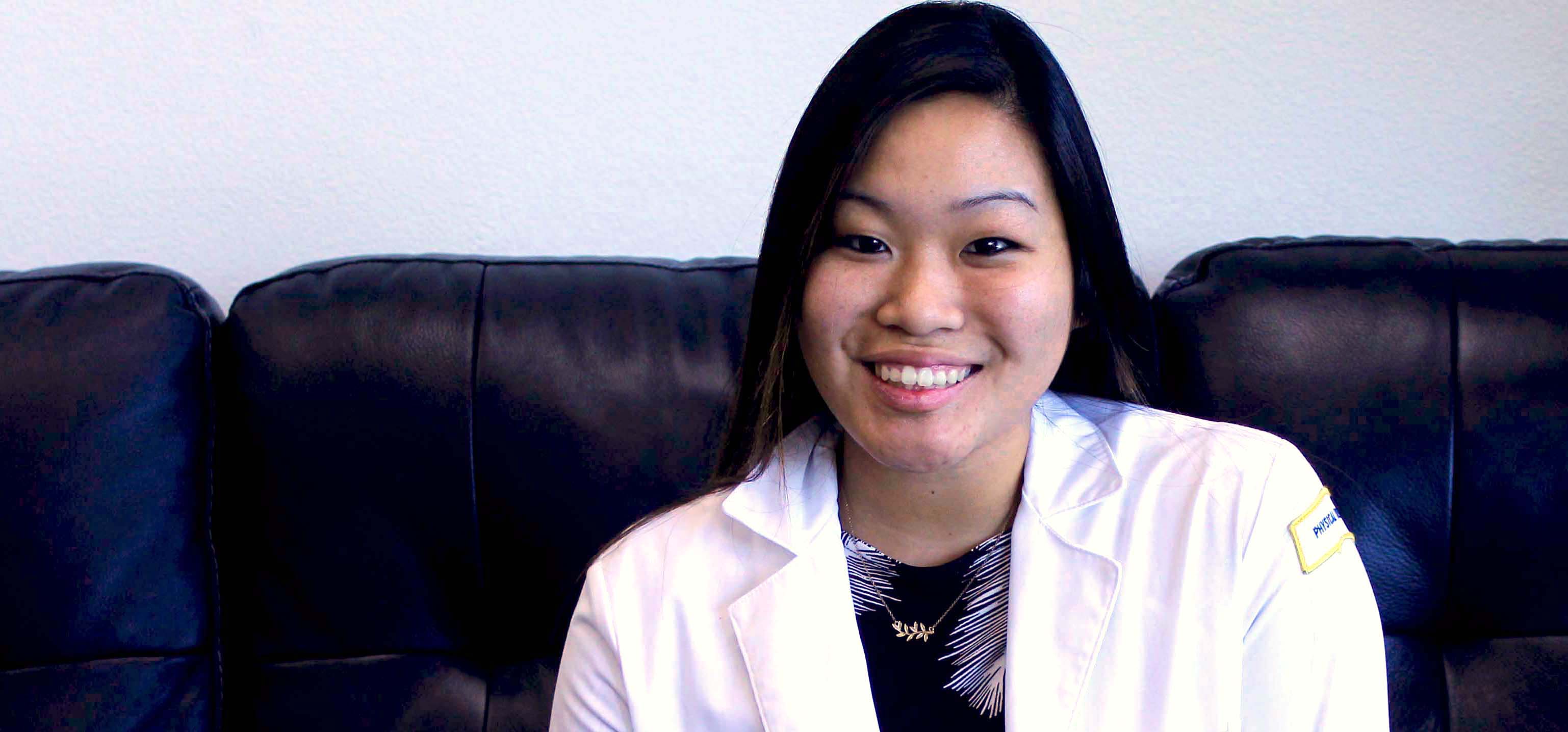 Student Spotlight: Kelsie Kaneshiro, School of Physical Therapy
"Student Spotlight" highlights our students at Touro Nevada. In this edition, we sat down with Kelsie Kaneshiro, of the School of Physical Therapy.
For as long as she can remember, Kelsie Kaneshiro has always loved two things: sports and the elderly.
Growing up in Honolulu, the second-year student from Touro University Nevada's School of Physical Therapy was always involved in sports. She played soccer and volleyball, her brother played baseball, and her father was a local coach.
"I played a lot of sports when I was little and saw a lot of injuries," she recalled. "I had always wanted to work in the healthcare field, and sports would allow me to do that."
Kaneshiro was also close with her grandmother. After her grandmother had two knee replacements, Kaneshiro went with her during her physical therapy sessions. Her grandmother, who passed away a few months ago, helped her find her passion for physical therapy.
"In physical therapy, I get to talk to people, work on sports-related injuries, and assist the elderly. It's perfect for me," she said.
After graduating with a degree in Exercise Science from Pacific University in Forest Grove, Ore., Kaneshiro was on the verge of accepting a job as a Physical Therapist aide when she received an acceptance email from Touro University Nevada.
The closeness she felt back home in Hawaii is incredibly similar to the closeness she's felt thus far at Touro.
"Where I'm from, it's very family-oriented. At Touro, it's the same because everybody cares about each other," she said. "The university has done a great job finding people who care about one another, both teachers and students. Everyone tries to help each other here."
Kaneshiro is looking forward to gaining more hands-on experience as her Touro journey progresses. If she has any questions or concerns, she knows that someone from the School of Physical Therapy will be there to help.
"The faculty having their doors open at all times is something I really appreciate," she said. "They are very nurturing, and they make sure you know that they are there for you. It's really helpful knowing that."
Kaneshiro admitted that she's incredibly hard on herself, though it's helped her to realize that she belongs at Touro. After she graduates in 2019, she hopes to work in geriatrics or orthopedics, two specialties about which she has always been passionate.
"The reason I chose PT is because I really want to help people," she said. "I think the population that needs the most help is the elderly. They've made such tremendous contributions to our lives, and I would love to give back to them."
Kaneshiro is excited for what her future holds as she continues to pursue her dreams. With the support of her family and the spirit of her grandmother guiding her, she is learning more as each day passes.
"I'm ready to just keep learning and gain more confidence as a PT," she said.
Learn More About Touro Nevada's PT Program