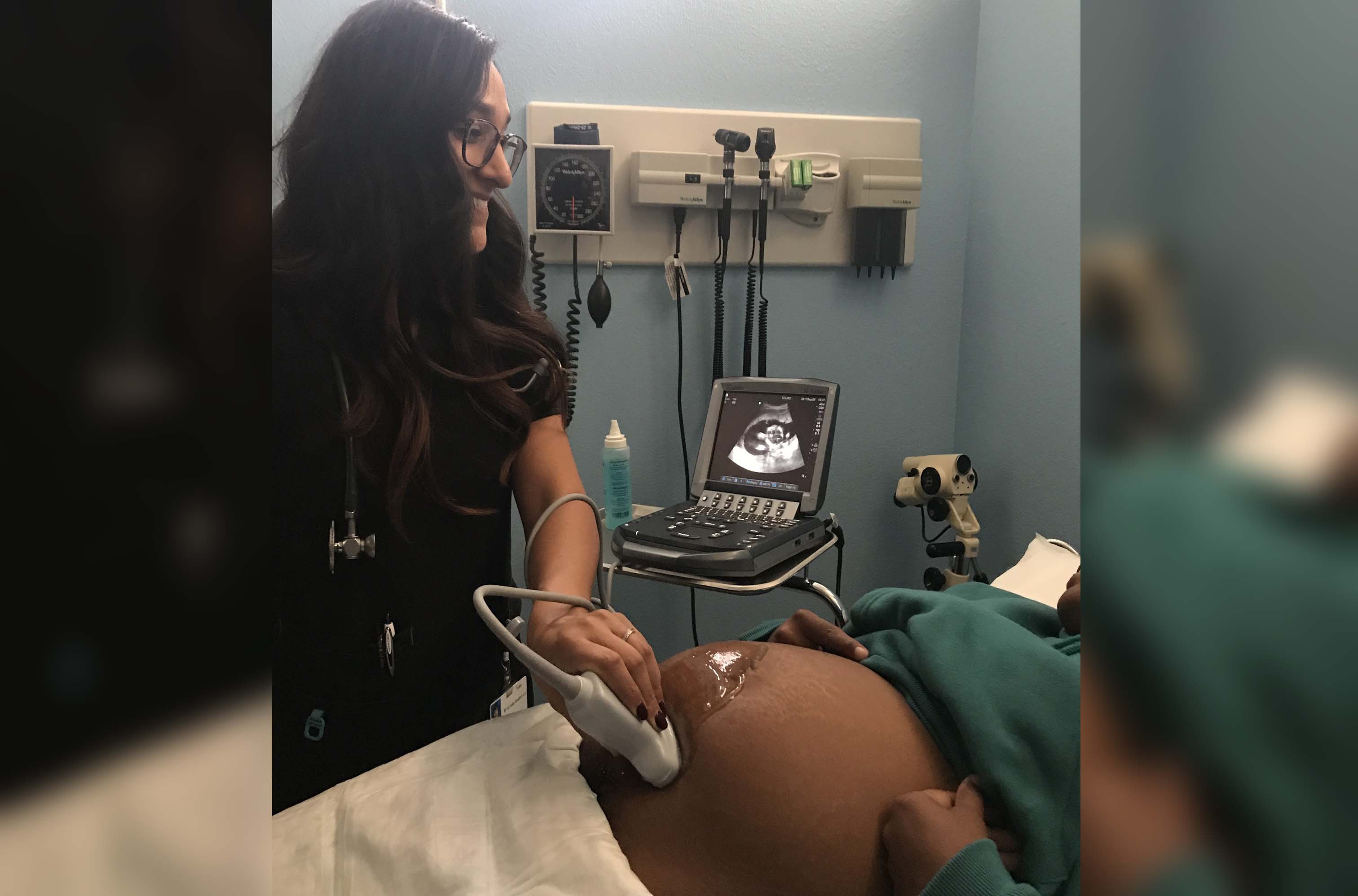 Touro PA Student Uses Ultrasounds to Connect With Women at The Shade Tree Shelter
Touro Nevada PA student shares the impact an ultrasound had on a woman at The Shade Tree.
As she prepares for graduation, Nyla Khwaja has embraced the importance of ultrasounds and how they will impact her career after Touro University Nevada.
The Nevada native and third-year student from Touro's School of Physician Assistant Studies (PA) loves how the use of ultrasounds can bring peace of mind to the people she helps, especially those at The Shade Tree.
"The women at The Shade Tree are just remarkable," Khwaja said. "They open up their souls to you."
The Stallman Touro Clinic at The Shade Tree, which Touro's PA program has been an operating partner since 2009, provides adult health care, preventative health measures, sick call services, and pediatric services to residents at the shelter. The women and children staying at The Shade Tree are either homeless or have left an aggressive relationship.
Until January, the shelter did not have ultrasounds for its residents. That changed after Southwest Medical Associates donated $145,000 to Touro's PA program to fund new equipment and training materials. As part of the gift, the university purchased four ultrasounds which are used for pregnant women staying at the shelter.
Khwaja, who graduates in November, has seen firsthand how effective the ultrasounds have been.
"It's scary to be pregnant," she said. "You worry about this little life inside you, and you do everything you can to make sure it's ok. On top of that, these women are homeless. They are terrified, and they just want to make sure their baby is ok."
Khwaja recalled one visit to The Shade Tree when at first, she struggled to find out what one ultrasound was telling her.
"We had a woman who was 17 weeks pregnant but hadn't seen an OB/GYN yet. After probing her with the cold jelly, I wasn't exactly sure what I was looking at," she said. "It turns out, she was having the rarest form of twins, where there is only one sac and one placenta. She needed to go to 'high-risk' right away so these babies could be watched very closely. We had the opportunity to make a difference in a potentially fatal situation."
The ultrasounds have allowed most of these women to see their children for the first time, which makes the experience more surreal.
"Once they see that baby's heart rate, everything changes. They know that it's real, and it renews their confidence to keep going," Khwaja said. "When you're living in a shelter, how easy is it to give up? Just knowing their baby is healthy can make all the difference in the world."
Stacey Lockhart, Executive Director of The Shade Tree, commended Touro's PA students and faculty for using the ultrasounds to help alleviate the stress on the shelter's pregnant women.
"The support that we receive from Touro has been absolutely essential," she said. "Having the ultrasounds here brings an element of care to The Shade Tree that we never had before. For the students, it gives them the opportunity to gain 'hands-on' education. And for the women who are staying here, having the ultrasounds takes so much stress off of them. It gives them both hope and relief."
Dr. Phil Tobin, Director of Touro's School of Physician Assistant Studies and a member of The Shade Tree's Board of Directors, said the ultrasounds bring a sense of comfort to the pregnant women staying at The Shade Tree.
"Imagine that you've left your aggressor who's been emotionally and physically abusing you. You've left everything you own. The stress is already intense, and then you get to The Shade Tree and discover that you're pregnant," he said. "By having an ultrasound there and being able to look at their baby, it brings these women relief during their incredibly stressful time. Any stress that is decreased during pregnancy is always good for the mom and the baby."
As Touro continues its partnership with The Shade Tree, Lockhart is excited for what the future holds.
"This is an incredible partnership, and the women here are so appreciative of the Stallman Touro clinic," Lockhart added. "They tell me how wonderful it is to have the clinic here, especially the ultrasounds. This is us collaborating with the community, and it means a ton to them."
For Khwaja, who will work in Adult Medicine at Southwest Medical Associates after she graduates, the opportunity to help those around her is exactly why she wanted to become a PA in the first place. Working with the ultrasounds, she said, will be something that doctors carry with them as modern medicine advances.
"I think bedside ultrasounds will be a big part of the future of medicine. You can use them to see if a patient has a pneumothorax and other countless things we would traditionally use an X-ray or CT for. With an ultrasound, you can do it right there at the bedside," she said.
As for The Shade Tree, Khwaja would love nothing more than to keep assisting the women there long after she graduates from Touro.
"I keep going back there because I can connect with them," she said. "We don't know what they are going through, but it lets them know that we care."
Learn More About Touro Nevada's PA Program