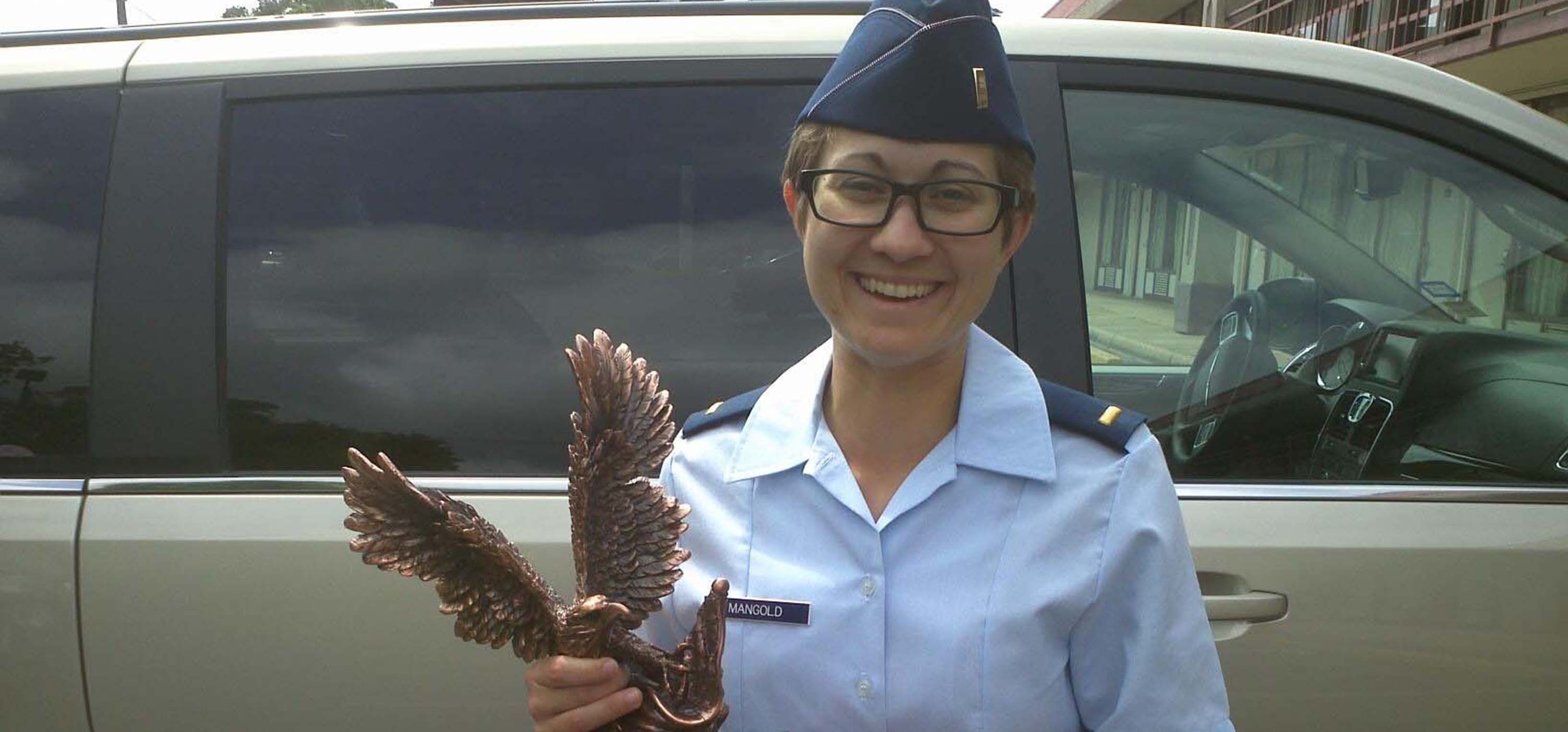 Student Veteran Spotlight: Michelle Mangold, College of Osteopathic Medicine
"Student Veteran Spotlight" is an occasional series that highlights Touro University Nevada's student veterans.
This month, TUNews spoke with Michelle Mangold, a fourth-year medical student from the College of Osteopathic Medicine.
Which years did you serve in the military?
I served from 2012-2014.
Which branch did you serve in and what was your rank?
I was a 1LT (1st Lieutenant) in the United States Air Force.
Why did you decide to enlist in the Air Force?
I am an eighth-generation military family member. We have had military members in my family since the early 1800's. Jeremiah Wells (from my great grandmother's side of the family) rode with General Phil Sheridan as a Calvary Trooper and (according to my grandpa) also served as the blacksmith for Sheridan during the Civil War. Other Mangoldts (the ones who kept the "t" in their name) served with the artillery and in Union Brigades formed in the Buffalo, N.Y. area.
I have a distant cousin buried at Arlington National Cemetery, William Mangold, who died of wounds received in the Civil War's Wilderness Campaign. He also fought in the Battle of Gettysburg and his name is on the Pennsylvania monument there.
Part of our family (the Retzers) fought in the Revolutionary War and the War of 1812. My grandmother's grandfather (Dangler) fought in the Spanish-American War and her father fought in WWI. My grandparents on my dad's side were both Army Air Corps in WWII. I have uncles who fought in Korea (Thaxter Dangler) and a cousin who fought in Vietnam (Robin Mangold). My uncle (Sandy Mangold) served in the Middle East.
Mangolds love to fight. We have served in virtually every major war that our country has had, and I am proud to continue that tradition. I did not feel obliged to join just because of this family tradition, but I felt called to give something back to the nation and people I love.
Is there any specific memory from your military experience that has always stuck with you?
Many memories have stuck with me from my time in the military. One of my favorite memories though, was learning to sky dive. I can remember the wind in my face as I exited the aircraft and feeling the terror and thrill of free falling.
Why did you want to attend Touro University Nevada?
I chose Touro University Nevada because the school environment is incredibly welcoming and friendly, and the beautiful desert surroundings reminded me of where I grew up in El Paso, Tex. I decided to attend medical school because I want to serve the military in a new capacity as a doctor.
What are your plans after graduation?
After graduation, I plan to serve in the military and become a surgeon, possibly as a trauma/critical care surgeon.
How do you think your military experience will help you become a great physician?
The military taught me about integrity and service before self. I believe that these are two key characteristics of any medical professional. You must always do the right thing by the patient whether or not someone is watching you. The concept of "service before self" is important for a physician to remember, as many nights will be spent at the hospital to serve those in need. I believe these qualities that were ingrained in my mind from my military service will help mold me into a great physician.
Learn More About Touro Nevada's DO Program