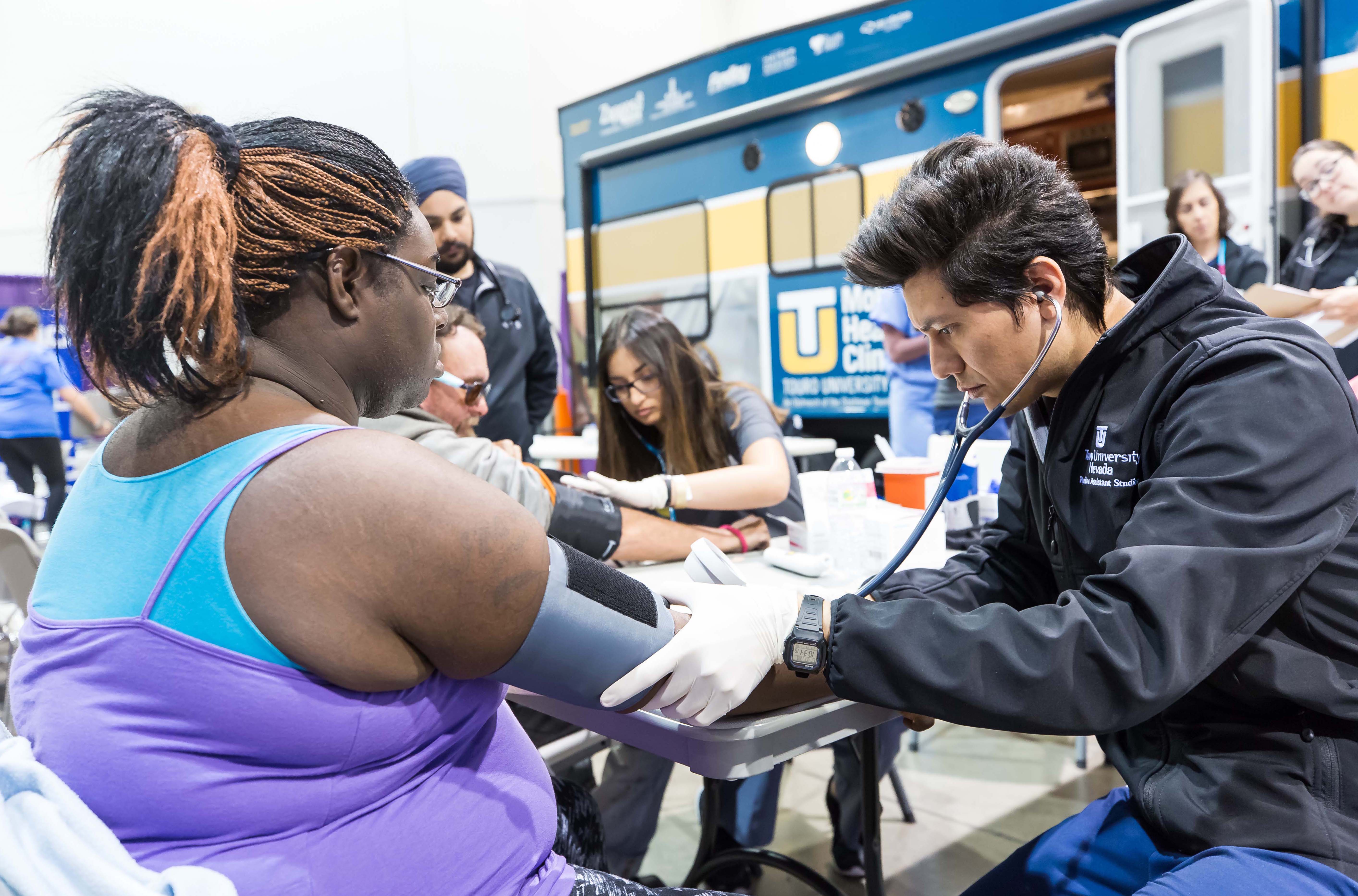 Project Homeless Connect Helps Touro Provide Services for Nevada's Underserved Populations
Volunteers from Touro Nevada provided healthcare services to Southern Nevada's homeless population through the mobile healthcare clinic.
Students, staff, and faculty volunteered their time on the Touro Physician Assistant Studies mobile healthcare clinic during Project Homeless Connect, an annual, collaborative event held inside Cashman Center that provides essential services for Southern Nevada's homeless population.
Numerous organizations offered a variety of services during the all-day event, including counseling, housing, meals, job connections, haircuts, healthcare, and more.
"Project Homeless Connect is always an incredible experience for the populations who desperately need the assistance," said Amie Duford, Assistant Professor in Touro's PA Program. "These individuals are getting what they need. They are getting health care, and our students are able to gain knowledge and learn the best ways to care for them."
Touro provided an assortment of free services to those who stopped by the mobile healthcare clinic, including blood pressure checks, glucose checks, wound care, and acute illness evaluations.
Andrea Alessi, a recent Touro graduate, served as a preceptor for the students working on the clinic. Having worked on the clinic when she attended Touro, Alessi understands how important it is for PA students to get the critical, hands-on experience that comes with working on the mobile healthcare clinic.
"The more time you can work on the mobile clinic, the better prepared you'll be for your rotations," she said. "Of course, books are going to help with board exams, but it's a completely different type of experience when you're out on your rotations."
Duford understands the importance of students volunteering their time at events like Project Homeless Connect. It's an integral part of Touro's vision statement she added: to serve – to lead – to teach.
"Volunteering at Project Homeless Connect is a perfect example of how we are integrating our vision into practice," she said. "This collaboration exemplifies how Touro is making a positive impact on the community."
Learn More About Touro Nevada's PA Program