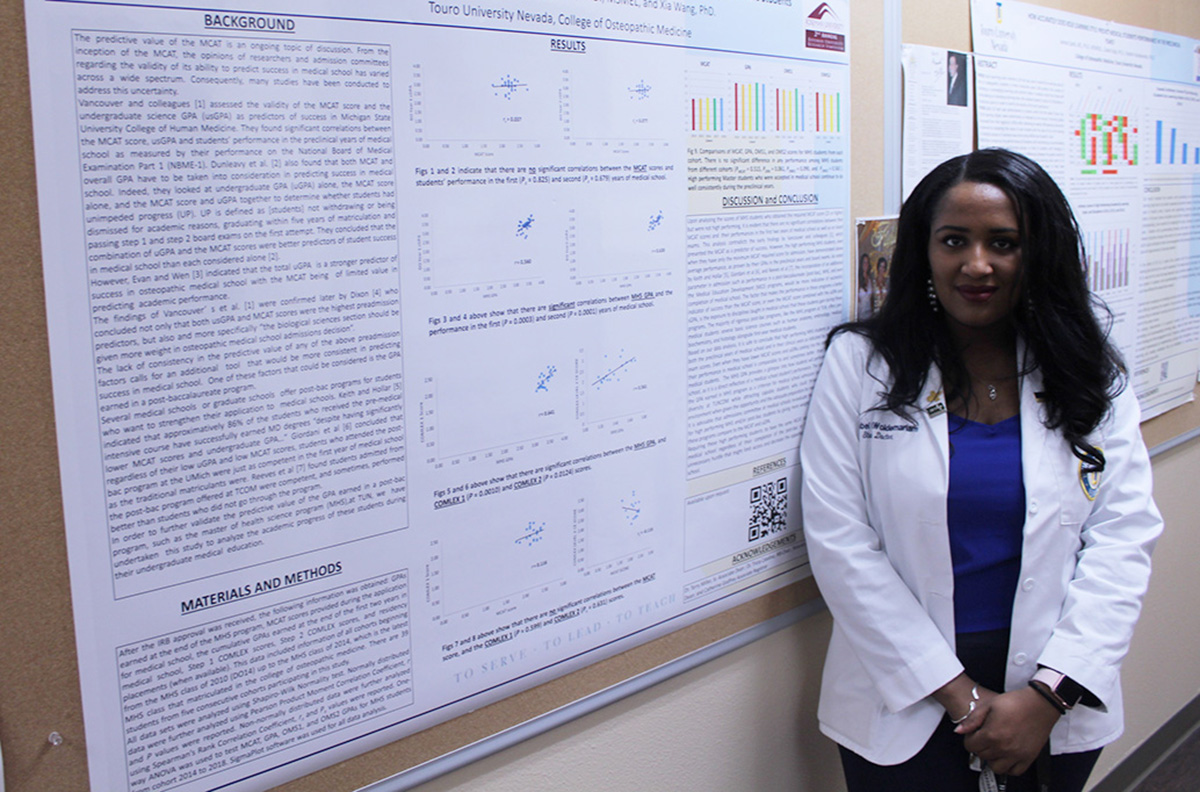 Touro University Nevada DO Student and Faculty Members Receive Prestigious Scholarships for Extraordinary Research
The International Association of Medical Science Educators awarded a Touro Nevada student and faculty members for their work.
After two years of hard work and research, Bersabel Woldemariam can take solace knowing her efforts paid off.
Woldemariam, DO20, was given the $1,500 Travel Award by the International Association of Medical Science Educators (IAMSE) for her research entitled, "Master students' GPA is a better predictor of success in medical school when compared to MCAT scores."
The Medical College Admission Test (MCAT) scores are test scores designed to determine a medical school applicant's understanding of basic science concepts as well as their strengths in problem-solving and writing.
Woldemariam bested nearly 30 other applicants from around the world, including a faculty member from the Alabama College of Osteopathic Medicine and a fourth-year student from Harvard Medical School.
"I come from a family where no one went to college, so I was really surprised when I found out I won," she said.
With her mentor, Dr. Amina Sadik, Associate Professor from the College of Osteopathic Medicine, and the statistical expertise of Xia Wang, Research Assistant from the College of Osteopathic Medicine, Woldemariam compiled immense research, including Medical Health Science students from 2010–2014 who became Doctors of Osteopathic Medicine students from 2014-16.
She analyzed the grades from students enrolled in Touro's Medical Health Science program and compared their future success based on two variables: MCAT scores and GPA.
"Our findings indicated that there is a strong correlation between the MHS GPA and the cumulative GPA in the preclinical years in medical school, as well as the scores of board exam steps 1 and 2. We concluded that MHS GPA could be used to predict success in medical school and should be an additional admission criterion," she said. "Since some of the MHS students admitted to the College of Osteopathic Medicine were still going through classes or taking board exams, we had to wait to see how they performed before finalizing the results."
Woldemariam's research was recently published in the American Medical Education Journal.
Having previously presented her unpublished data during the 2016 American Association of Colleges of Osteopathic Medicine (AACOM) conference, she will present her published presentation during the annual IAMSE conference in June.
At AACOM, where podium presentations are usually 10-20 minutes, Woldemariam was given 60 minutes to present and discuss her findings with a large audience, a reflection that medical schools are continuing to pursue better predictors for success.
"The fact that she won in an international competition confirms a worldwide interest in this type of research," Sadik said.
"I just want to show my research to other faculty because even though there has been a lot of research done in this category, not much has been predicted with Master's students in medical school," Woldemariam said.
After two years of collecting data, writing results, completing applications and creating poster presentations, Woldemariam is excited to present her findings to another interested audience.
"A lot of people have questions about it, so it's really cool that I get to present and listen to their thoughts," she said.
Woldemariam is Sadik's second Master's student to win the award. Leticia Rojas, now a fourth-year medical student, previously won the award in 2012.
Touro Faculty Members Secure IAMSE Grant
In addition to Woldemariam's first-place win, three Touro faculty members were awarded a grant of nearly $5,000 by IAMSE for their research on assessment in medical education.
Drs. Terrence Miller and Derek Meeks from COM, and Kristina Lindquist from OASIS were awarded the IAMSE Educational Scholarship Grant and will present their work during a future IAMSE meeting. The grant will help them pursue their research over the next year.
"It always makes you feel good when you can land a competitive grant," Miller said. "Ultimately, it could impact board exams and how they are written."
For Meeks, it was his first time pursuing an academic research grant.
"It's really exciting," he said. "I think it can really represent a paradigm shift as to how we give board questions. We hope that eventually, from our study, the boards will change."
"Getting a grant from the International Association of Medical Science Educators validates the research that we're doing and pushes me to ask further questions related to this area," Lindquist said. "I am very excited to receive this grant."
IAMSE will host its 2018 conference here in Southern Nevada. Touro is co-hosting the event together with Roseman University and UNLV's medical school.
Learn More About Touro Nevada's DO Program