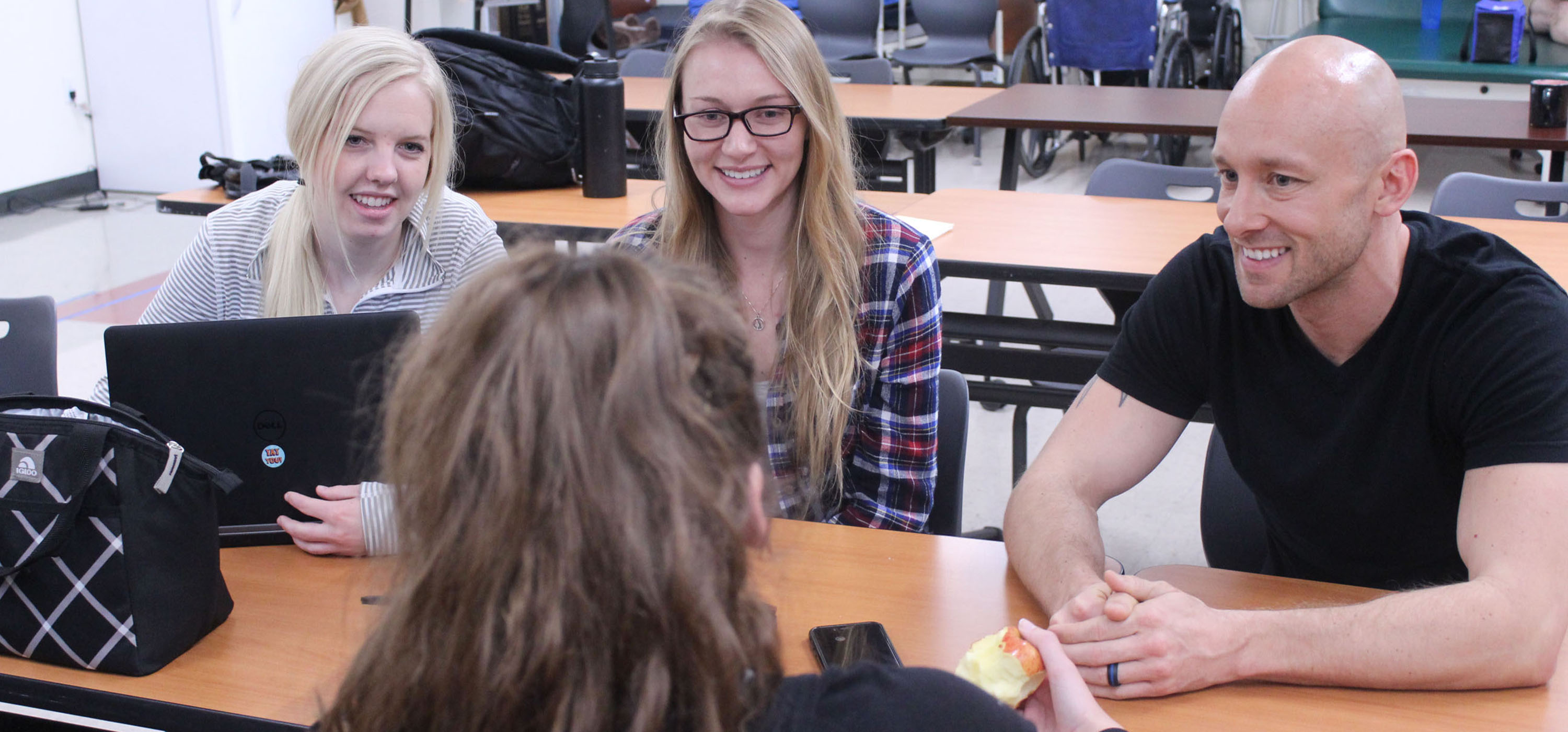 Student Spotlight: Danny Aldis, School of Occupational Therapy
Each month, Touro University Nevada will highlight a different student in a new feature called "Student Spotlight." This month, we spoke with Danny Aldis from the School of Occupational Therapy.
If Danny Aldis never got into Touro University Nevada, chances are his life would be drastically different.
Aldis, who grew up in Carson City before graduating from the University of Nevada, Reno, came to Las Vegas after landing a job in law enforcement. Aldis spent 10 years as a police officer in Southern Nevada, but the psychology major always knew he wanted to work in the medical field.
"One of my goals was to eventually get a higher degree after graduating from UNR," he said.
During his college years, Aldis worked with children with Autism as he studied applied behavioral analysis in school. Working at a behavioral center introduced him to occupational therapy, as well as his future wife. Shortly after graduation, he and his wife made the move down south. They would go on to have three daughters.
He knew that raising three girls and going to graduate school would not be easy, but Aldis powered through it. He eventually reduced his work schedule to part-time while completing his pre-requisite courses at both UNLV and Nevada State College.
After finishing his pre-requisites, it was time for Aldis to apply to graduate school. Despite being out of UNR for more than a decade working in a completely different field, Aldis was still enticed by occupational therapy.
"Once I began doing research, I saw how diverse occupational therapy was and how it could be applied to other fields," he said. "I knew it would be good for me."
With a young family at home, Aldis knew his school options were limited. He sent in his application to Touro University Nevada, the only university in the state to offer an Occupational Therapy master's program, and hoped for the best.
"I couldn't move my family around. I've got kids and a wife, so when I applied I said, 'Well, this is it,'" he recalled. "I better get in because I'm not sure what I'm going to do if I don't."
Aldis eventually landed an interview and found out about his acceptance two months later. It was a huge relief for the father of three, but the real work started once he began his studies.
"The first two semesters were so intense; very academic and demanding," he said. "Honestly, they were like drinking out of a fire hydrant. You're just trying to retain whatever you can. But this semester, we're taking what we learned in the classroom and applying it to real-life situations."
Despite the intense schedule, Aldis has found reprieve in the camaraderie he's built with his fellow cohorts. He's learned a great deal during his two semesters at Touro, a good situation to be in once graduation is here.
"Every time I do a different fieldwork, I get more confused about what I want to do," he said. "I went into one fieldwork and said, 'Well, that's pretty cool!' Then I got into hand therapy and thought to myself, 'Well, I also like that.' At this point, it's an open book for me."
Dr. Yvonne Randall, Director of the Occupational Therapy program, praised Aldis for his passion and dedication to the profession, including his collaborative efforts with students in both the Occupational Therapy and Physical Therapy departments.
"Danny has been thoroughly engaged in the courses and has sought out additional learning opportunities like volunteering in the monthly mobility clinic that provides community wheelchair evaluations for clients," Randall said. "Danny has a bright future ahead of him as an occupational therapist."
With three kids, a wife, and a full-time class schedule, prioritizing has gotten Aldis through his Touro experience. His free time is precious, though he enjoys spending it with his family. And while his journey hasn't been easy, he knew that would be the case when he filled out his application.
"I have way more time now than I did in the beginning," he said with a laugh, "but, I'm not going on vacation anytime soon."
What he didn't know, however, is what he'd be doing had he not gotten in. Thankfully, he doesn't have to think about that anymore.
Learn More About Touro Nevada's OT Program