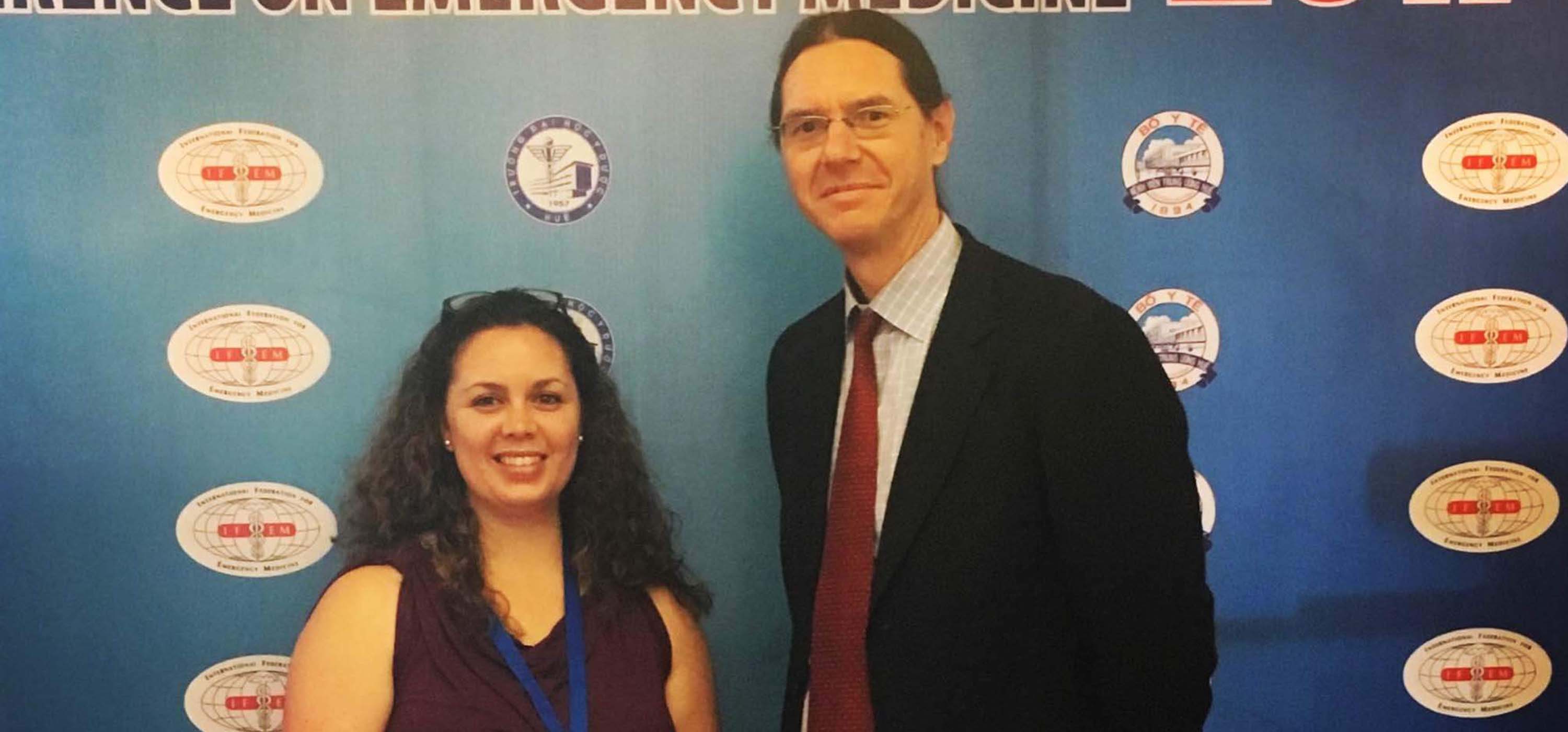 Student Spotlight: Alexa Lewis, College of Osteopathic Medicine
"Student Spotlight" is a series that highlights our student's accomplishments and journey to Touro Nevada.
In this edition, we sat down with Alexa Lewis, of the College of Osteopathic Medicine.
Nothing was going to stop Alexa Lewis from working in the emergency room. Even in high school in Santa Fe, N.M., Lewis knew the emergency room was her career calling.
Being able to help others in need is an ability that drives Lewis to succeed in the medical field. It took a terrifying encounter during her sophomore year of high school to realize that, but the DO18 student from Touro University Nevada's College of Osteopathic Medicine has never once looked back.
"When I was in high school, I had a science teacher with a heart condition. One day, he had really bad chest pain and ended up passing out during one of our classes," she recalled. "It was that feeling of helplessness, of not knowing what to do in that situation, that told me no matter where I am, I want to be the person who can help."
Shortly after, Lewis began taking classes twice a week at the local community college to become an Emergency Medical Technician-Basic (EMT). She gave up volleyball to pursue her dreams, and at the age of 16, became one of the youngest EMT Basics in the state of New Mexico.
She went on to complete her undergraduate degree in Biology at Colorado College before working in the emergency room for five years. Lewis had seen several EMTs get burned out, and she knew it was time to grow within the industry.
"I finished my undergrad feeling like I had this great education that I wanted to expand," she said. "I'm smart, driven and I love the relationships with the patients I work with. I wanted something more, but I also wanted to stay in that setting."
Lewis was able to find that avenue at Touro University Nevada, where she has excelled in both the College of Osteopathic Medicine and inside the emergency room at Valley Hospital.
"To be honest, I came to medical school knowing that I was going to be an E.R. doctor," she said. "During my first rotation in Valley's E.R., I came in, sat down and said, 'This is home. This is where I want to be.'"
While working inside Valley Hospital's emergency room, Lewis met Dr. James Ramseier, who told her about his travels to Vietnam and how he hoped to help make emergency medicine a specialty in the country that so desperately needed it.
With Ramseier's advice in mind, Lewis, accompanied by her husband James, who works in the medical field as a firefighter captain, set out for a two-week excursion to Vietnam. While there, she attended an emergency medical conference, learned about the growing problems facing Vietnamese medicine, and was introduced to an entirely different culture.
"Vietnam has a lot of flooding, where more than 4,000 people drown every year because of where they build their homes," she said. "A big reason for these drownings can be attributed to a lack of education."
Lewis said the Vietnamese hospital system is ill-equipped to handle mass casualty situations, especially with so many drowning victims and traffic accidents in the country. E.R. is a specialty in Vietnam, she added, but it's near the bottom in terms of importance.
"The majority of doctors in Vietnam have their own personal clinics because you don't make much money working in a hospital there," she said. "Most of these doctors are internal medicine or family medicine and don't know how to deal with trauma, especially when it involves multiple people."
Lewis explored the emergency rooms in Hue, a central-Vietnamese city located approximately 450 miles east of the South China Sea. She quickly discovered the stark contrast between Vietnamese emergency rooms and the emergency room inside Valley Hospital where she completed her rotations.
Overcrowding forced patients to lay in beds that were strewn about the hallways, and not a single curtain could be found to give patients any privacy. Air conditioning was also unavailable, a severe problem during the incredibly humid Vietnam spring.
After speaking with medical students in Vietnam, Lewis also discovered the differences between the medical schooling experiences in the two countries. While American medical school takes four years to complete, Vietnamese medical school takes six. There also isn't an undergraduate requirement for Vietnamese students, meaning first-year medical students start as young as 17 years old.
"There are plenty of differences in how we're working to achieve the same goals," she said. "But I was glad I was able to go there. It was something completely new for me, and it's an experience I'll never forget."
Lewis was grateful for the opportunity to complete a medical mission in a foreign country. Despite the language barrier, she was able to leave with more experience and knowledge as she works to become a master of her craft.
She is hopeful that a career in the emergency room will be awaiting her after next year's graduation. It's a place she always knew she'd be; a place where she can conquer that feeling of helplessness that set the tone for her future when she was just a teenager.
Learn More About Touro Nevada's DO Program