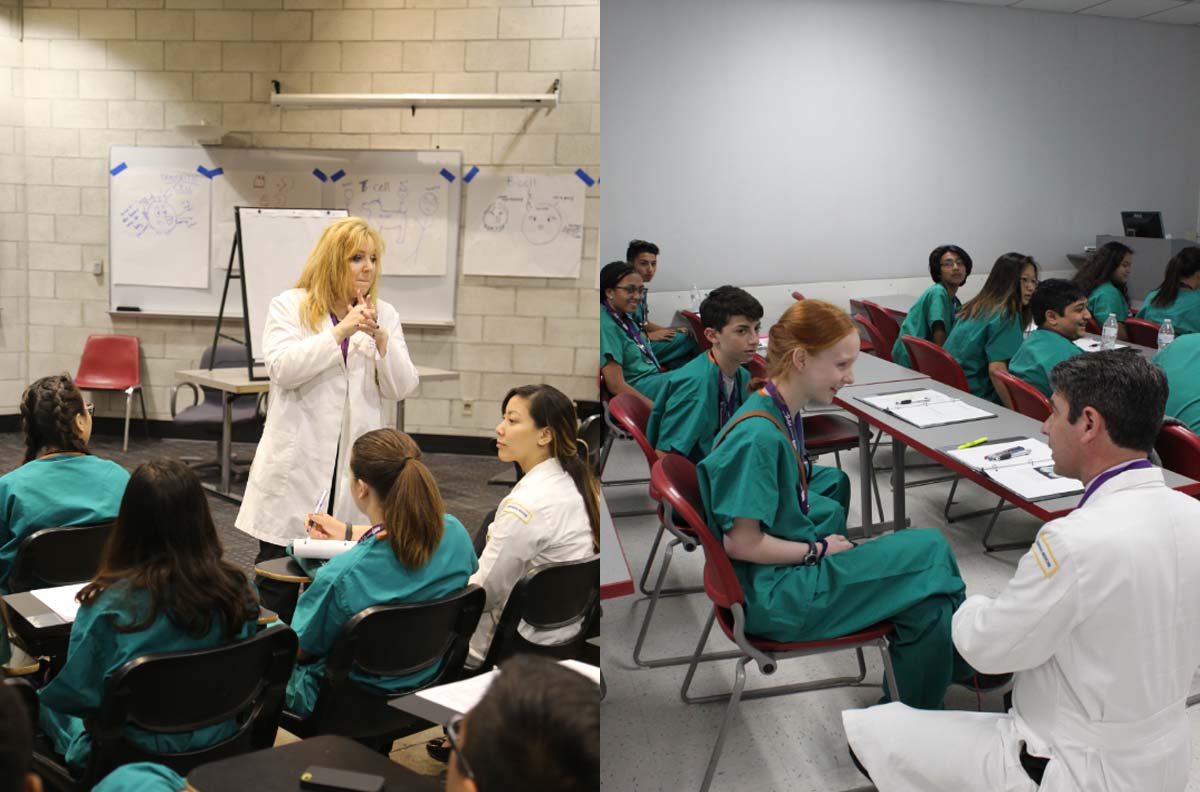 Touro Com Faculty and Students Train Young, Aspiring Physicians at Camp Med
Future physicians prepped for their journey in healthcare with the help of doctors and students from Touro Nevada.
Faculty members and students from Touro University Nevada's College of Osteopathic Medicine participated in Camp MED to help prepare incoming high school students for a future career in medicine.
Camp MED gives aspiring young physicians the opportunity to work with professional physicians and student doctors in a week-long mentorship program. The experience allowed the young students to gain a deeper insight into the world of medicine.
Drs. Daliah Wachs and Noah Kohn helped mentor the groups of students, as did several of students from Touro's College of Osteopathic Medicine.
Hosted by the Area Health Education Center (AHEC), Camp MED students were presented a hypothetical case of a boy suffering from an assortment of symptoms. Dressed in scrubs and separated into five groups, the students spent hour-long sessions in a variety of rotations to help find out what was wrong with their young patient.
Kohn said the sense of professionalism gave the kids an extra bode of confidence as they completed their tasks.
"The idea that we've had over the years is that wearing a white coat is a symbol to others of our professional status, but scrubs are a very similar type of symbol in terms of your professional identity," he said. "When these students put on their scrubs with their stethoscopes, it lets them know, 'Hey, I really can be a professional,' and I think they carried themselves differently because of it."
Students made the rounds learning about family medicine, cardiology, radiology, neurology and other subjects. Under the guidance of their mentors, they also learned how to properly listen to a heartbeat, test for reflexes and more while filling out workbooks.
"The young mind is ideal for learning, and what students are exposed to in school is a tiny fraction of the vast science world," Wachs said. "Young minds are not to be underestimated, and this camp proves the thinking and deductive reasoning of which they are capable."
The goal of the program was to treat the Camp MED students like residents. With their case in hand, they spent the night inside the UNLV dorm rooms and ate their meals together, forming relationships that will hopefully help them in the future.
"It's fascinating watching these students work, mostly because the technology they have at their fingertips is something I didn't have when I was that young," said Joanne Thio, DO20, who worked in Kohn's group during Camp MED. "It makes me happy to see such young faces interested in a career in medicine. I think the future is bright."
Though he was instrumental in helping the young participants acquire new skills in the medical field, Kohn said the experience was also a benefit to Touro students who gained useful mentoring skills in the process.
"For our medical students who participated, the benefit goes back to the old adage of see one; do one; teach one. The ability to translate the knowledge you have in a way that you can then transmit to others means that you really have to understand it," Kohn said. "Their engagement with the kids really gave them the opportunity to fully grasp the knowledge they needed."
Wachs enjoyed interacting with the Camp MED kids throughout the experience. Not only was she able to help guide the next generation of hopeful physicians, she was able to see herself in the teenagers as she helped quench their thirst for knowledge.
"The most enjoyable aspect of participating in Camp MED is working with students who were just like me…well, let's just say a few years ago," Wachs said. "This opportunity is phenomenal in that it can reaffirm their love for medicine as they embark on their years of training."
Learn More About Touro Nevada's DO Program