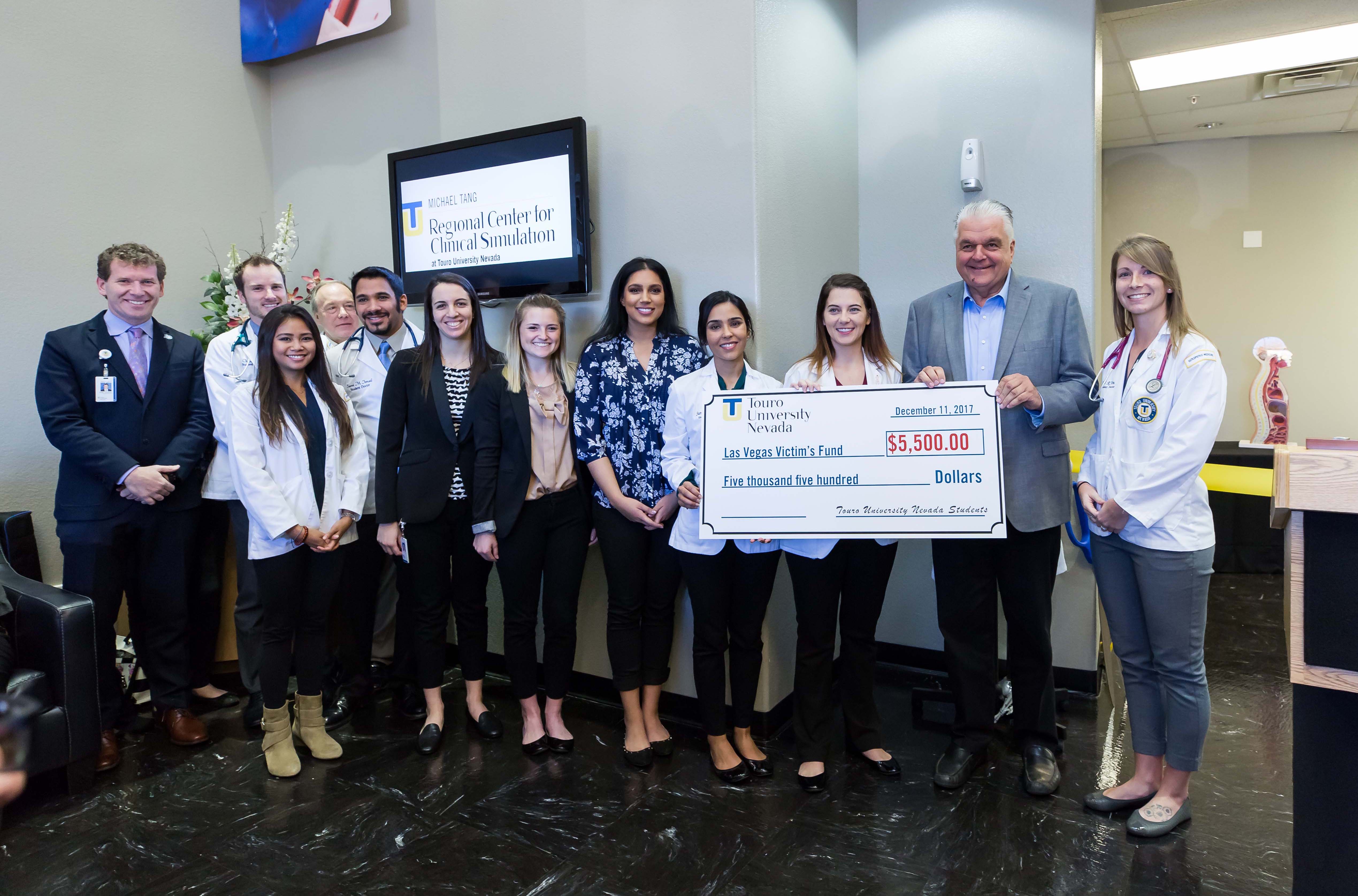 Touro University Nevada Community Raises $5,500 to Assist Those Affected by the October 1 Shooting
After the 1 October tragedy, Touro Nevada students, faculty and staff came together to help the victims.
The entire Touro community came together to honor those who were affected by the mass shooting in Las Vegas on Oct. 1.
In the days and weeks that followed the shooting, the Department of Student Affairs offered grief counseling sessions for students, staff, and faculty to help them cope with the tragedy. On Oct. 4, the campus held a unity gathering for the victims.
"I wish I had the words to offer comfort and understanding for what took place in our community," said Shelley Berkley, CEO and Senior Provost of Touro University Nevada during the unity gathering. "There were a number of our own faculty and students who were in the hospitals that evening and the days following and worked around the clock taking care of the injured and offering aid and comfort to their families. When I look around this room and see our students, I know that you are next generation of healthcare providers who may be called at any time to offer these services."
During the unity gathering, Rabbi Yehoshua Fromowitz led the room in prayer before a bell was passed around. Those in attendance took turns ringing it until it had rung 58 times, once for each life lost in the shooting. Shortly after, those at the unity gathering made their way outside where 58 white balloons were released into the afternoon sky.
In the days that followed the tragedy, Touro University Nevada student leaders came together to discuss how to raise funds and resources for the victims and everyone affected by the shooting.
With the help of a friend from Indiana, Toni Young, a second-year student in the College of Osteopathic Medicine, got the idea to sell t-shirts as part of the #TouroStrong campaign. Anyone who donated $15 to the online campaign received a custom "#TouroStrong" t-shirt, with all of the proceeds going to the Las Vegas Victims' Fund.
More than 130 people collectively donated $5,500 to the #TouroStrong campaign.
"It feels amazing to see the community come together in a variety of ways," Young said. "This is my third year here, so Nevada feels like home. It's been incredible to see people showing empathy for the victims and everyone else who was affected in our community."