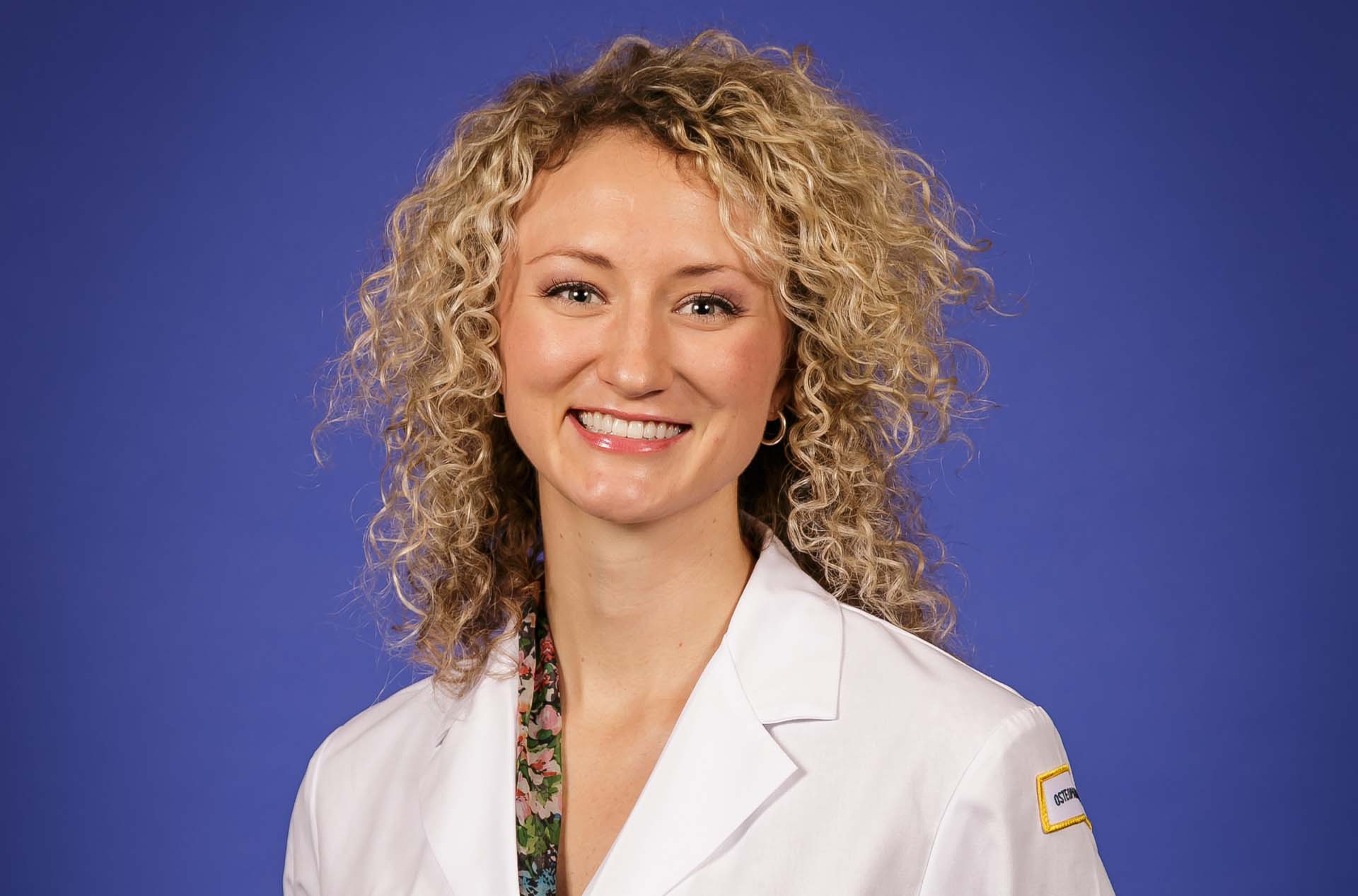 Touro University Nevada Medical Student Elected to the American Osteopathic Association's Board of Trustees
Fourth-year Touro University Nevada medical student selected as the sole student to serve on board.
Vanessa Halvorsen, a fourth-year medical student at Touro University Nevada, was recently elected as the student representative to the American Osteopathic Association's (AOA) Board of Trustees.
The AOA Board is charged with implementing the vision and strategic plan for the osteopathic profession. One medical student from across the country is elected to serve on the board.
"I can't really describe how grateful and humbled I am to serve in this role. I know that I will work hard to represent every student to the best of my ability," Halvorsen said. "The osteopathic profession has become more prevalent and is increasing each year. I love the osteopathic family, and to serve on this board during this instrumental time is incredibly exciting."
A native of Salt Lake City, Halvorsen completed her undergraduate studies in Exercise Physiology at the University of Utah before attending Touro University Nevada. As the Student Body President of Touro's College of Osteopathic Medicine, Halvorsen attends national conferences that encompass the student leaders of the country's 35 osteopathic medical schools.
Halvorsen was elected to the AOA's Board of Trustees by the executive board of the Council of Osteopathic Student Government Presidents (COSGP), a student division of the American Academy of Colleges of Osteopathic Medicine (AACOM). In her new two-year role, Halvorsen will attend conferences and mid-year meetings on behalf of the 28,000 osteopathic medical students from across the country where she'll learn more about health policy, single accreditation, and the importance of becoming a strong leader in the field.
She was recently selected as one of five finalists by the American Osteopathic Foundation (AOF) for its "Golden Ticket" Award. This award recognizes medical students for leadership and academic excellence. The AOF will honor Halvorsen and the other finalists at its annual gala in October. Finalists are guaranteed a $5,000 scholarship award with the winner receiving $25,000.
Halvorsen is also a member of the Sigma Sigma Phi Honors Society; a tutor for physiology, anatomy and biochemistry; and is pursuing research in risk factors associated with autism and effects of mate' extract on breast cancer. After completing her undergraduate studies, she taught Anatomy at the University of Utah School of Medicine, and worked on inflammatory response research at the Orthopedic Specialty Hospital in Murray, Utah where she received numerous grants from the USANA Pharmaceuticals and Intermountain Medical Center.
Halvorsen, who is auditioning with prospective residency programs across the country, plans to specialize in Otolaryngology upon graduation in May 2018.
"I have been very blessed by being a student at Touro University Nevada," Halvorsen said. "The university and its administration empower all students to be the best they can be. They don't just give this challenge though; they provide a path and balance along the way. Both the faculty and the students make me proud to be a student at Touro."
"The appointment to the AOA Board of Trustees is a singular honor that is a reflection of both Vanessa's thoughtful, inclusive representation of her peers and the recognition by the AOA leadership of her potential as a future leader in the profession," said Dr. John Dougherty, Dean of Touro University Nevada's College of Osteopathic Medicine. "I have little doubt that she will be a strong advocate; and know that students and young physicians can count on her to be their voice and effectively represent their perspectives in all matters that come before the Board of Trustees."
About Touro University Nevada
Touro University Nevada (TUN) is a private, non-profit, Jewish-sponsored institution established to help address critical needs in health care and education and as a resource for community service in the state of Nevada. TUN opened its doors in 2004 and is home to a wide variety of degree programs including osteopathic medicine, physician assistant studies, education, nursing, occupational therapy and physical therapy. The university's Henderson campus includes a multi-specialty health center and a multi-disciplinary Center for Autism and Developmental Disabilities. For more information on TUN, please visit www.tun.touro.edu or call 702-777-8687.
About the Touro College and University System
Touro is a system of non-profit institutions of higher and professional education. Touro College was chartered in 1970 primarily to enrich the Jewish heritage, and to serve the larger American and global community. Approximately 18,000 students are currently enrolled in its various schools and divisions. Touro College has 30 campuses and locations in New York, California, Nevada, Berlin, Jerusalem and Moscow. New York Medical College; Touro University California and Touro University Nevada; Touro University Worldwide and its Touro College Los Angeles division; as well as Hebrew Theological College in Skokie, Ill. are separately accredited institutions within the Touro College and University System. For further information on Touro College, please go to: http://www.touro.edu/news/.
About the American Osteopathic Association
The AOA is a member association representing more than 129,000 osteopathic physicians (DOs) and osteopathic medical students. The AOA serves as the primary certifying body for DOs, and is the accrediting agency for all osteopathic medical colleges and health care facilities. The AOA's mission is to advance the philosophy and practice of osteopathic medicine by promoting excellence in education, research, and the delivery of quality, cost-effective health care within a distinct, unified profession.
###
For media information, please contact:
Mandi McCary / Dana Gifford
702-277-7107 / 702-219-0530
mandi@mmgnv.com / dana@mmgnv.com
Learn More About Touro Nevada's DO Program