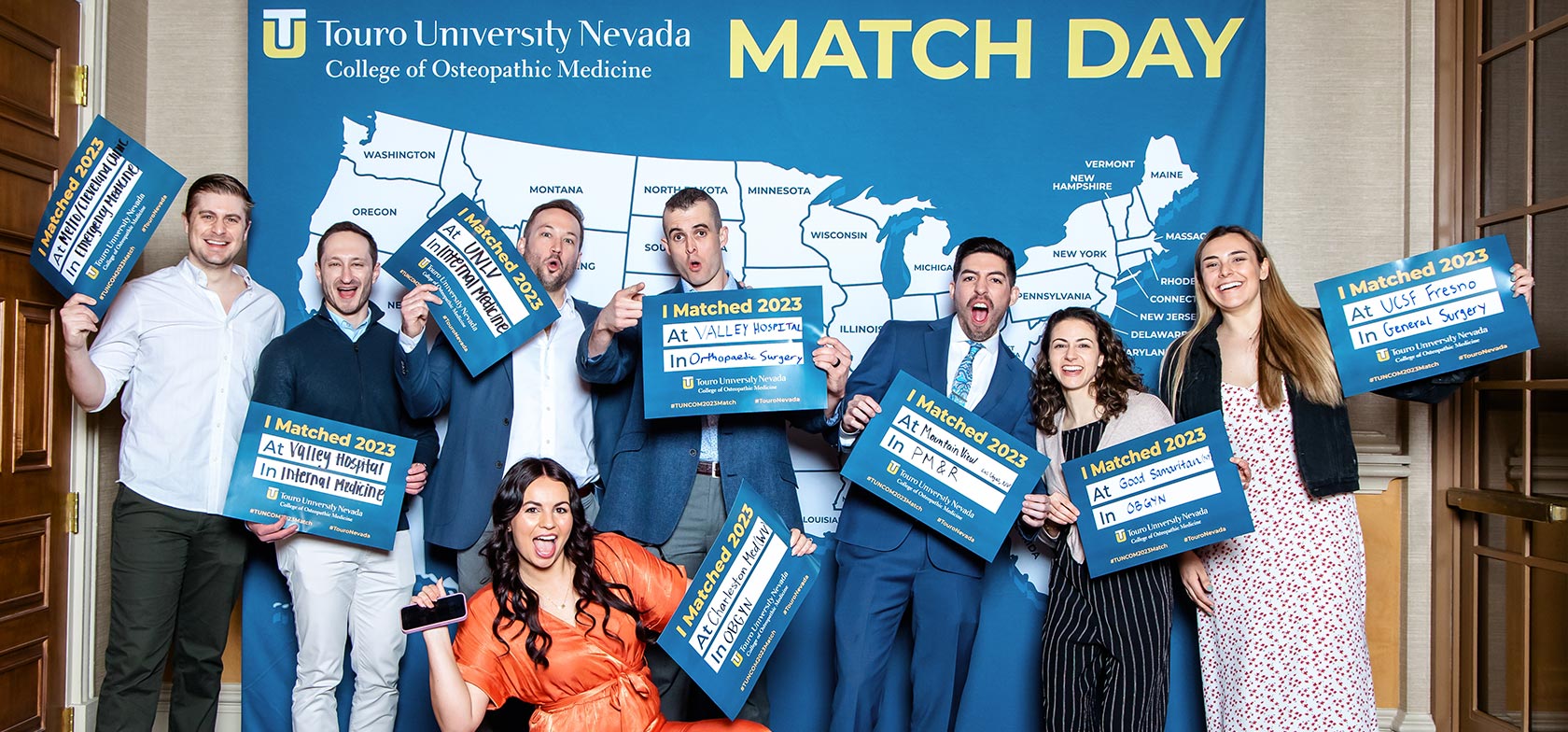 Touro University Nevada's College of Osteopathic Medicine achieves 100% residency match/placement for its medical students
50 medical graduates will remain in Nevada for their residencies
The College of Osteopathic Medicine of Touro University Nevada (Touro), Nevada's largest medical school, is celebrating a 100 percent match/placement rate for its 162 medical students that make up the Class of 2023.
Of the graduating population, 50 students (30 percent) will remain in-state and begin a residency in Nevada, helping to meet the local and growing demand for healthcare providers.
Ninety students (55 percent) will enter the fields of primary care, including family medicine, internal medicine, and pediatrics. In addition to the primary care specialties, students are entering a diverse range of program specialties, including anesthesiology, dermatology, emergency medicine, neurology, orthopaedics, psychiatry, general surgery, and OB/GYN. Touro's medical students also matched in all 11 of Nevada's psychiatry residency slots.
"We are very pleased with this year's outcome of Match Week 2023. Our students did spectacularly," said Dr. Wolfgang Gilliar, Dean, Touro University Nevada College of Osteopathic Medicine. "50 of our graduates will be staying in Nevada and 90 graduates will be entering primary care, which is phenomenal. This week's outcome aligns beautifully with Touro University Nevada's vision: to serve, to lead, and to teach."
In addition to the Nevada institutional placements, students will be entering residencies in 29 states. Touro students have been invited to do their residencies at many world-renowned institutions, including UCLA, Loma Linda University, the Mayo Clinic, the University of Arizona, the University of Illinois, the University of New Mexico, UNLV, and others.
Touro celebrated the 2023 Match Day for its 162 graduating medical students in an exciting letter-opening ceremony at Green Valley Ranch on Friday, March 17. During the past four years, Touro's College of Osteopathic Medicine has achieved a 100 percent match/placement rate twice for its graduating medical students, and a near 100 percent match/placement rate twice. Many students choose to stay in Nevada, a continuous trend due to many welcoming factors. Throughout the past four years, Touro has added approximately 180 new physicians to the Nevada workforce.
Match Day is an exciting ceremony that signifies the day when fourth-year medical students across the country open their personal envelopes and learn where they are accepted to do their future residency programs. As medical students make the transition into their professional careers, for which they have spent so many years of dedicated academic work, the pivotal moment when they open their envelope is the beginning to their formal careers as physicians.
Touro's College of Osteopathic Medicine