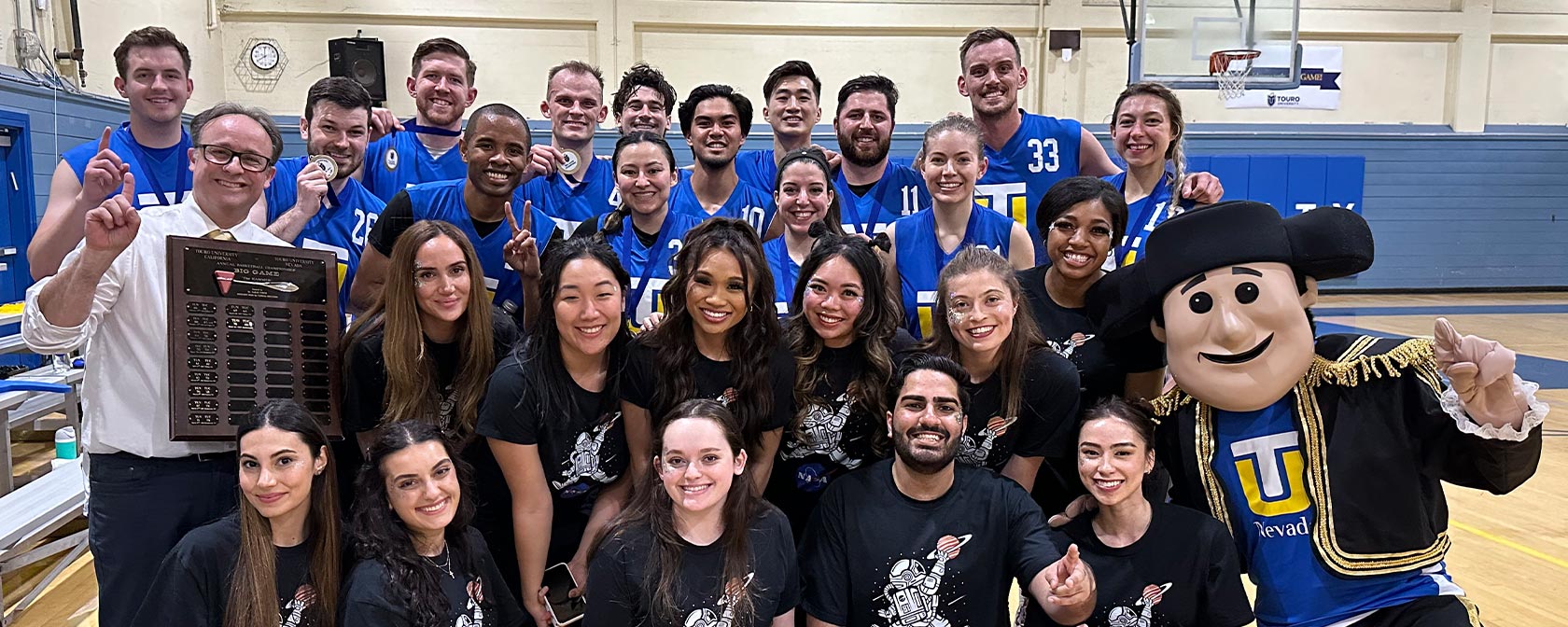 Touro University Nevada Dominates Touro University California, 54-39, in The Big Game
"Being a part of the Big Game was such an amazing and fun experience." Delaney Sparling, School of Occupational Therapy student
From the opening tipoff, Touro University Nevada completely overwhelmed Touro University California, leaving Vallejo with a massive 54-39 victory in The Big Game.
Touro Nevada's dominant win moved its all-time series lead in the Big Game to 12-1.
Aside from an early dunk by Touro California to open the scoring, Touro Nevada never trailed the remainder of the game. In fact, Nevada led comfortably for the entire contest, rarely seeing their lead dip below double digits.
"After TUC's first dunk in the game, I thought they were going to exploit their height advantage," said Coach Steve Liaos, Interim Director of the School of Physical Therapy. "But we settled down and scored the next nine points."
Nevada set the tone early, generating second-chance points and crucial three-pointers from the College of Osteopathic Medicine's Sean Poole, the School of Occupational Therapy's Delaney Sparling, and the School of Physical Therapy's Saint Gelacio.
By halftime, Nevada led the hometown California team, 29-14. Liaos said the team never looked back.
After both universities' dance teams wowed the California crowd with spectacular performances, it was more of the same on the basketball court. By the 12-minute mark, Nevada had extended its lead to 21, more than doubling its California counterparts, 40-19.
"I'm grateful that our Matadors trusted me to handle the ball and try and make plays for the team," Poole said, playing in his final Big Game as a fourth-year medical student preparing for graduation.
The three-pointers continued to rain down for Nevada, and with less than nine minutes to go, a three-pointer by the School of Physical Therapy's Cameron Beckert all but shut the door on California, extending Nevada's lead, 50-25.
"Being a part of the Big Game was such an amazing and fun experience. It was so fun being able to meet and make friends with students from other programs," said Sparling, a Bay Area native. "Getting to play in front of my family again was an incredible experience and it meant so much to me."
Despite the hostile crowd loudly cheering for Touro California the entire game, Touro Nevada left with a commanding 54-39 victory.
I was just trying to make sure I was rotating everyone into the game. It is difficult when things are going well, and you don't want to disrupt the chemistry of the team on the floor," Liaos said. This was a great group of individuals who all celebrated each other's success."
Poole, who will be moving to the Bay Area to complete his family medicine residency at the University of California, San Francisco upon graduation, commended his teammates for staying resilient in the face of the raucous California crowd."In the months leading up to the game, we developed chemistry as a team. I like to think the chemistry and energy we brought helped us grab the W," he said.
Life at Touro Nevada