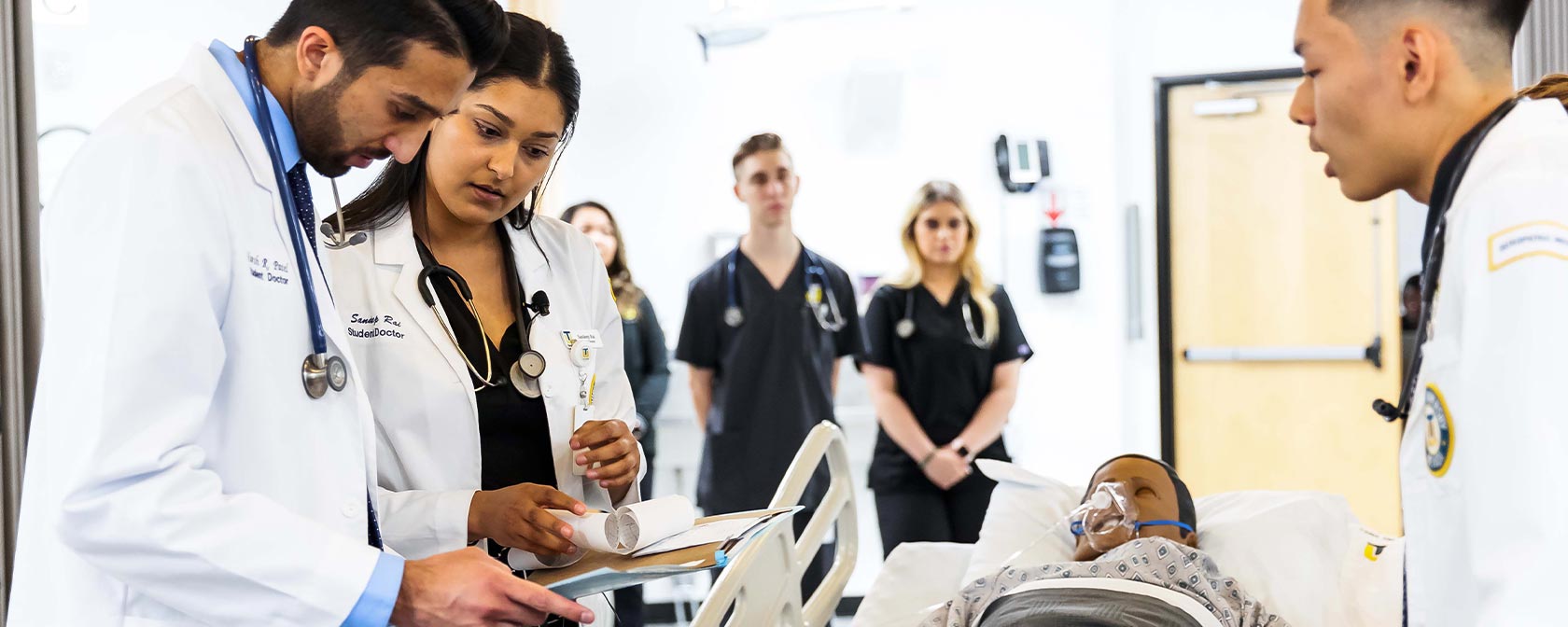 Michael Tang Regional Center for Clinical Simulation Receives Accreditation by the Society for Simulation in Healthcare
Touro houses the only simulation center accredited by the Society for Simulation in Healthcare (SSH) in Nevada. This initiates the process towards receiving full SSH accreditation, an honor awarded to fewer than 180 simulation centers worldwide.
The Society for Simulation in Healthcare (SSH) has awarded provisional accreditation to the Michael Tang Regional Center for Clinical Simulation (Center) at Touro University Nevada (Touro), home of Nevada's largest medical school and its only school of osteopathic medicine.
Touro is working towards earning full accreditation by SSH, a highly respected recognition held by fewer than 180 simulation programs around the world. Touro is only one of two simulation centers in the state of Nevada and is the only accredited simulation center in the Silver State.
Touro's Simulation Center is named for Michael Tang, a businessman, philanthropist, and one of the university's most generous benefactors whose gifts fund transformational programs and initiatives like this one. As its name suggests, a clinical simulation center is an innovative instructional environment and learning laboratory that provides immersive simulation training for students, physicians, nurses, and other health care professionals, offering hands-on learning opportunities that significantly enhance their medical education.
The eligibility criteria for SSH provisional accreditation requires that centers be able to demonstrate established structures and processes as detailed online. All simulation centers must receive provisional accreditation before applying for full accreditation. Touro will spend the next two years working towards full accreditation, which includes presenting data and outcomes from the Center and compelling evidence that Touro's students are receiving career-changing, hands-on experience through the Center's state-of-the-art facility.
"The Michael Tang Regional Center for Clinical Simulation is one of our proudest landmarks on campus. The innovative experience our students receive from using this facility is unmatched, not only in our state, but it rivals the best simulation centers around the world," said Dr. Andrew Priest, Campus President and Provost, Touro University Nevada. "Through the Center, our students practice realistic medical and health care scenarios involving standardized patient actors, high-fidelity manikins, task trainers and other modalities. This critical, hands-on education better prepares our students for realistic patient scenarios after they graduate. We are so honored to have been awarded provisional accreditation by the Society for Simulation in Healthcare and look forward to continuing to demonstrate our worth to being included among the elite list of fully accredited simulation centers around the world."
The Center's groundbreaking facility is equipped with technologically advanced equipment features, including:
200+ task trainers with various abilities including IV insertion, abdominal examination, intubation, birthing, EKG monitoring, eye and ear exams, heart, lung and bowel sounds, foley catheter placement, male and female health exams, and more
Six-bed multifunctional hospital unit with observation deck
20 Objective Structured Clinical Examination (OSCE) rooms
Two high-fidelity multifunctional hospital simulation rooms
Two simulation playback debriefing rooms
Four high-fidelity manikins
OptumCare Ultrasound Training Facility with nine beds
75-seat lecture hall
"The Michael Tang Regional Center for Clinical Simulation provides our students with the unique opportunity to use the newest, state-of-the-art technology as they work to hone their skills as future physicians and health care professionals," said Jose Noriega, Chief Information Officer, Touro University Nevada. "As medicine and technology simultaneously evolve, it is critical for our students to have access to the latest and greatest tools here at Touro. This accreditation from the Society for Simulation in Healthcare is a step in the right direction as we incorporate more cutting-edge technology into our students' curriculum."
Tang Regional Center for Clinical Simulation