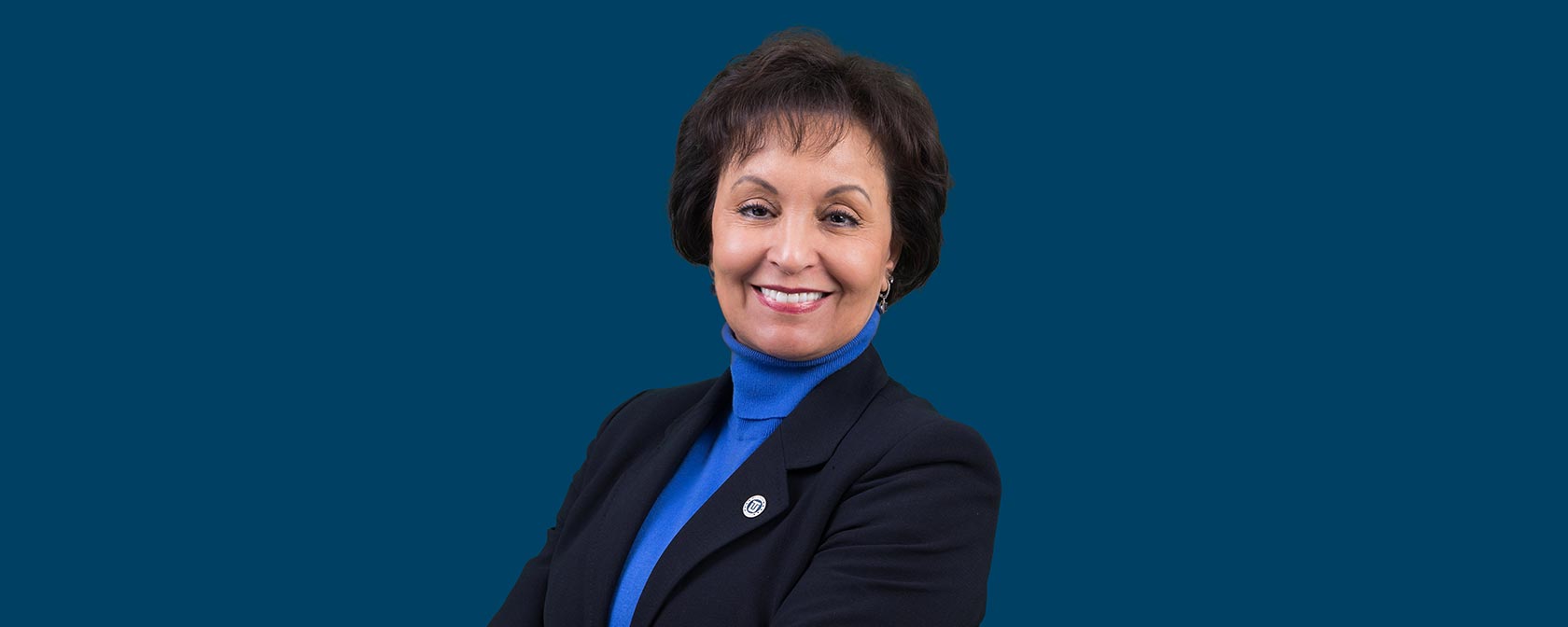 Dr. Amina Sadik Honored with Prestigious Award from International Medical Education Organization
Dr. Sadik was Honored with the 'Distinguished Career Award for Excellence in Teaching and Educational Scholarship' by the International Association of Medical Science Educators (IAMSE)
If at any time you step into, or even walk by Dr. Amina Sadik's office, you can instantly appreciate the passion she has for her students.
She is a teacher; the kind who sticks with you for the rest of your life. Talking about studying habits brings a smile to her face, because she knows that they can improve the lives of even one of her students.
Her infectious style has been a Touro staple since she came to the institution as one of its original faculty members in 2004. You don't need a cup of coffee to wake you up in the morning. Just ask her about her thoughts on biochemistry or the MCAT.
A conversation with Dr. Sadik is the antidote to instantly wake you up. She is confident in everything she says. You might know a little something about medical education, but five minutes after listening to her speak about it will have you considering a career as a medical school faculty member.
She cares so deeply for her students that it is not uncommon for her to tear up when talking about them. All of this is to be said because her calling as a teacher, and as a lifelong learner, is felt around the world.
Dr. Sadik was recently honored with the 'Distinguished Career Award for Excellence in Teaching and Educational Scholarship' by the International Association of Medical Science Educators (IAMSE).
Dr. Sadik has been an IAMSE member since 2008 when she attended her first IAMSE conference in Cleveland.
"I loved that this was a conference focused specifically on medical education," she said. "It's amazing how much you can learn from educators in other countries who can help you be your best. I don't think I would be who I am had I not attended those conferences. If your exposures are limited, so are your abilities, and I always wanted to be better."
Dr. Sadik and her students throughout the years have been instantly recognizable at IAMSE conferences around the world. Touro students who attend conferences with Dr. Sadik are almost certain to come home with an award for their research.
It is something that Dr. Sadik is extremely proud of.
"It's always about the students. I've been teaching for more than 30 years, and I've seen teaching evolve," she said. "I'm not just talking to my students anymore to teach them. You have to evolve because medical education is evolving all the time. You need to evolve with it to be the best you can be. Teacher and student can't exist without each other."
Dr. Emmett Findlay, Associate Professor and Chair of the College of Osteopathic Medicine Basic Sciences Department, was thrilled to see Dr. Sadik recognized with her IAMSE Award.
"I have worked closely with Dr. Sadik for nearly 20 years and can honestly say that I've never met anyone with as much passion and enthusiasm for education," he said. "With Dr. Sadik, the students always come first. To her, education is more than a career, it is truly a calling, and I am proud to count her as both a colleague and a friend."
Dr. Sadik said the 'Distinguished Career Award for Excellence in Teaching and Educational Scholarship' is almost exclusively reserved for educators from Ivy League universities. She and her students' consistent presence at IAMSE conferences, she added, helped to distinguish her from her Ivy League colleagues.
"I told myself that I have the same dedication that they do, and I continue to do the best I can to affect the students I work with," she said. "You do that by sending students to present, and they saw how involved I was internationally. You have to be visible. By making your school visible, you help to make yourself visible."
Dr. Sadik said after she became a professor, she never put her name at the front of a research project. She always put the students' names first, she said, so they could better promote and be recognized for their hard work.
"I am timid by nature, but I force myself to be extroverted because I want to get the information," she said. "It's not about having degrees, it's the effort you make and the number of students you mentor and inspire. It's not about me. It's about the students, and I think this award is representative of that."