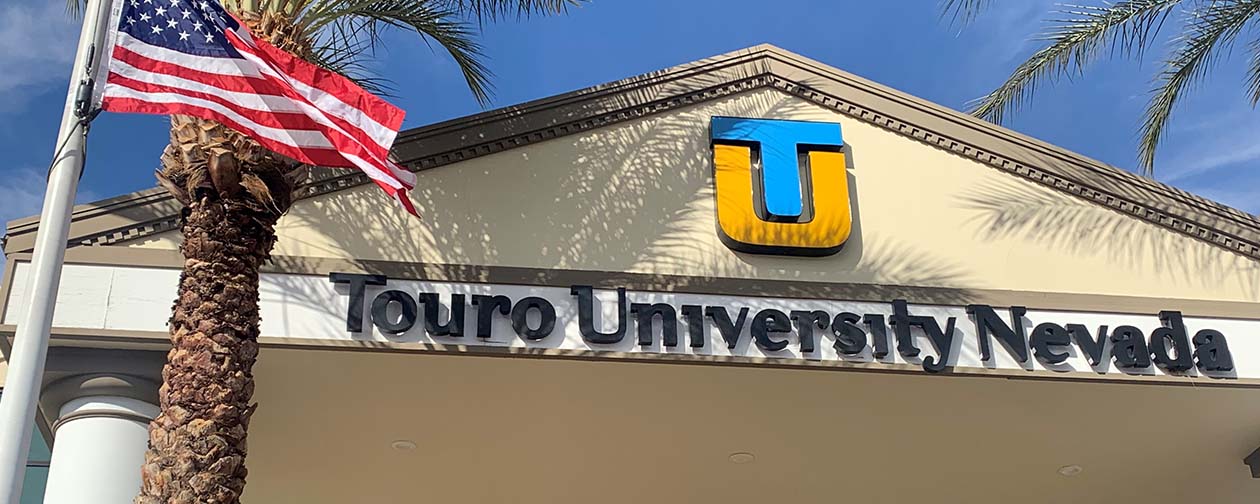 Touro's Veteran Community Honored During In-Person, On-Campus Ceremony
Community comes together in celebration of the nation's veterans
Inside Touro University Nevada's newly designed front lobby, chairs were lined in rows as red, white, and blue balloons arched from the floor to the ceiling.
In the bullpen, the campus community grazed on hot dogs and peanut butter and jelly sandwiches, staples of simple American food. InTUN, Touro's A Cappella group, was lined up in the back of the room, waiting for their queue to walk to the front and sing "Homeward Bound," the somber, beautiful song published during World War I.
Guest after guest took their turns at the podium draped with mini-American flags. Each of them had a message for the nation's veterans, the reason for the day's celebration.
"I want to thank all of the people sitting here today who have served our nation with honor and distinction," Shelley Berkley, Touro's CEO & Senior Provost, said to those in attendance. "And thank all of you for being here to observe this very important occasion in our nation."
Berkley discussed her father's involvement in World War II, and how his decision to serve in the military as a teenager sparked her love and appreciation for our nation's veterans.
Dr. James McKivigan, Associate Professor in the School of Physical Therapy and a Vietnam veteran who served in the U.S. Navy from 1970-98, talked about the experience of having served, and how serving in the military teaches similar lessons to those pursuing a career in healthcare.
"Your families are going through school with you. It's hard on you, and it's hard on them," he said. "Don't think you've made it this far without someone else's support. When you go home tonight, I ask that you thank your spouse or call your parents and thank them. I'm sure there are a few of you who really did make it this far on your own. There are always a few exceptions. If you happen to meet one of them, they will tell you that it's tough and it's much better to go with somebody else than to go at it alone."
Calan Teel, a fourth-year student in the College of Osteopathic Medicine, spent more than 10 years in the U.S. Air Force before applying to Touro. Both of his parents worked on fighter jets like he did; but it was his wife, whom he met while stationed in South Korea, who encouraged him to apply to Touro.
"We saw how great the school was and the fact that Southern Nevada had a pretty big Korean population, so we made the decision together and I've never looked back," he said. "Our professors have so much knowledge and it allows us to integrate all of these concepts during rotations. Through these experiences, I've discovered just how much knowledge we actually have so we learn not only how to treat patients, but how to understand the fundamental basics of why we do what we do. I'm very grateful for my experience at Touro."
As the ceremony came to a close, Christy Molasky, a board member from the Molasky Family Foundation, which provides scholarships to Touro student veterans, sang the national anthem outside the front of the university as the American flag was slowly raised to the top of the flagpole.
Touro's first in-person Veterans Day ceremony in two years may have been finished, but its effects could be felt throughout campus long after it was over.