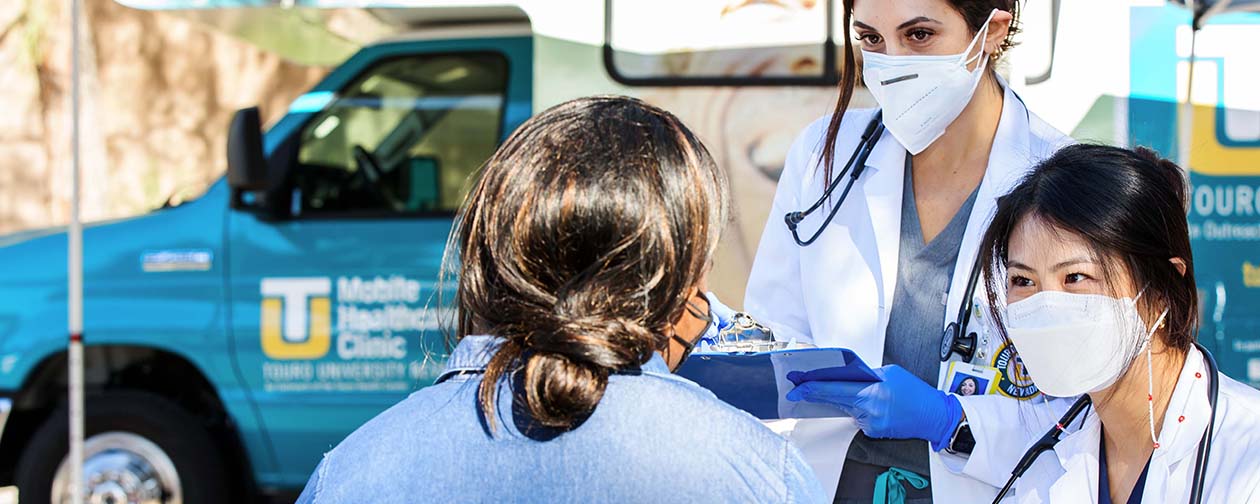 Touro's Students Volunteer at Project Homeless Connect to Provide Primary Care Services to Valley's Underserved Populations
Students from Touro University Nevada's School of Physician Assistant Studies and School of Occupational Therapy volunteered their services at the Pearson Community Center
Touro's students and faculty provided much-needed care to the Las Vegas Valley's homeless and low-income populations during Project Homeless Connect at Pearson Community Center on Nov. 17.
With support from more than a dozen other agencies, including Immunize Nevada, the Office of the Clark County Commission and Three Square Food Bank, qualifying residents received access to housing assistance, job training programs, and dental and vision screenings, and medical care.
Under the supervision and guidance of Dr. Rebecca Edgeworth, Assistant Professor in the School of Physician Assistant Studies, Touro University Nevada led the medical and dental component of the entire event.
"Project Homeless Connect is such an important event for members of the community to come together to help our populations who need it most," said Professor Amie Duford, Interim Director of the School of Physician Assistant Studies. "Our students also benefit from this experience because it allows them to work with patients across socio-economic lines; our populations who have trouble getting access to healthcare."
Students from Touro University Nevada's School of Physician Assistant Studies and School of Occupational Therapy volunteered their services at the event, which was attended by thousands across the Las Vegas Valley.
"I wanted to volunteer at Project Homeless Connect and offer services to our homeless and low-income populations because it's important to give back to the community; especially to those who are desperate to get the healthcare they need," said Michael Trinkler, a student in the School of Physician Assistant Studies.
While Touro's PA students provided wound care and other services outside of the mobile healthcare clinic, OTD students were inside performing balance screenings and fall prevention techniques.
"As a future occupational therapist, volunteering at an event like Project Homeless Connect will help me work better with all sorts of communities," said Elise Camacho-Escobedo, a student in the School of Occupational Therapy. "I'm going to take these experiences with me and do what I can to offer my help when needed."