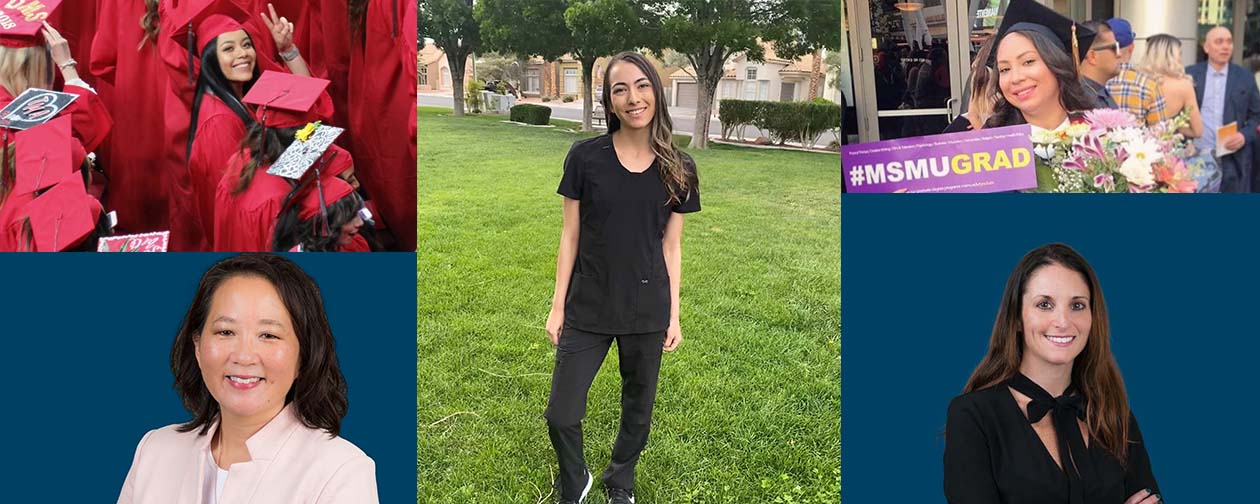 Touro University Nevada Students and Faculty Discuss the Importance of Occupational Therapy for National Occupational Therapy Month
OTs Discuss Why OT Month is so Important
In celebration of Occupational Therapy Month, we spoke with students and faculty from the School of Occupational Therapy (OT) about why they chose to become an OT, and why OT Month is so important.
Danielle Potop, Class of 2023
I first discovered occupational therapy during my sophomore year of college when a good friend of mine told me that she thought it would be something I would like. I then explored the profession more by volunteering and shadowing different therapists in both inpatient hospitals and outpatient clinics. By my senior year of college, I was certain this was the path for me.

Occupational therapy month is important because there are many misconceptions about occupational therapy. Many think that we are nurses, physical therapists, or we help people with their jobs. However, OT is a unique medical profession that focuses on getting people with disability, injury, or illness back to doing the things that they love to do. Continuing to advocate for our profession is crucial, and OT Month gives us an opportunity to showcase the unique and amazing things occupational therapists can do.
Dr. Robyn Otty, Program Director
Each April reminds me how fortunate I am to have unique impact on clients because of the holistic perspective OT possesses. OT continually uses a systematic approach to ensure clients' occupational needs and goals are the center point to their care and rehabilitation. To ensure the core-belief to the profession is based on the clients' specific meaningful participation in their lives, I use each April to reflect how I can continually ensure the profession's beliefs are expressed through advocacy and/or education experiences.
Past professional experiences that I have completed each April include a letter to policy makers to support the profession, including continued policy coverage for recipients of OT, Car-Fit event to highlight the profession as part of older adults' occupation of driving, or reflect what additional efforts I can enact to endorse the profession as an active member to state and national OT groups.
Dr. Linda Frasier, Associate Professor
My first exposure to the health profession dates back to kindergarten when my father underwent brain surgery and needed physical therapy. I chose PT at a young age but stumbled upon occupational therapy during undergraduate school. I began exploring OT more and found myself drawn to OT for several reasons. First, I love that OT includes the whole person. Taking a blend of science-based and psychology- related classes attracted me. I believe that you need to treat the whole person rather just one or two sectors for one to be healthy and independent to live well every day.
Second, I am one who becomes bored with mundane tasks and monotony. OT requires extensive problem solving, analysis and creativity. OT is the perfect fit for me as I am able to blend my scientific brain, my desire to problem-solve, and use my creativity to help others live fulfilling lives. Last, OTs have endless opportunities to work in clinical and non-clinical roles with individuals across the life span. April is an exciting time for OTs as it celebrates the profession and all its accomplishments. It is vital in that it helps bring awareness to our communities, states, and national organizations about OT and how OT can be of value to all individuals and society.
Christy Adaya, Class of 2023
I chose to pursue a career in occupational therapy because it not only offers an opportunity to help others by improving their quality of life through the use of occupations; it also inspires creativity and positive client-centered care, which I have found to be extremely rewarding.
I first discovered OT when my sister was seeking her doctorate in physical therapy. When my family and I were invited to her orientation, the presenter asked the crowd who was there for PT, and about 95% of the room raised their hands. Then he asked who was there for OT – and maybe 12 hands went up in the crowd of 100. At the time, I laughed to myself wondering why he was asking who was there for "overtime." Obviously, I had no idea what OT was, but something clicked, and I immediately started doing research. From that point on, I set my career path toward a degree in occupational therapy and strived to eventually enroll in Touro's OTD program.
OT month is dedicated to spreading the news about what occupational therapy is and what makes it unique from all other careers in healthcare. It's time to educate and advocate for this amazing profession – because no, OT isn't overtime, it is not PT, and it's definitely making a difference in people's lives, and that's worth celebrating.
Lupita Gaytan, Class of 2023
I volunteered in many settings originally for PT but then ran into an OT who spoke to me about how she worked with patients. I always knew I wanted to help people, but I never knew such an amazing field existed where you look at the whole individual and find ways to work on independence and quality of life. This is when I decided to pursue OT as I discovered the holistic approach of an individual and not just focusing on their deficits.
I love finding new ways and approaches that can benefit individuals to work on various areas depending on their goals and interests. I also love that OT is client-centered, which gives individuals that power of being involved in their progress and independence. My goal is for my future patients to engage in the most naturalistic way in reaching their goals and allowing them to be able to be part of their best quality of life. I think OT Month is very important because it helps us advocate and provide information to others for the many benefits our field can provide in various setting and across the lifespan.
Learn More About Touro Nevada's OT Program