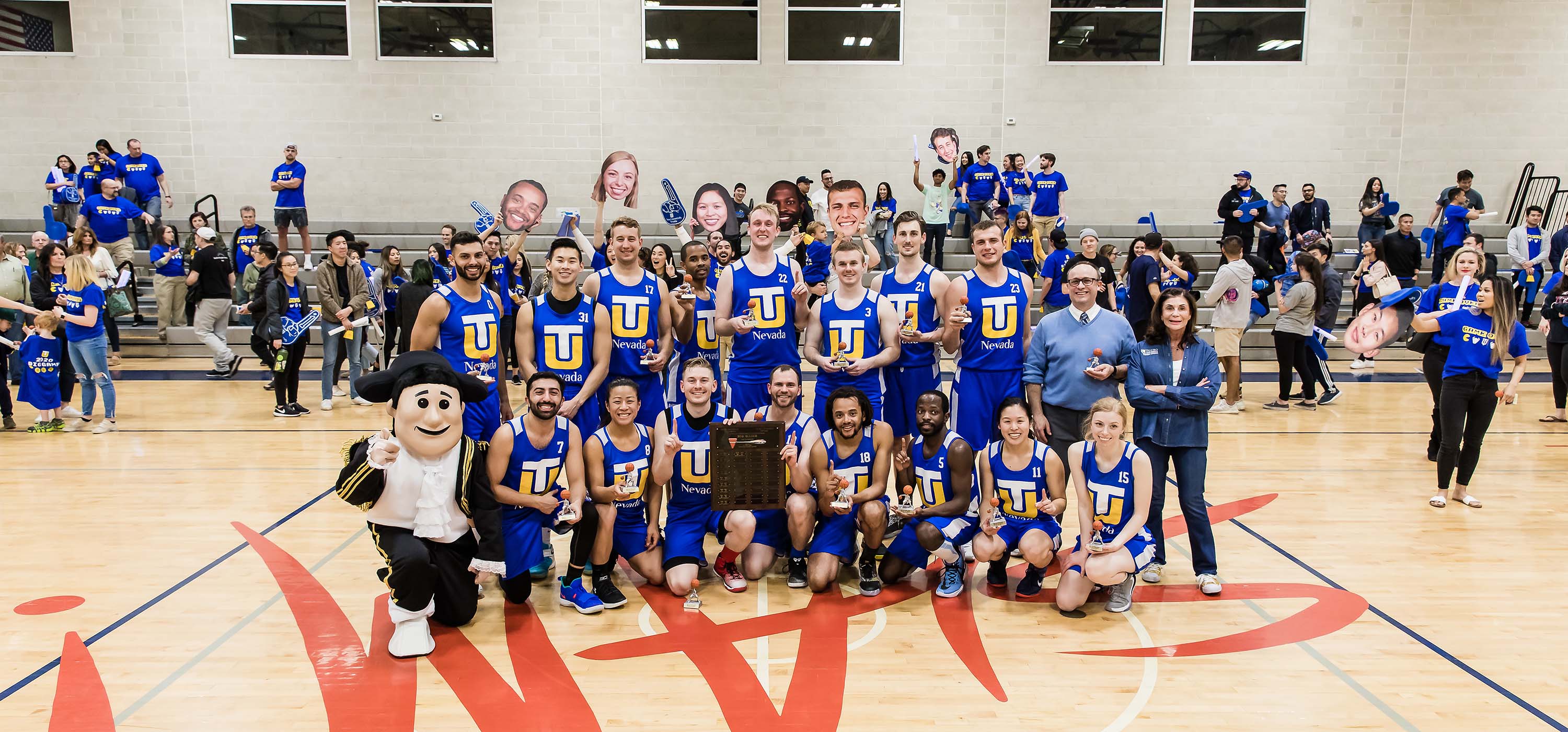 Touro University Nevada Reigns Victorious in 11th Annual Big Game
Win Pushes TUN's Record to 10-1 All Time in Big Games
As the final buzzer went off, Touro University Nevada had escaped with a 76-66 victory in the 11th annual Big Game, held at the SLAM Academy in Henderson.
Boasting four players who were at least 6'4'', Touro Nevada relied on their big men early on, a strategy that worked in the first half.

"They were getting used to Ky [Raymond] and Taylor [Pickering] getting it down low, so they started double and triple-teaming them," said Sean Poole, a first-year student in the Touro Nevada College of Osteopathic Medicine.
After opening up an early 16-2 lead, Touro Nevada dominated the entire first half and headed into the break with a 40-23 lead. It was unfamiliar territory for them, as the two previous Big Games saw them trailing at halftime.
Touro came out of the half with the same momentum that propelled them in the first 20 minutes by going on a 5-0 run and extending their lead to 22.

Despite the large deficit, Touro California refused to go quietly. Led by Jamie Katuna and Bryan Okereke, Touro California cut the massive Touro Nevada lead to single digits midway through the second half.
"Their shots were falling and ours weren't. We lost control for a little bit and allowed them to get back into the game," said Dr. Steve Liaos, Head Coach and Associate Professor in the Touro Nevada School of Physical Therapy.
What was once thought of as an insurmountable lead all but vanished as Touro California crept within a single point with three minutes to go in the game.
"I told our team to calm and that we needed a basket on our next possession," Liaos said. "We were getting a little congested in the middle trying to use our big guys, so we had to kick it back to our guards and look for the open man."
Poole and fellow guard AC Talle took over both offensively and defensively when the Matadors needed it most. When Touro Nevada's shots weren't falling, big men like Raymond, Pickering, and Colton Marshall were able to come down with the critical offensive rebounds.
"Our big guys did a great job of getting our rebounds," Poole said. "We worked the game through our big men and it eventually paid off for us."
Two critical baskets with a free throw by Poole and Raymond helped Touro Nevada extend their lead with two minutes to go.

Touro California couldn't get their shots to fall in the closing minutes and left SLAM Academy with another Big Game loss.
"This was a rough game, but it was a lot of fun," Poole said. "I didn't expect this kind of electricity from this basketball game."