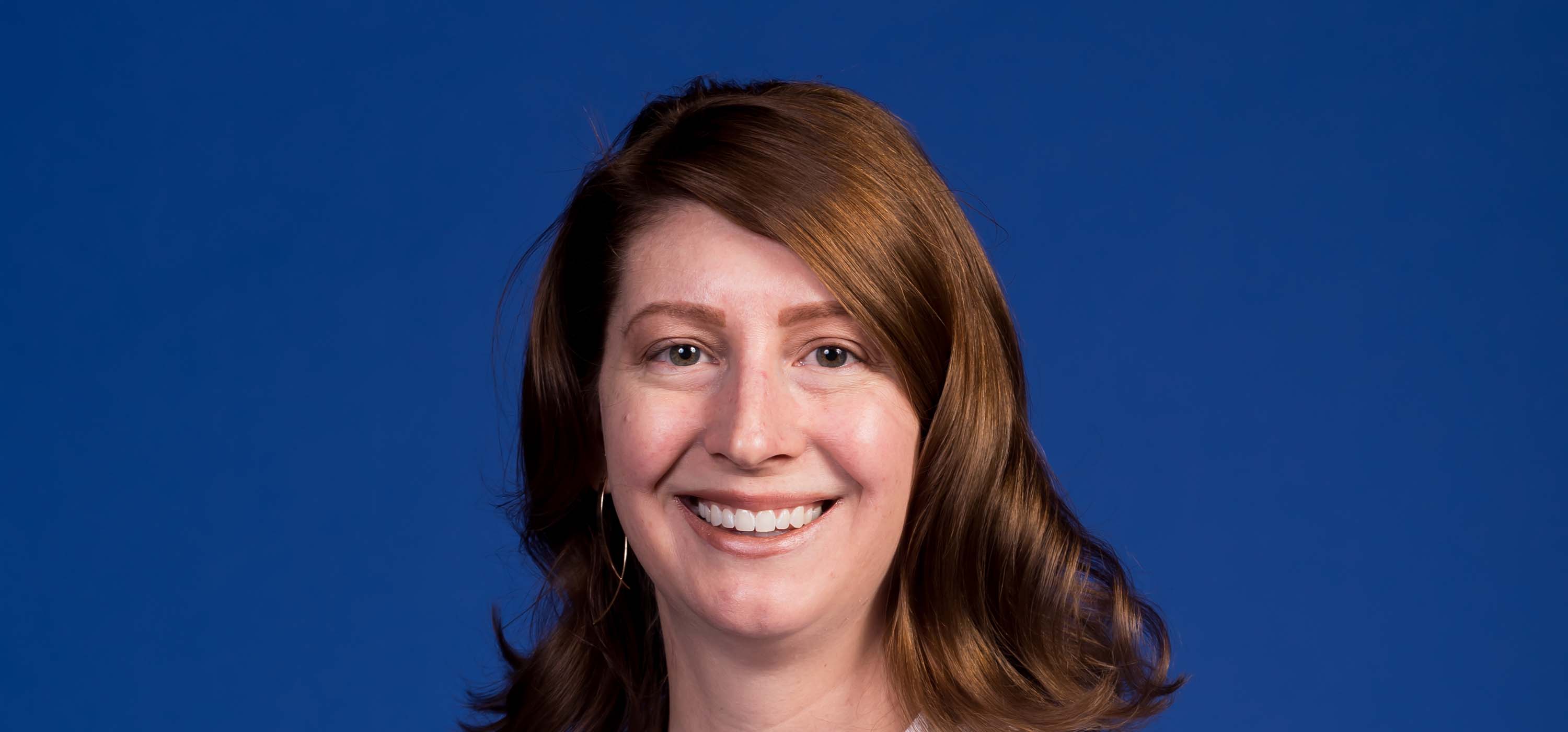 Forging a New Path in Medicine
Physician Assistant Student Finds Second Calling After Career in Law Enforcement
Five years ago, Heather Rhoden was working as an enforcement division agent for the Nevada Gaming Control Board.
Her background in law enforcement was rooted while growing up in St. Louis, where her stepfather worked as a police officer. After graduating with a psychology degree from the University of Missouri, Rhoden began her professional life working for the St. Louis Police Department.
"I was intrigued by law enforcement because I always wanted to help people, and I wanted my career to be community focused," Rhoden, 41, said.
In 2006, she relocated to the Las Vegas Valley where she took a job with the Nevada Gaming Control Board.
"I saw pretty much everything working for the Gaming Control Board. I handled patron disputes on slot machines; made sure convenience store employees had their gaming licenses displayed; checked video cameras to make sure customers weren't trying to cheat on their bets," she said. "But the one thing I loved most about my job was that I was able to interact with people on a daily basis."
While working for the Gaming Control Board, she and her husband had serious talks about what her future held after a career in law enforcement. Rhoden also had a friend who worked as a physician assistant (PA) and she relished the thought of working in healthcare.
In 2014, while working fulltime for the Gaming Control Board, Rhoden also took biology and organic chemistry classes at UNLV. When her professors told her that she needed to dedicate 100% of her attention to school, she left her job and immersed herself in healthcare.
Rhoden said quitting was bittersweet, because she possessed a deep love for the job and the people she worked with.
As she readied herself for a new career in healthcare, Rhoden took every job available to gain as much experience as possible.
"I worked as a certified nursing assistant to get patient experience, and worked as a scribe at Desert View Hospital in Pahrump," she said. "I knew it's what I needed to do in order to better prepare myself for a career in medicine."
Rhoden eventually applied to Touro University Nevada's Masters of Science in Medical Health Sciences in early 2018 but was not selected for the class. She admitted that her grades from her undergraduate years were not strong, but her determination to work in medicine never wavered.
She attended the spring open house at Touro in March 2018 where she learned about theSchool of Physician Assistant Studies (MHS) program.
Three weeks after completing her application, Rhoden was accepted into the MHS program.
"Luckily, I finished an immunology class at UNLV before taking immunology at Touro, so I had some familiarity with the material when I first started," she said. Rhoden found the MHS program very rigorous, but with the help of campus tutors and her classmates, she excelled in the classroom.
"Having classmates who were extremely knowledgeable and in the same boat as myself really helped me get through MHS," she said. "The camaraderie we built was phenomenal."
Dr. Steven Prinster, Director of Touro's MHS program, said Rhoden is a prime example of how the MHS program benefits students who pursue PA school or medical school after finishing the challenging curriculum.
"Heather was a phenomenal student who understood that while MHS was tough, it was there to help her on her journey to becoming a physician assistant," he said. "Students who complete our MHS program before taking that next step to PA or medical school have a more thorough understanding of the material which benefits them in the future."
In December 2018, after six months of learning new concepts, Rhoden was accepted into Touro's PA program and started in July 2019.
"My husband couldn't come to the White Coat ceremony in September 2019, and I was afraid nobody was going to cheer for me when I walked across the stage," she admitted. "But when they called my name, the student section erupted because my classmates wanted me to know that I wasn't alone. It was incredible."
Rhoden is excelling in her first year of PA school, thanks to a solid foundation laid by the MHS program and the friendships she's cultivated along the way.
"The MHS program made PA school much more manageable," she said. "It provided me with a well-rounded introduction to the material and has helped me with my study routines as well."
Dr. Phil Tobin, Director of Touro's PA program, said Rhoden's understanding of the material from her time in MHS has benefited her greatly during her first six months of PA school.
"We have a rigorous curriculum in our PA program, but having the background of the MHS program has helped Heather tremendously," he said. "Her foundation for the material is there, and her connection with the community will make her a fine physician assistant."
Since the relationships she built during her year in MHS were so beneficial to her success, Rhoden and her MHS classmates in PA school are paying it forward to others by holding study groups to help their new classmates better understand the material.
"That's one of the great things about Touro is that help is available whenever you need it., she said. "The closeness we built in MHS has carried over into PA school, and everyone else is benefitting from it during these study sessions."
Although she won't graduate until November 2021, Rhoden is already looking forward to her next step after PA school.
She wants to stay in Southern Nevada and pursue a career in either emergency medicine or urgent care. Her affinity for working with the community will never leave her, as she also hopes to volunteer with the National Disaster Medical System, an organization of healthcare professionals who volunteer to help people affected by natural disasters.
Like she did as a police officer for 20 years, Rhoden looks forward to continuing to help others.
Learn More About Touro Nevada's PA Program