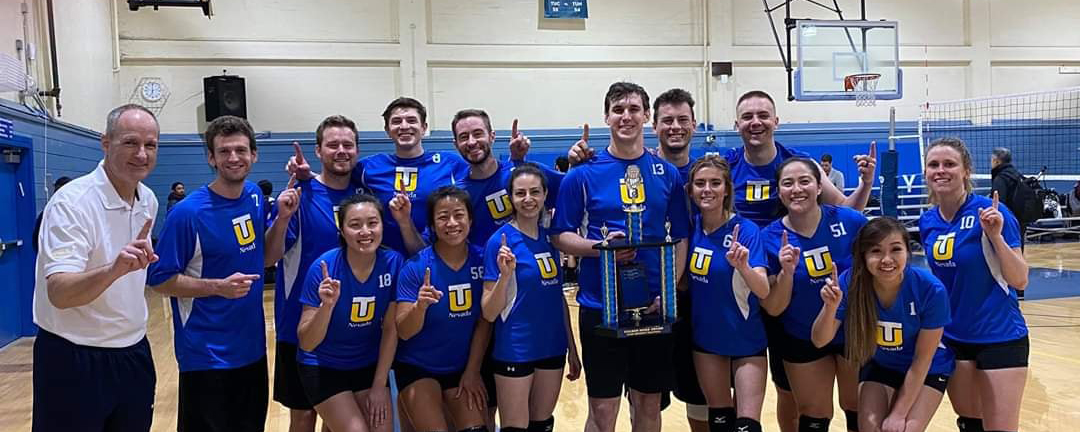 Touro Nevada Sweeps Touro California to Retain Golden Spike Championship
Golden Spike Trophy makes its return to Southern Nevada
The Golden Spike Trophy made its return to the Southern Nevada desert after the Touro University Nevada Matadors defeated the Touro University California Bulls in the annual volleyball game on the Touro California campus.
Played inside the raucous Touro California gymnasium, the Matadors swept the Bulls in straight sets for the second year in a row. The Matadors continued their dominance in the Golden Spike series, having won three of the series' first four matches.
"We didn't take anything for granted, and I think that really helped us this year," said Dr. Robert Askey, coach of the Touro Nevada volleyball team and Associate Dean of the College of Osteopathic Medicine.
After losing the Golden Spike at Touro California in 2017, Askey said the team prepared for this year's match by practicing with loud music in the background to simulate the noise they'd surely deal with inside Touro California's boisterous gymnasium.
"I told the team, for those who had never played at Touro California before, just how deafening the crowd can be because they cheer just as loud whether they're up five points or down five points," Askey said. "Mentally, you can't pay attention to it. I think we did a much better job of staying focused and I'm proud of what we were able to accomplish."
Preston Anderson, a fourth-year student in the Touro University Nevada College of Health and Human Services, was thrilled to see his team come away with a victory in his final game as a college athlete. Anderson, who graduates in May, has played in all four Golden Spike volleyball games.
"I was so fortunate to play all four years for my school," he said. "We were able to pull off a great win on the road, which isn't an easy thing to do. It's sad that I won't be here for next year's match, but I know we'll bring it home again."
Askey said Anderson's experience will be missed during next year's Golden Spike, but was grateful that he made the effort to play despite working hard on his clinical rotations.
"Preston loves the competition of the Golden Spike because it's so much more than a casual game," Askey said. "The great thing about this game is that we get students from several programs and we're able to learn from one another and have fun doing it. That's what makes this volleyball game so special."