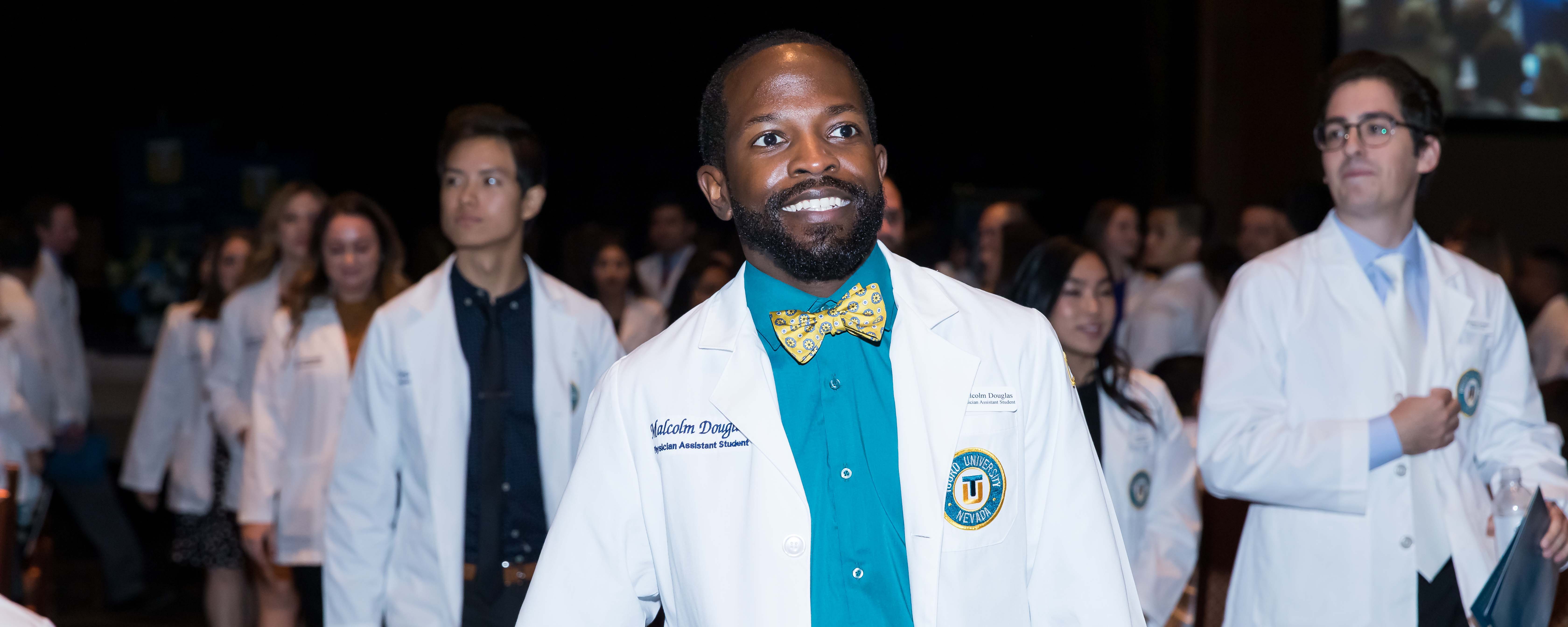 Student Spotlight: Malcolm Douglas, School of Physician Assistant Studies
Meet Malcolm Douglas, a student in our School of Physician Assistant Studies
Malcolm Douglas knew he would have a career in medicine by the time he was in elementary school.
Growing up in the Flatbush neighborhood of Brooklyn, Douglas always had a great relationship with his pediatrician.

"He always spoke to me as both a patient and a person," he recalled. "No one really asked me what I wanted to do when I grew up, so he suggested that I should be a pediatrician."
Douglas was a straight-A student and excelled in science and math. His teachers and family members used to joke that he would become a doctor because of his grades; but it wasn't until high school when he seriously considered a career in medicine.

After completing a two-week, pre-medical retreat at Johns Hopkins University during his senior year of high school, Douglas decided to make it his home for undergraduate studies. He double-majored in Biology and Film Studies and immersed himself in the campus culture.

"Johns Hopkins was a unique experience because it was my first time away from home," Douglas said. "I discovered things about myself that I didn't know before. I became involved in just about every single group the campus offered."

He participated in theater, improv, intramural basketball and football, Black Student Union, and held several leadership positions in these organizations. In theater, Douglas discovered another passion he didn't know he had: film and video production.
"I wanted to make a few promo videos to help promote our theater group, and the word quickly got out that the videos were really good," he said. "I eventually became the campus videographer for the next few years."
Despite his talent in film, Douglas continued to pursue his future as a healthcare professional.
During his junior year at Johns Hopkins, he spoke with one of his mom's friends who worked as a physician assistant (PA).

"I researched what a PA was and knew it was the perfect fit for me," he recalled.
After graduating from Johns Hopkins, Douglas spent two years working in community health in Boston. He taught students literacy and life skills, and created a program for students to help live healthier lives.

He later earned his Master's degree in Biomedical Sciences from Rutgers University to help strengthen his application for PA school, and spent another year working as a medical assistant.
"I did a very extensive search when it came time to look for a PA program because I needed to go somewhere that was right for me," he said. "I was quickly drawn to Touro University Nevada because of its continuous involvement with the community. That really stood out to me."

As a first-year student in Touro's PA program, Douglas loves the university's family-friendly environment. He took on a leadership role with the mobile healthcare clinic and loves using the simulation equipment inside the Michael Tang Regional Center for Clinical Simulation.
"Being able to practice while still learning in the classroom will benefit me greatly once I graduate," he said. "The hands-on experience we get here is invaluable, and it helps to know that everyone at Touro wants us to succeed."

Douglas said he wants to pursue a career in either emergency medicine or pediatrics after he graduates in 2022. Shortly after graduating from Johns Hopkins, he visited his former pediatrician, Dr. Nazarian, to tell him he was the inspiration for his decision to pursue a career in healthcare.
"He told me that he wasn't surprised and that he always believed in me," Douglas said.
Learn More About Touro Nevada's PA Program