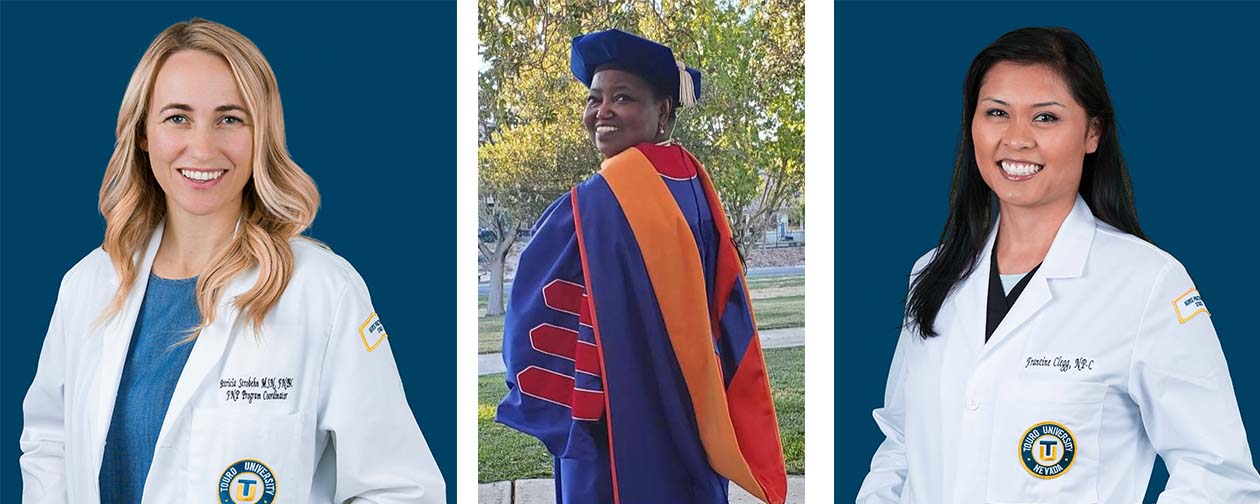 School of Nursing Faculty Preaching and Practicing the Importance of Lifelong Learning
Nursing Faculty Completing And Working Toward Their Terminal Degrees
Several faculty from the Touro University Nevada School of Nursing are continuing their commitment to lifelong learning by either recently completing or working toward their terminal degrees.
Assistant Professor Dr. Tracey Johnson-Glover recently completed her Doctor of Nursing Practice (DNP) with a specialization in transcultural nursing at Duquesne University.
"I chose to pursue my DNP because I wanted to expand my knowledge in providing equitable healthcare for everyone," she said. "Transcultural nursing was exactly the focus I wanted. I learned so much and I plan to do more research, publish my work, and share my knowledge with Touro students and faculty."
Patricia Strobehn, Francine Clegg, and Crystal Huffaker, Assistant Professors in the School of Nursing, are also enrolled in doctorate-level programs. They are hoping the knowledge they acquire in their programs will make them better nurses and educators for their students.
"I decided to pursue my Ph.D. in Nursing because I wanted to expand my skillset and learn how to conduct original research," Strobehn said. "The information I have learned so far has been invaluable and has already improved my teaching and clinical expertise. I am looking forward to conducting research that will help my students and patients in the years to come."
Dr. Theresa Tarrant, Director of the School of Nursing, commended her faculty for taking the initiative to become more well-rounded educators whose experience and expertise will make Touro's students better educated nurses.
"To quote Florence Nightingale…" she said, "Let us never consider ourselves finished nurses. We must be learning all our lives."
Learn More About Touro Nevada's Nursing Programs