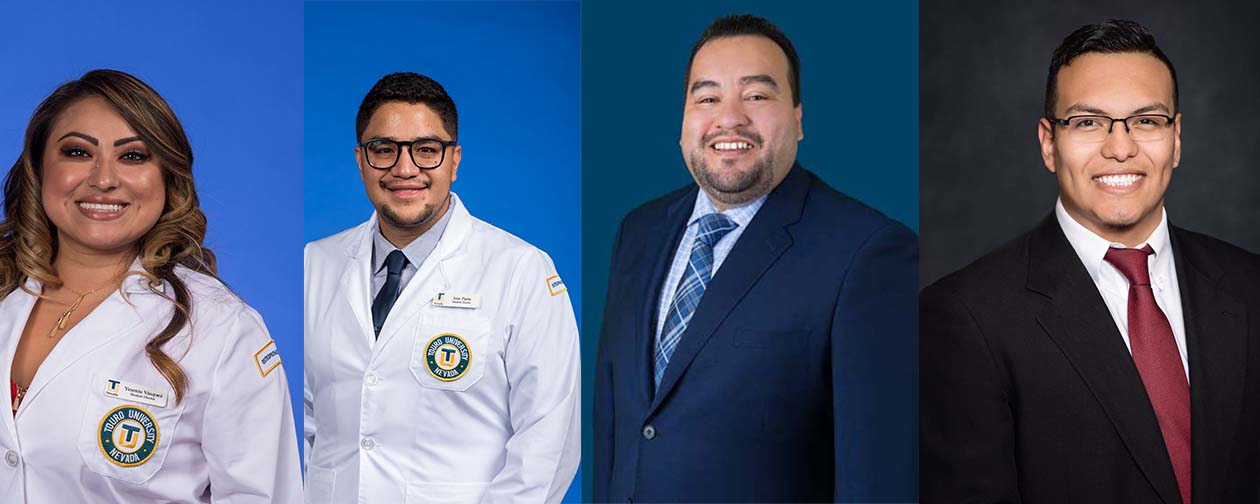 Latino Medical Student Association (LMSA) Opens New Doors for Touro's Latinx Student Population
LMSA amplify the voices for Latinx population
As Touro University Nevada continues to create a more diverse community, the university's Latino Medical Students Association (LMSA) chapter is helping to amplify the voices for its Latinx population.
"LMSA allows students from the Latinx community to be a voice for the campus community," said Rolando Flores, Touro's Registrar, Associate Dean, and founding Advisor of the LMSA chapter. "It's important for the students in LMSA to bring awareness to the healthcare matters and disparities that affect the Latinx and underrepresented communities."
Three years ago, Flores and nine Touro Nevada students founded the university's LMSA chapter. The founding students have all since graduated, but the growth of LMSA has not stopped. The university currently has 50 LMSA members, with representation from each of its programs.
"LMSA has been a huge benefit to me because as a first-generation student and the first in my family to pursue medicine, I did not always feel like I belonged," said Jose Parra, a second-year student in the College of Osteopathic Medicine and LMSA Secretary. "Having found an organization where others have shared similar experiences as mine made me realize that I am not alone on this journey. I belong here."
Flores said LMSA was established to create a more welcoming environment for Latinx students, many of whom are the first in their family to go to college.
"Having their presence on campus is very important for prospective students because they see students who look like them. We hear it all the time," he said. "They see others who look like them and have a shared goal in mind. All of those struggles that a prospective student faces; they know that someone in LMSA has most likely experienced the same."
Third-year osteopathic medical student and LMSA Treasurer Yesenia Vasquez has lived in Southern Nevada since 2006. She joined LMSA because it aligned perfectly with her future goals. As part of LMSA, she speaks with Latinx undergraduate students who are contemplating a career in medicine, while also working to improve healthcare for those in underrepresented communities.
"LMSA provides you with an amazing support group," Vasquez said. "You can connect with other Latinx students currently walking the same path as you or have already been through it. Medical school is intimidating, but experiencing it, or simply being able to discuss it with someone you can relate to, makes it a little easier."
Touro's LMSA chapter has also partnered with pre-med student organizations across the Las Vegas Valley, which has helped bring more awareness to the university. Irwin Munoz, a 2019 UNLV graduate who founded UNLV's "Future Latinos in Medicine" organization, said Touro's LMSA chapter helps reassure other Latinx pre-med students that they can thrive in the medical and healthcare fields.
"We heard Touro's LMSA members talk about the education, the community involvement, and support that the university championed," he said. "It helped make the connection much easier because we met students with similar backgrounds as ourselves."
The collaboration between LMSA and "Future Latinos in Medicine" helped to establish "Mi FuTouro," an all-day event where students from underrepresented areas took tours of the Touro campus and met with faculty and students from each of Touro's programs.
"LMSA provides an additional route for student leadership. They have a place they can call home, but they are also helping to make their home stronger," Flores said. "Southern Nevada is a special place to many of them. These students want to connect with their new classmates. It makes them feel like they are in their new home."