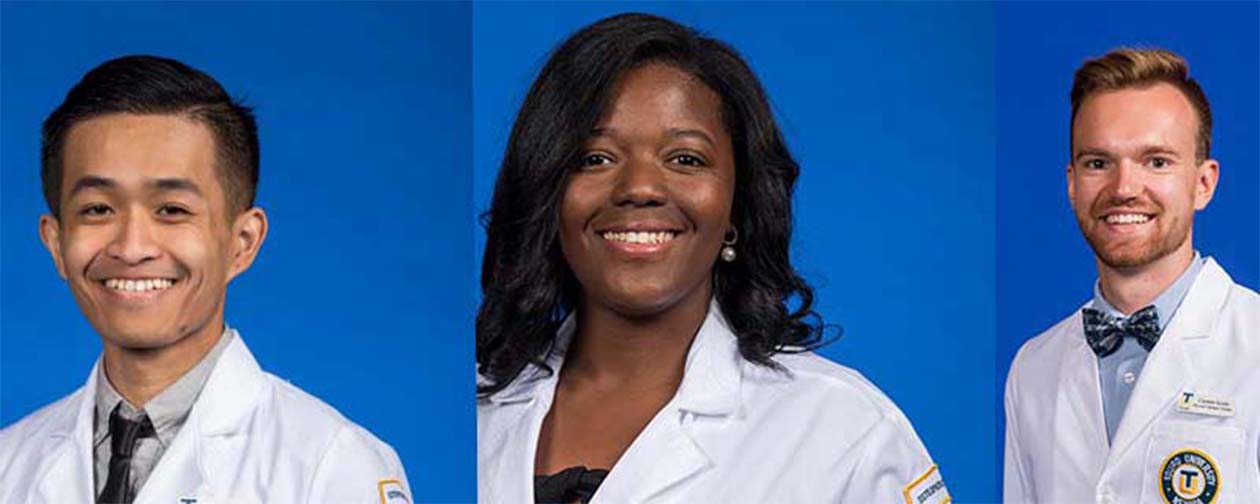 Donors Assist Scholarship Recipients on Their Touro University Nevada Journeys
Financial assistance helps students accomplish their goals
Touro University Nevada's students know the long and challenging journey of getting through their programs. Still, those who receive scholarships understand how vital additional financial assistance is to helping them accomplish their goals.
Thanks to the university's generous donors, students from the School of Physical Therapy and the College of Osteopathic Medicine can focus more on their studies and less on their tuition.
"The scholarships have helped me tremendously with the costs associated with school and especially boards prep," said Clinton Lam, a second-year student in the College of Osteopathic Medicine and a recipient of the TUN General Multi-Year Scholarship. "I was hit with tons of unexpected expenses in May, but I can still focus on my medical education thanks to the generosity of TUN's scholarship donors."
Carmen Scuito, an Illinois native from the College of Health and Human Services, is a first-generation college student and a scholarship recipient.
"Thank you to Touro University Nevada and the scholarship donors for giving me another opportunity to succeed," he said. "My journey to get where I am today hasn't been easy, but I remained confident through it all. I knew what I wanted to do and what I needed to accomplish; I just needed an opportunity."
Paulina Awuah, a Georgia native and a second-year student in the College of Osteopathic Medicine, said scholarships have led to a direct improvement in her education.
"Being a scholarship recipient has allowed me to pursue and achieve many opportunities that would not have been possible otherwise," she said. "They've helped me with my research and allowed me to go to conferences. Thank you to Touro's donors and sponsors for contributing to the student scholarship fund."
Shelley Berkley, CEO and Senior Provost, said donors are helping Touro's students succeed as they work hard to become future physicians and healthcare providers.
"We are educating medical professionals who will greatly benefit our community and abroad, and the members of this community understand how important that is," she said. "Thanks to the generosity of our donors, students can focus more on their studies and less on their finances. That is a huge relief for our hard-working students."
Learn More About Touro Nevada Scholarships