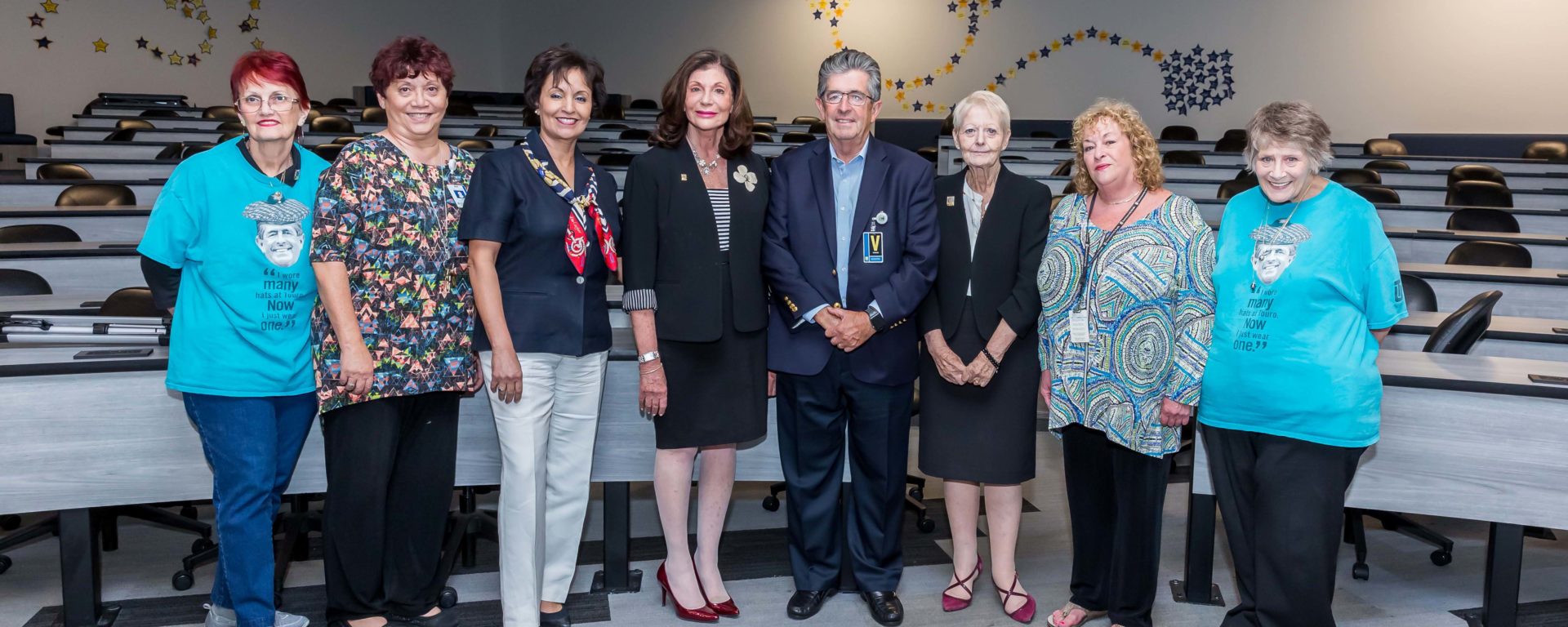 Touro University Nevada Holds Roundtable Discussion with Founding Employees
Touro University Nevada's past and present come together
Touro University Nevada's past and present came together for a special, on-campus roundtable discussion on Sept. 13 in honor of the 15 anniversary of Touro's opening in Nevada.
Moderated by CEO & Senior Provost Shelley Berkley, the panel included six current employees who have been with the university since it opened in 2004 and two former employees who were part of the original group.
Members of the panel included Dr. Michael Harter, founding Senior Provost & CEO; Lisa Ross, former director of Graduate Medical Education; June Boyko, Executive Assistant to the CEO; Dr. Amina Sadik, Professor of Basic Sciences; Dr. Terry Else, Professor of Basic Sciences; Dee Anne Culmone, Administrative Assistant in the School of Physician Assistant Studies; and Jackie Boiman, Administrative Assistant in Basic Sciences.
Panelists took turns sharing stories from Touro's beginnings, including stories about employees taking on roles they had no familiarity with in order to get the school opened before the first class of students arrived.
Harter vividly recalled April 26, 2004, when the Commission on Osteopathic College Accreditation (COCA) first visited the campus, shortly after Dr. Jay Sexter hired Dr. Mitchell Forman to becoming the founding dean of the College of Osteopathic Medicine.
"The accreditors were concerned that we still had so much construction to finish," he recalled. "We worked with UNLV and they agreed to rent us space if construction wasn't finished by the beginning of August. COCA was really impressed by that."
Dr. Else, who worked as a professor at the College of Southern Nevada before coming to Touro, told the story of how Dr. Forman interviewed her at The Stardust, a now-imploded casino on the Las Vegas Strip.
Dr. Sadik, who worked as faculty at UNLV in 2004, recalled how she met with Dr. Forman in the UNLV parking lot to discuss bringing her to Touro. She was reluctant at first but happily accepted.
The panel also discussed how much the university has progressed since its opening.
"The success we have now would not have been possible without the foundation that Dr. Harter and this extraordinary group of people laid for us,' Berkley said.

The pioneer panel is available to watch on our Facebook page.