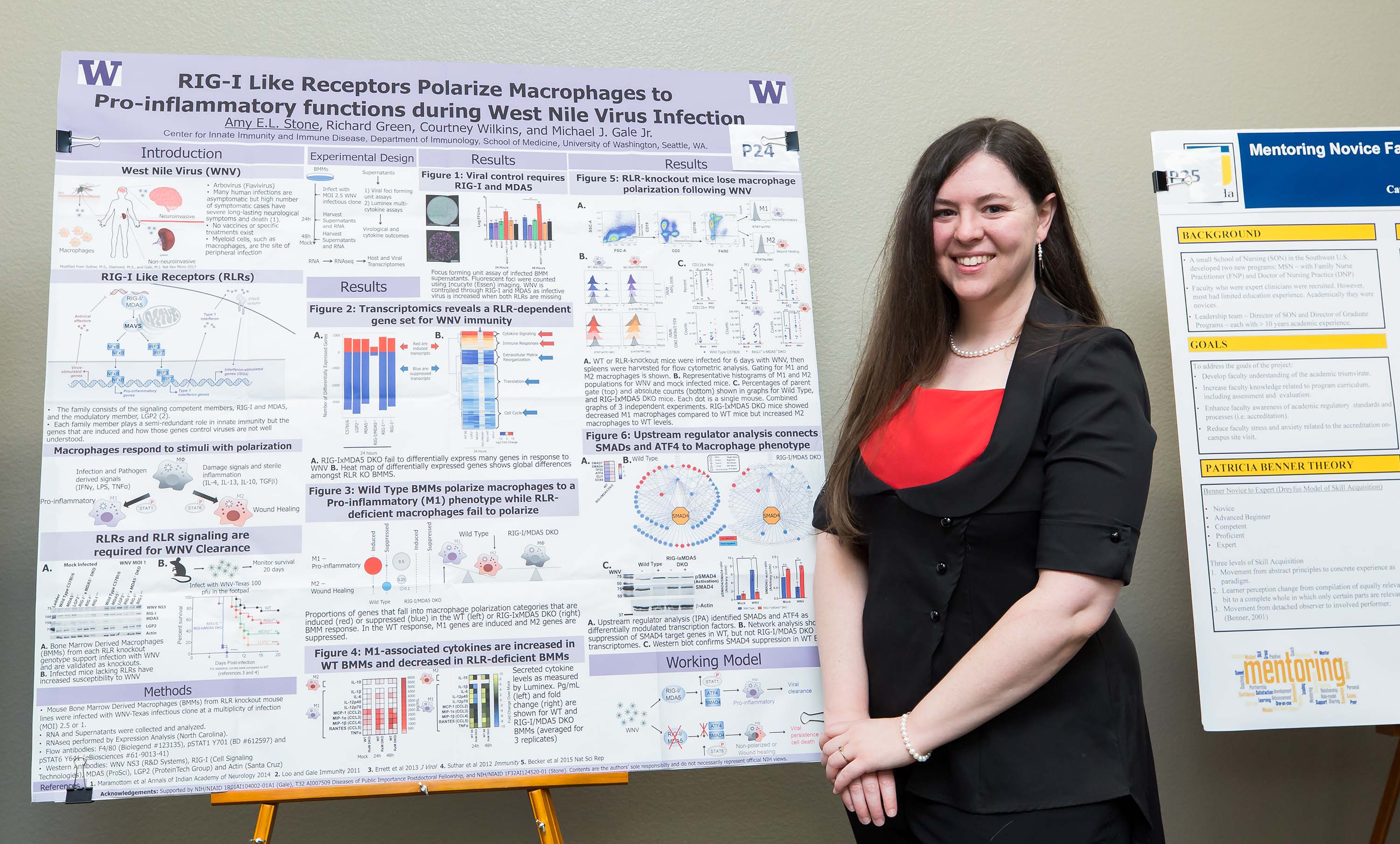 A Head Start On Her Future
Dr. Amy Stone Making Tremendous Strides as New Touro Faculty
It's been less than a year since Dr. Amy Stone arrived at Touro University Nevada, though she's already making waves as an Assistant Professor in the Department of Basic Sciences and in the field of immunology.
Since joining the Touro faculty in November 2018, Stone has published a significant research paper on the West Nile Virus; received two Travel Awards from the American Society of Microbiology (ASM); and worked with Touro students and faculty to help bring healthcare to the Las Vegas tunnel homeless populations.
"In a lot of ways, it's like crossing the finish line because you spend all this time working toward a goal, and you get this moment of joy when you see that work to completion," she said in regard to her research.
Stone's paper, titled "RIG-I-Like Receptors Direct Inflammatory Macrophage Polarization Against West Nile Virus Infection," and published in the peer-reviewed journal Nature Communications, explains why some people infected with West Nile Virus have no symptoms while others suffer with life-threatening debilitations or even death.
Stone began her research in the Summer of 2015 and co-authored the paper with Michael Gale Jr., Ph.D., from the University of Washington.
"This is the first particular breakthrough of its kind, so it's pretty exciting to play such an important role on the international scale," she said. "We didn't know how this was happening, but now we know it's because macrophages can sense the West Nile Virus and become polarized to the strong immune response."
Not much older than the Touro students she teaches, Stone discovered her love for teaching during her post-doctorate work at the University of Washington. Since then, she's excelled with the opportunity to train the future doctors and healthcare providers at Touro.
"I like taking extremely complex ideas and distilling them down to understandable chunks," she said. "I quickly came to realize that Touro genuinely valued teaching. What really gets me excited is thinking about how I can get these students to apply what they've learned and develop their own light bulb moment."
"We are delighted about Dr. Stone's commitment to enlightened research that will ultimately enhance and optimize patient care," said Dr. Wolfgang Gilliar, Dean, College of Osteopathic Medicine.
Stone is also excited to help shape Touro's expanded research culture.
"Collaborating with students and faculty will only strengthen the university's research capabilities," she added.
"I'm looking forward to pushing the boundaries of research here at Touro and bringing out the best that our students and faculty have in the research arena," she said. "I'm excited to see how we can shape our upcoming curriculum and help our students get to where they need to be."
With numerous accomplishments already under her belt, the future looks bright for the Colorado native as Touro works to expand its research footprint.
"I want to bring in students with different backgrounds and get them to contribute to something that's cutting edge," Stone said. "At this particular time, it's a great opportunity to come in with a lot of motivation and enthusiasm to help shape the research culture here at Touro."
Read More About Touro Nevada's DO Program