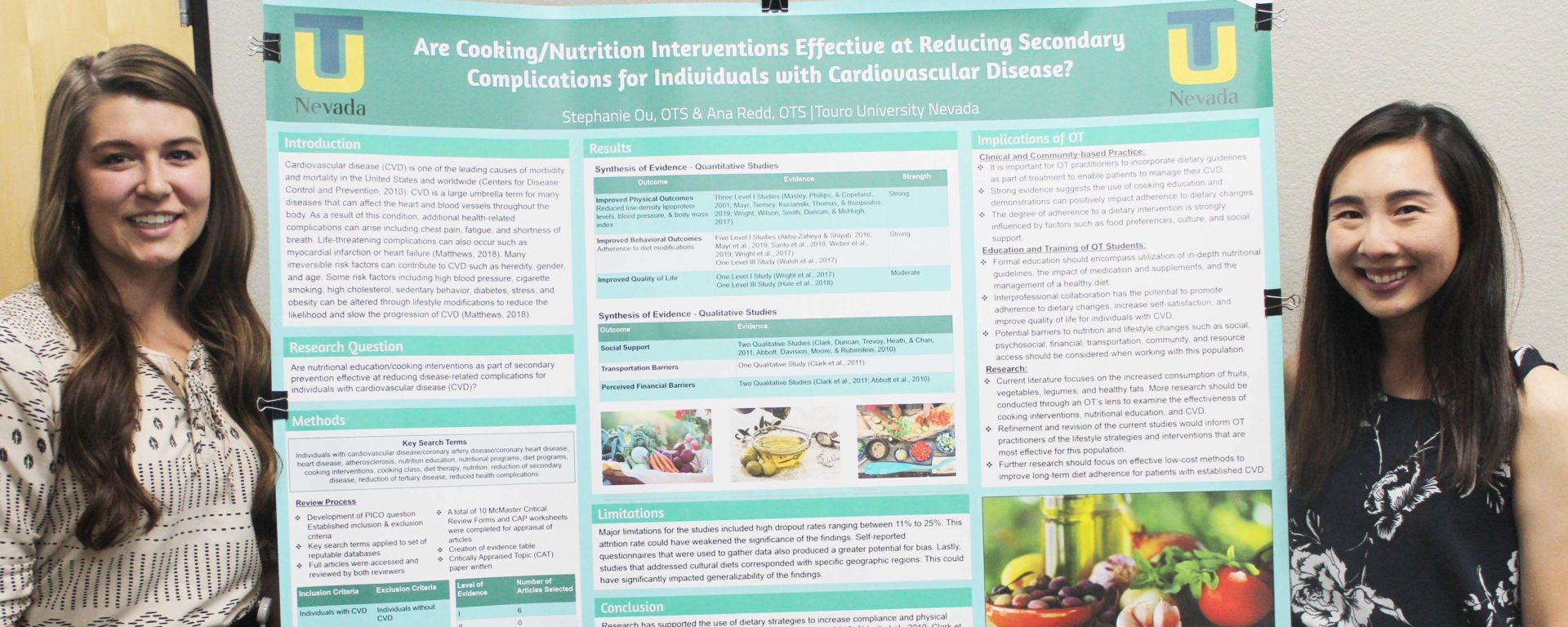 Occupational Therapy Students Present Myriad Research Projects for Campus Community
Presentations cover topics including coping interventions for adolescents with cancer, sleep performance for hospitalized adults, traumatic birth and non-pharmacological approaches to post-traumatic stress prevention
The School of Occupational Therapy was filled with poster board projects as second-year students from the Touro University Nevada Michael Tang Regional Center for Clinical Simulation presented their research to their classmates, faculty, and peers on Oct. 24.
More than 20 presentations covering myriad of topics were on display, including coping interventions for adolescents with cancer, sleep performance for hospitalized adults, traumatic birth and non-pharmacological approaches to posttraumatic stress prevention, and more.
Students Denise St. Peter and Christina Carmichael presented their poster, titled "More Than Just A Pet…" which discussed how service dogs can be utilized to improve the occupational performance of veterans.
"We were able to see that there is significant correlation between how service dogs can be used to improve self-compassion, their physiological symptoms, social interactions, psychological symptoms, and community participation," St. Peter said. "With further research and larger studies with greater sample sizes, we are hopeful that this will be a treatment that will be incorporated to improve our veterans' lives."
Students Shaylee Ewing and Jessica Marx presented their research on the "Effects of Living Skills Interventions with Homeless Youth Population."
"Homelessness is a growing epidemic in the U.S. and Las Vegas is one of the top-10 cities in the country with one of the highest homeless population rate," Ewing said. "We wanted to see what occupational therapy could do to help these populations, and we found that family-coping interventions and community-based resource education and vocational training will help decrease alcohol use and increase quality of life as well as obtain and maintain employment."
First-year students spent time asking questions and learning about each research project as they prepare for their project presentations next year.
Learn More About Touro Nevada's OT Program