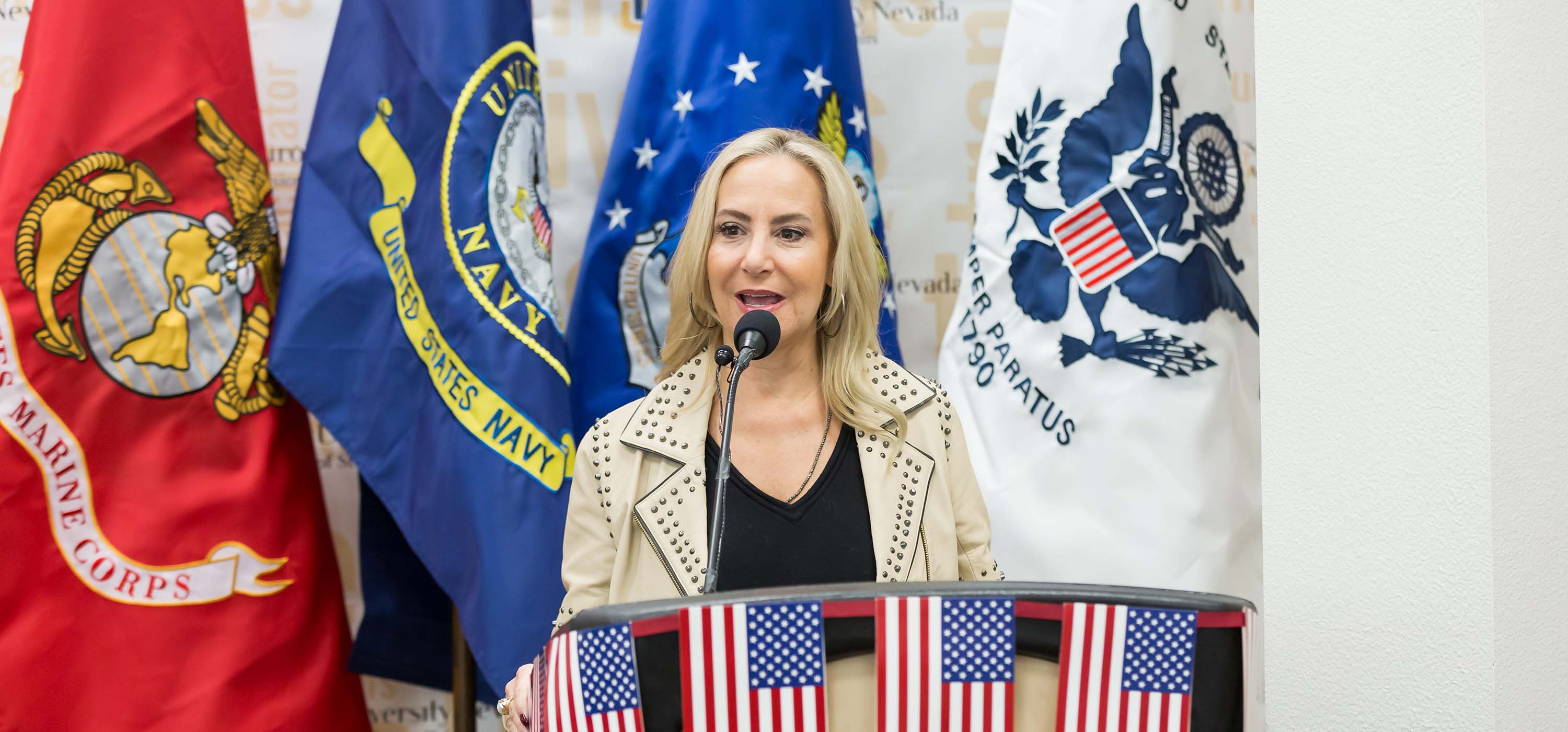 Providing a Brighter Outlook for Our Veterans
Molasky Family Foundation Scholarship Assists Student Veterans on Their Journeys
Christy Molasky has always held a deep passion for education and helping others. She has also held great regard for military veterans and supports their quest for higher education.
That is why she and her husband, Alan Molasky, decided to continue their $25,000 gift in scholarship funds to support Touro's student veterans.
"After all that our veterans have done for our country, they deserve the opportunity to further their education," she said. "We are so happy that we can contribute to help make their dreams come true."
The daughter of a musician, Molasky's father moved the family to Las Vegas when she was a child. Her father played with Frank Sinatra, Sammy Davis Jr., and other members of The Rat Pack on the Las Vegas Strip in the 1960s.

After her family relocated to Oklahoma, Molasky returned to Las Vegas for college. Attending school as a full-time student, Molasky worked two jobs and lived at home to save money.

Not only did her college experience give her strength as a person, it always reminded her how important it was to get an education. If she can make that journey easier for somebody else, she wants to do it.
"Being able to provide someone with a scholarship is so important to me because education is a lifetime gift," she said.
One of the recipients of the Christy and Alan Molasky Family Foundation Scholarship is Kelsey Changsing, a second-year student in the Touro University Nevada School of Physical Therapy.
A U.S. Air Force veteran who served from 2014-18, Changsing was based in North Dakota and served as part of the first all-female nuclear alert team.
"I was in charge of operating the nuclear intercontinental ballistic missiles (ICBMs)," she said. "They didn't let females work with ICBMs until the 1980s, and in 2015, I was lucky enough to be one of 90 females on the team across all three missile bases."
After five years in the military, Changsing wanted to attend physical therapy school as she started the next chapter of her life. During her first year at Touro in 2018, Changsing was awarded the Molasky Family Foundation scholarship.
Changsing said the military pays for plenty of costs associated with daily living, including child care, healthcare, and housing, so each service member can dedicate more focus to their job instead of worrying about having to pay the bills.
Once a service member leaves the military to pursue higher education, she added, they have to take these additional costs into consideration in addition to readjusting to civilian life.
"Receiving the Molasky Family Foundation scholarship has helped with reducing the financial burden that comes with PT school since the GI Bill doesn't cover everything," she said. "Because of this gift, I've been able to focus more on my school work instead of worrying about how I'm going to pay for my education."
Both Molasky and Changsing's commitment to pursuing education makes the Molasky Family Foundation Scholarship a perfect fit.
"I've always felt that furthering one's education can be critical to enhancing one's future," she said.
In November, Molasky, Changsing, and the Touro student-veteran community came together for a special Veterans Day ceremony on the Touro University Nevada campus. Molasky spoke to the guests about the importance of getting an education, and why veterans deserve help in achieving their goals.
"That ceremony helped reassure me that our gift was going to the right place," she said about the special event.
Molasky said she gives to Touro because she's a big believer in the leadership, as well as its affiliation with the Jewish faith. She loves how the university is constantly working to give back to the community, whether through the education its students receive or the services they provide to those in need.
"Touro's foundation is strong in that it prides itself on giving back to the community. You see it every year when new students volunteer for their Day of Service before they start classes. It gets them introduced to the culture very early and working together for the common good. That really makes them feel like part of a family," she said.
Raising her family in Southern Nevada and understanding the desperate need for doctors and healthcare providers drives her desire to give back to initiatives like Touro University Nevada.
"Not just anybody can get into Touro. It's very competitive, which speaks volume to the quality of the students who go here," she said. "The graduation and placement rates are incredible. That is the type of institution I want to support."
As Molasky continues to invest in students like Changsing, she feels blessed to know that she can help those who are trying to make the world a better place.
"Education is a lifelong gift. I was so fortunate to receive my education," she said. "More people should give to Touro so we can help improve the lives of our veterans, and ultimately, our community."
Learn More About Supporting Touro Nevada Scholarships