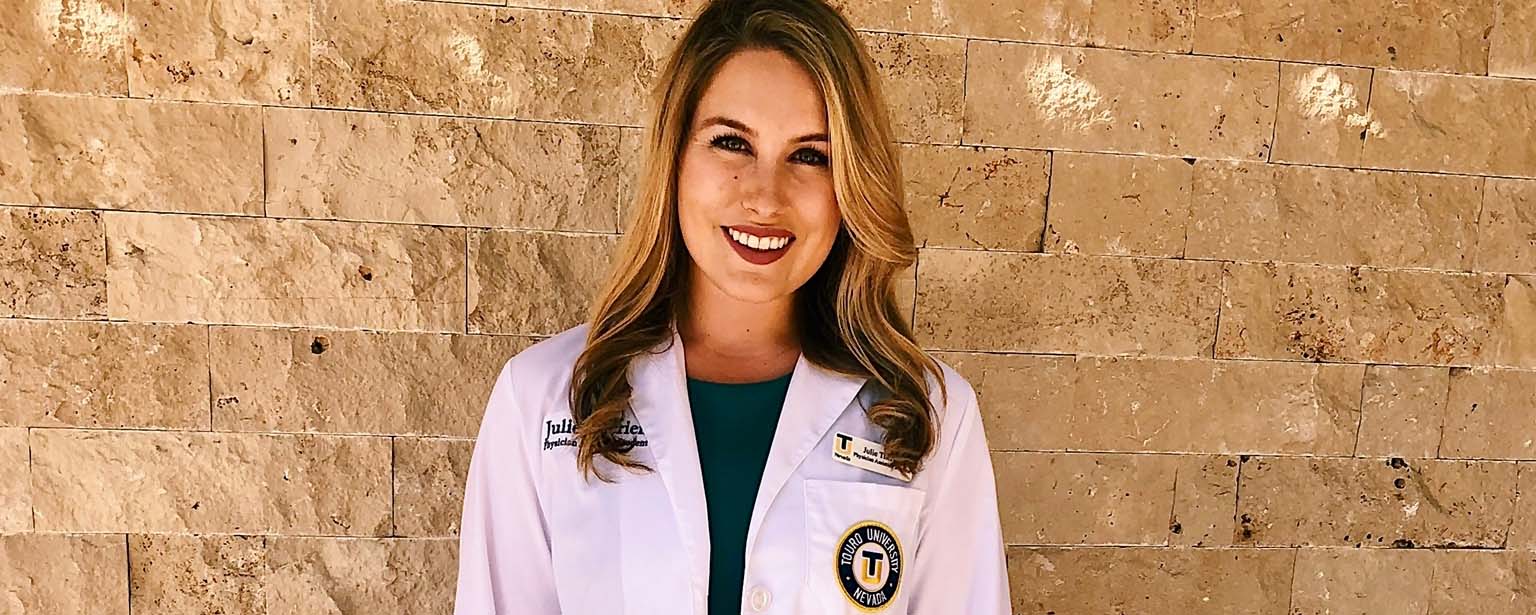 Student Spotlight: Julie Therien, School of Physician Assistant Studies
Meet Julie Therien, a student in our School of Physician Assistant Studies
As she finishes up her first year in the Touro University Nevada School of Physician Assistant Studies (PA) program, Julie Therien is trying to realize a dream her grandfather had more than 70 years ago: pursuing healthcare as a profession.
That's when he left Palestine for the United States, settling in San Francisco in the late 1940s. He wanted to go to medical school, but providing for his immigrant family made it unattainable.
"When he realized that he had to support his family and sponsor everyone who wanted to come to San Francisco, he wasn't able to work and go to medical school at the same time," Therien said.
As a second-generation American, Therien grew up in Danville, Calif., a small town located in the East Bay of Northern California. As a child, Therien always wanted to help her friends if they were hurt. As she got older, her love of medicine grew stronger.
"I shadowed a surgeon right before I began college and spoke with a PA who told me that going to PA school was the best decision she ever made," she recalled. "The more time that went by, the more PAs I met. I discovered they had a great work-life balance, and I really wanted that flexibility."
After graduating from UCLA with a degree in Psychobiology and a minor in Spanish, Therien applied to PA school to pursue her healthcare dreams.
"The more I learned about Touro, the more it seemed like a good fit for me," she recalled. "During my interview, Touro felt more welcoming than the other schools where I also applied. Coming from a huge school like UCLA, I wanted to be somewhere smaller. I felt like the faculty sincerely cared about me here."
Therien was one of more than 20 students to travel to Carson City for Touro Day at the Legislature at the end of March. While she isn't a Nevada native, she wants to stay and practice in the state after she graduates. Learning how the legislative process works, she said, is important to the future of healthcare.
"Ever since I wanted to become a PA, I tried to educate myself legislatively to find out how we can improve our profession," she said. "I'm hopeful that if more people continue to educate themselves about PAs and how we work with doctors, we can be a really big part of the solution to improve healthcare in our state."
In November, Therien will begin the clinical portion of her Touro education, an experience she is anxious to begin. With a background in Spanish, she's hopeful it will lead to better communication with her patients, especially those with English as a second language.
"As a provider, it's important to be able to communicate with multiple populations," she said. We talk about that in class. You need to ask your patient what's wrong, and you need to make sure they are comfortable telling you."
Being a part of the Touro family has given Therien an insight into the myriad of healthcare programs the university offers.
"Touro is a community of like-minded people. We've all come from different paths but there's a cohesiveness between our programs," she said. "Touro is filling the need for more doctors and healthcare providers in Nevada. There is just a great energy here."
While her grandfather never achieved his dream of going to medical school, Therien is honored to carry on his legacy as a future PA.
"His story is part of the American dream," she said. "Your grandparents come here to help make a better life for their children, and then they pass it on. My mom is proud of that, and it's very exciting for me."
Learn More About Touro Nevada's PA Program