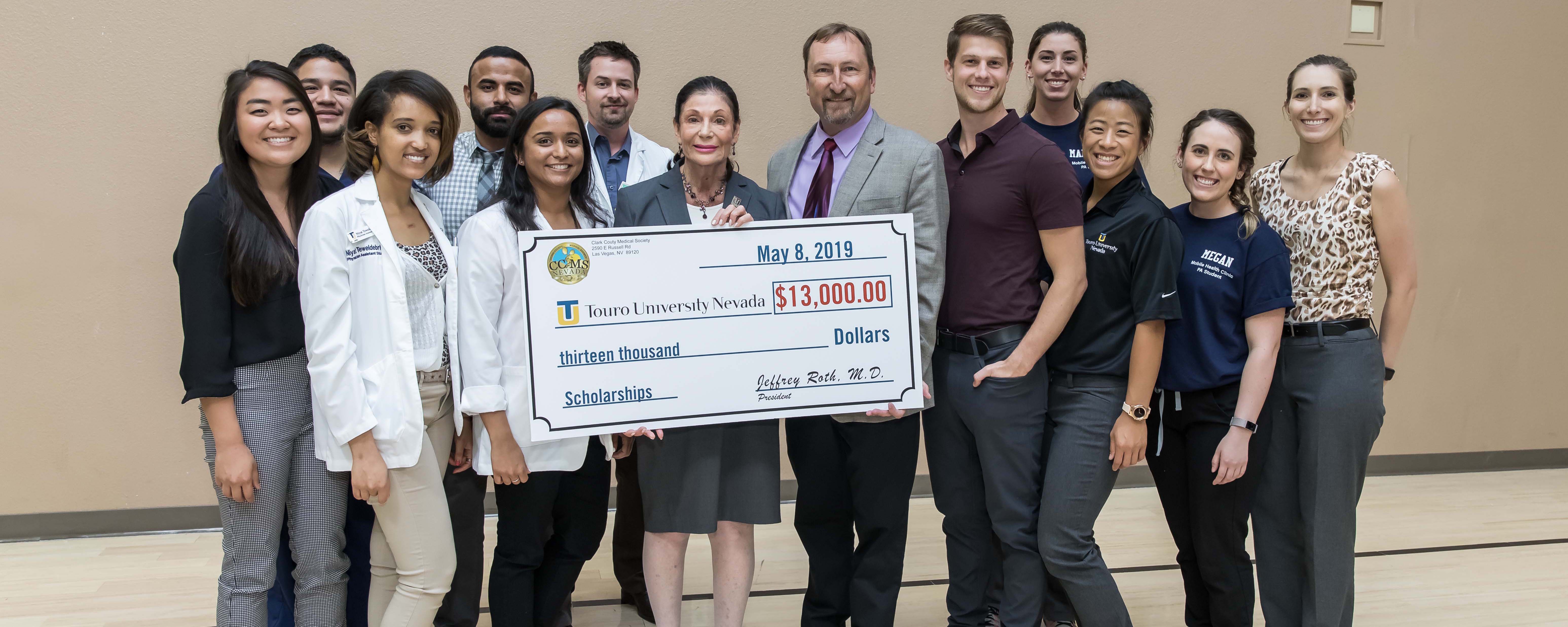 Scholarship Recipients and Donors Come Together for Annual Scholarship Luncheon
Clark County Medical Society presents $13,000 check to Touro Nevada
Touro University Nevada scholarship recipients enjoyed meeting and expressing gratitude to the donors who contributed to scholarships during an annual luncheon on May 8.
"Thank you to all of the donors for making these scholarships possible. My classmates and I truly appreciate all the help we can get as we embark through our journeys here at Touro," said Krupa Shah, a student in the School of Physician Assistant Studies.
Donors have contributed more than $4 million to student scholarships, including the university's first endowment: a $3 million gift from the Engelstad Foundation.
During the luncheon, the Clark County Medical Society (CCMS) presented a $13,000 check to benefit Touro's medical student scholarships.
"It is my great pleasure and honor to present this donation from our scholarship fund to 13 well-deserving medical students," said Dr. Daniel Burkhead, incoming President of the CCMS. "These scholarships are among the most rewarding things that Clark County Medical Society does to give back to the community, and I know these bright young minds will make outstanding physicians one day."
Jacqueline Nguyen-Lee, President of the Clark County Medical Society Alliance (CCMSA), said it's important to help alleviate the financial burden of future doctors who want to practice in Clark County.
"We need to take care of those who are going to take care of us," she said. "Our population is growing rapidly, and we're in a position where Nevada needs greater access to quality healthcare."

In addition to helping fund student scholarships, CCMSA provided funding for Touro University Nevada's second mobile healthcare clinic.
Touro's commitment to serving the underserved, Nguyen-Lee said, is why CCMSA is so invested in the university.
"Touro is just a powerhouse," she said. "The commitment from everyone has been incredible and we love the collaboration within the community. The university is so inclusive and a great advocate for healthcare in general."