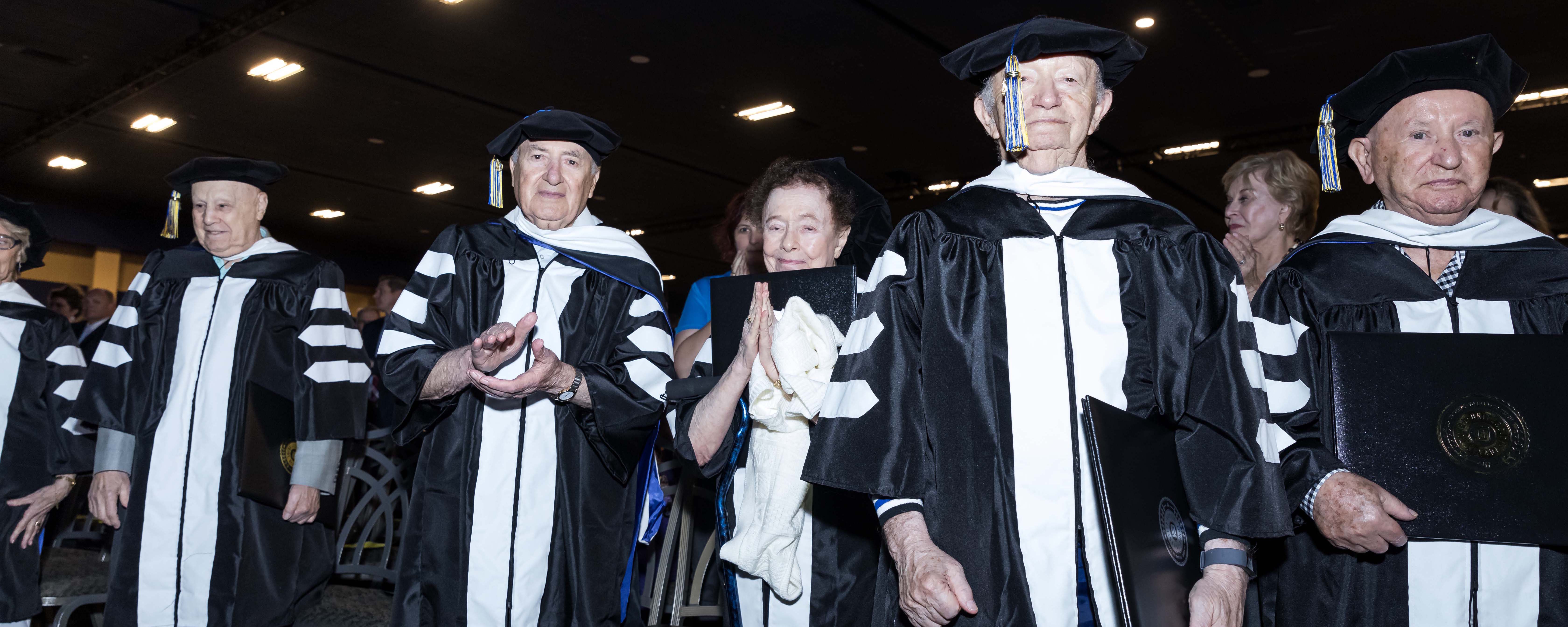 20 Holocaust Survivors Presented With Honorary Doctorates During Spring Commencement
The Survivors Received Honorary Doctorates from Touro University Nevada During Spring Commencement on May 13, 2019
Daniel Szafran grew up in a small Polish town with two loving parents, five brothers, and two sisters.
At the age of 11, his world was turned upside down when the Nazis invaded his native Poland in 1939. Like millions of other Europeans Jews, Szafran was forced to go on a "death march" as he did the best he could to survive in Auschwitz. By the time WWII ended in 1945, only he and one of his brothers had survived.
Szafran was one of 20 Holocaust survivors to receive Honorary Doctorates from Touro University Nevada during Spring Commencement on May 13.
The idea for the special ceremony was proposed by Esther Finder, President of the Holocaust Survivors Group of Southern Nevada. The daughter of Polish Holocaust survivors, Finder always remembered her father putting on her cap after she graduated from college.
"My father was 16 when the war started and 22 when it ended," she recalled. "Prime time for an education."
Finder's father passed away two years ago, but her dream of honoring Holocaust survivors with a college degree was born.
"I immediately said yes to Esther when she called me with the idea," said Shelley Berkley, CEO and Senior Provost of Touro University Nevada. "As a Jewish-sponsored institution, it is fitting that we honor these men and women with a degree of Honorary Doctorate of Letters. These remarkable individuals had dreams of pursuing careers, college, medical school, and more. Those dreams ended because of prejudice, racism, and anti-Semitism."
"The survivor community has always heard the mantra, 'you have to get an education because it's something that no one can take away from you,'" Finder said. "That's because everything else was taken away from them."
Ben Lessner was 10 when WWII began. Growing up in Krakow, Poland, Lessner's father owned two successful businesses before the Nazis confiscated everything.
"It all changed in November 1939," he said. "We were forced to run and hide from the Nazis. We escaped from the ghettos, but then we were taken to the Czech border and eventually the Hungarian border."

As a teenager, Lessner survived the Buchenwald, Auschwitz, and Dachau concentration camps. Onboard a "death train" to Dachau with 3,000 Jews, he was one of only 18 to survive the trip. Lessner and his fellow prisoners were liberated by the American military a few days later.
"Inmates crawled on their hands and knees to kiss the boots of the American GIs," he said. "They looked like angels to us."
Henry Kronberg, a 99-year-old survivor from Germany who came to Las Vegas in 1962, was never afforded the opportunity to extend his education past grade school.
"If you wanted to go to high school, you needed to fill out an application, and the first question it asked was your religion," he said.
Self-proclaimed as "99 years young," Kronberg spoke softly as he delivered the Commencement address to his fellow survivors, as well as the nearly 4,000 others in attendance.
"I always felt like I was missing something in my life because I never had the opportunity to further my education. I was always jealous of the people who were able to get their education," he said. "Now, I have a diploma. That piece of paper…I'm going to frame it and hang it on my wall. I'll look at it every single day. I'm not jealous anymore."
For Szafran, the journey after Auschwitz has been a long one.

After surviving WWII, he went to Palestine and later served in three separate wars for Israel, which gained its independence in 1948. He and his wife relocated to the United States with their two young children in 1959. His wife, who spoke eight languages, went back to school and graduated Cum Laude in Education before spending 26 years as a Hebrew Day School teacher in Syracuse, N.Y.
After 63 years of marriage, Szafran's wife passed away in 2017. His son, Dr. Zvi Szafran, is the President of the SUNY-Canton campus in upstate New York, located near the Ontario border.
"Now I can tell my son that I'm also a doctor," he said.