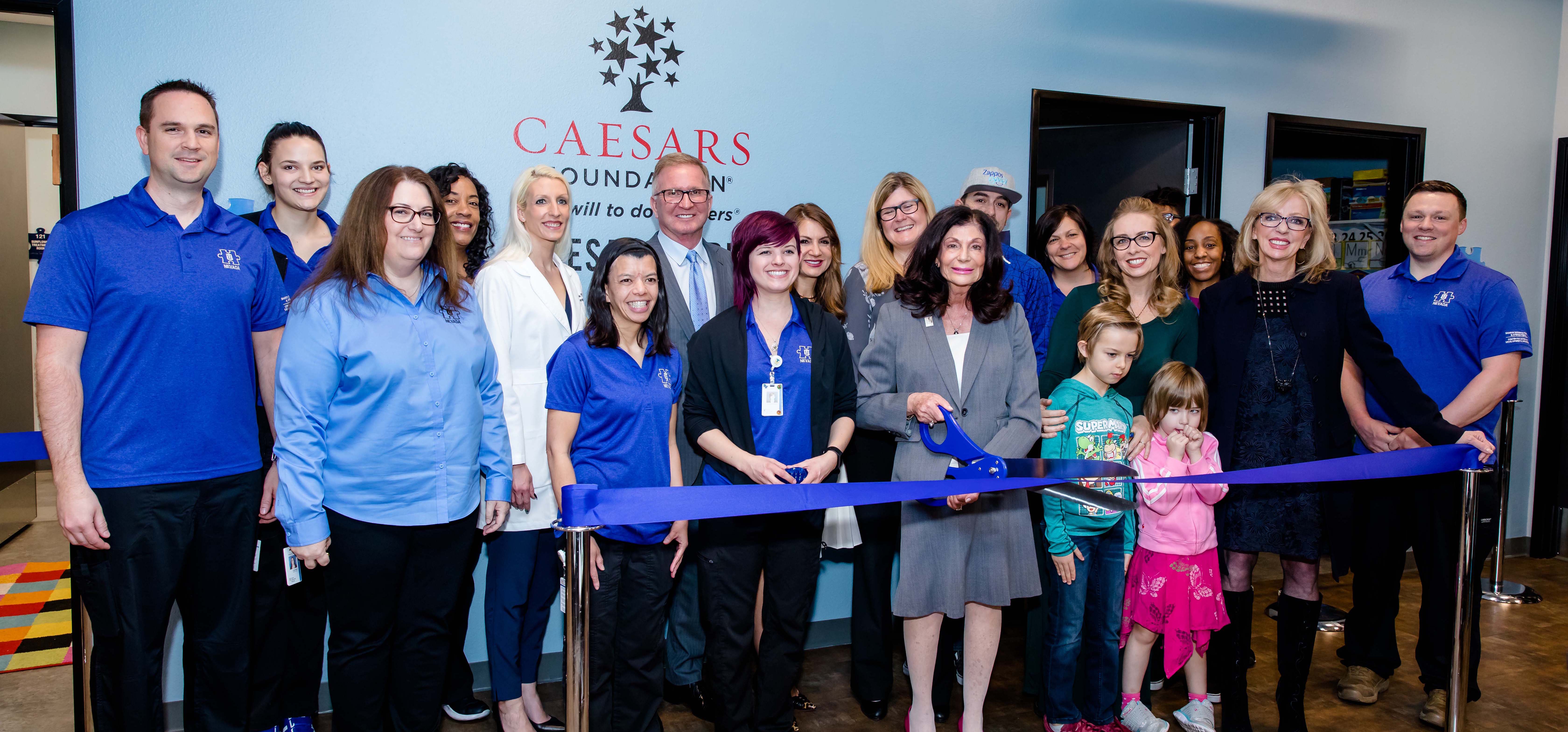 Touro University Nevada Center for Autism & Developmental Disabilities Honors Generous Donors with a Room-Naming Ceremony
Touro University Nevada celebrated the generous contributions of a few of its community partners with a room dedication and ribbon cutting ceremony inside the Sharon Sigesmund Pierce & Stephen Pierce Center for Autism and Developmental Disabilities on Jan. 29.
The ceremony honored Caesars Foundation, Barrick, Zappos for Good, and Tracy and Robert Eglet for their continued support of the Center.
Donations from these partners helped purchase new educational games and toys for the children who receive treatment at the Center, as well as provide needed support to families through the Center Grant Fund. Families can apply to the grant fund for financial assistance to cover treatment costs.
Support from these and other generous donors also helped the Center hire pediatric neuropsychologist Dr. Erin Honke, who performs evaluations on children in the Center, and an occupational therapist.
"We are grateful for the wonderful support from the Caesars Foundation, Barrick, Zappos for Good, and Tracy and Robert Eglet," said Shelley Berkley, CEO and Senior Provost of Touro University Western Division. "Their commitment to helping families with children on the autism spectrum or other developmental disabilities is truly making a difference across Southern Nevada."
"The Caesars Foundation has always cared deeply about the Southern Nevada community, and we are proud to work with the Touro University Nevada Pierce Center for Autism and Developmental Disabilities," said Jan Jones Blackhurst, Executive Vice President of Public Policy & Corporate Responsibility at Caesars Entertainment. "I'm grateful that our partnership is making a positive impact on so many families across the Las Vegas Valley."
"The Touro Center for Autism and Developmental Disabilities and its clinicians are doing remarkable work to provide educational resources and support for children with developmental needs and their families," said Rebecca Darling, Director of Corporate Social Responsibility at Barrick. "Education is at the center of Barrick's social investment work and we are honored to be able to contribute to this valuable resource for families in our community."
Each month, the Center averages about 380 patient visits and is expected to exceed 5,200 total patient visits for the year.
"We're really excited to celebrate all the hard work of our friends at Touro University Nevada. Today's event is the culmination of a lot of hard work in our shared commitment to the Las Vegas Community," said Steven Bautista, Head of Charity at Zappos.com.