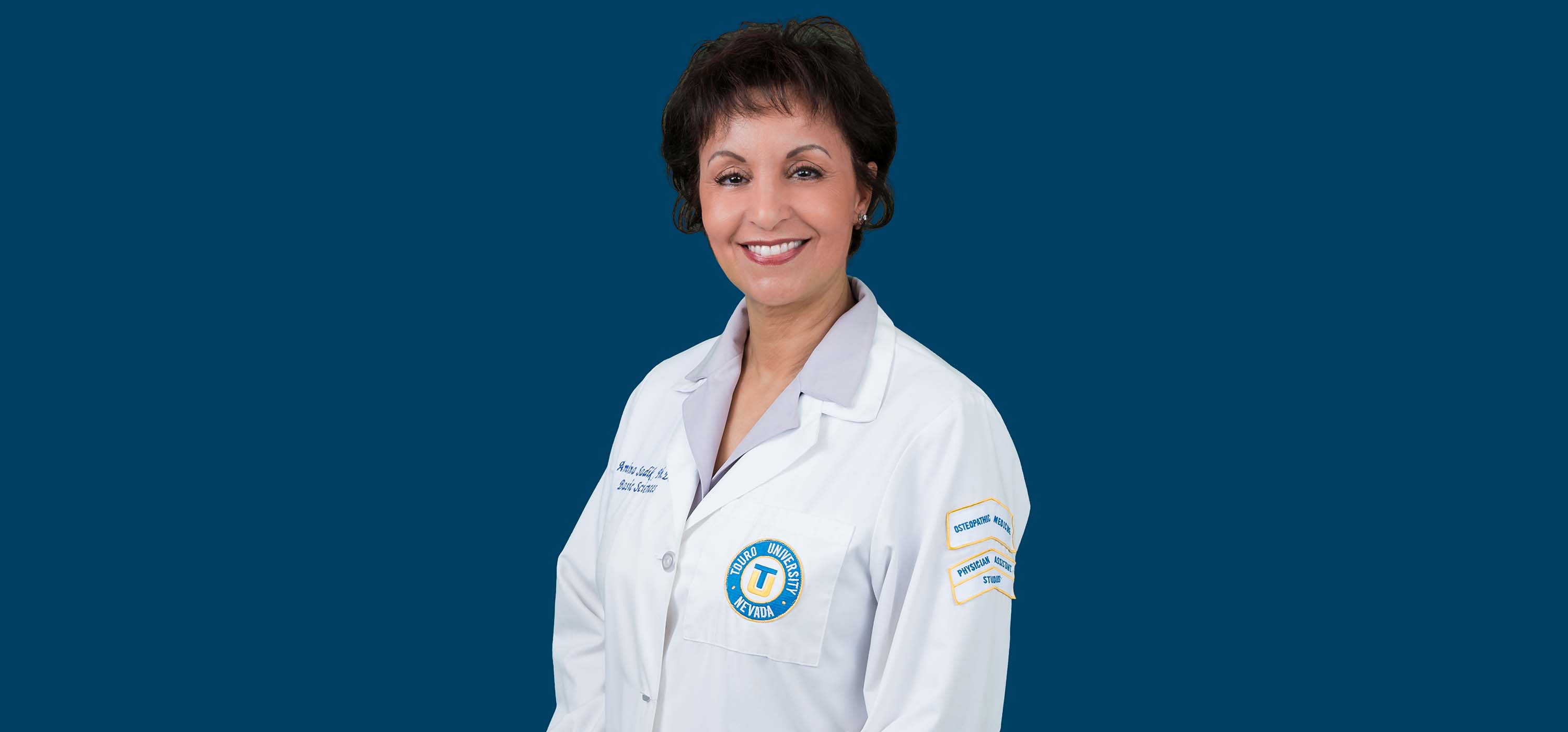 Faculty Focus: Dr. Amina Sadik, Professor, Basic Sciences
Faculty Focus highlights our distinguished faculty at Touro Nevada.
In this edition of "Faculty Focus," we sat down with Dr. Amina Sadik, Professor in the Basic Sciences Department.
Can you tell us about where you grew up?
I grew up in Casablanca, Morocco, and I am the fourth of 11 children. During the school year, we lived in the city. During vacation, we spent time at our countryside home where we rode horses, swam in the lake, and gathered flowers from the fields. Even today, I still remember how the flowers smelled and how everything looked.
Where did you complete your education?
I completed my undergraduate studies in Morocco, about 90 kilometers (55 miles) north of Casablanca in Rabat. Since my undergraduate university didn't have a biochemistry program, my Biochemistry professor, Mme Hashimi, advised me to apply to schools in France.
I was the first girl in my family to study abroad. Typically, only the guys went. I had one brother who was accepted into Columbia University, one brother who went to school in Belgium, and another who went to France.
When you get your room at the University of Rennes in France, there is a board full of invitations where local families invite foreign students to spend the holidays with them. I chose to stay with a French woman, Catherine Debroize, and her family in Saint-Malo. She and I remain close friends to this day.
When did you discover your love for science and education?
At age 14, my father told me that someone asked if his son could take my hand in marriage. I said 'no, I would rather continue my education. I want to become a teacher.' I taught my younger siblings during our studies, as was custom in our family, and I always had the mentality of a teacher.
My father asked one of my older brothers what he thought about me getting married. My brother wasn't happy that I chose to get my education instead of getting married. He told my dad that of the 28 students in my class, only two would go to college. My father looked at my brother and said 'Two? Well, then one of them is going to be my daughter!'
As a Moroccan girl who was limited in what she could do, reading was my refuge. When you get to high school in Morocco, they determine based on your grades whether you will take the science track or the literature track. During your final years of high school, you spend the rest of the time studying one or the other.
I loved science so much that I would go home after class and read my brothers' books to learn about topics we had yet to discuss in class.
Can you tell us how you came to Touro University Nevada?
I was teaching biochemistry at UNLV when I met Dr. Forman in April 2004. He told me about Touro University Nevada and I asked him why it was going to be different. What he told me made me sign the contract immediately. He said, 'If you want to do something different that you think is going to benefit the students at Touro, I will let you do it.' For me, that was all I needed. I loved coming to Touro and being a pioneer.
We've heard that you also host dinner parties for your students. Can you tell us about those?
The dinner parties actually started with the first DO class before they graduated in 2008. We had very strong mentors and mentees in each class after them, and I thought it would be a good idea to have them together for a dinner. There were students from all four classes at the dinner, so the fourth-year students gave advice to the third-year students about things like residency applications, where they went for interviews, etc.; the third-year students talked to the second-year students about how to prepare for board exams; and the second-year students spoke to the first-year students about things like studying tips and how to prepare for a certain professor's class.
The dinner was similar to the Jeffersonian dinner model. Thomas Jefferson hosted dinners where he would have the rising stars of politics dine with the seasoned political veterans so they could learn from each other, and I thought something like that would be beneficial for our students. I hosted the 10thanniversary dinner in 2017. It was attended by 21 students, four of whom were PA students.
If you could give your students a single piece of advice, what would it be?
I would say 'assessment drives learning.' Formative assessment helps you find what you know, and more importantly, what you do not know (aka metacognition), so can fill the gaps before the summative assessment. That is why formative assessment is very important.
What do you enjoy doing outside of work?
Outside of teaching, this is how my life goes: traveling (the only continent I have not seen yet is Antarctica), gardening, working out, and cooking. Those are the four things I do the most.
I would like to add that I am proud of two accomplishments in my life thus far: being the mother of a national scholar daughter who graduated with two degrees in four years, one with honors. I am also the recipient of a medal from the King of Morocco making me an Officer of the National Order of Merit.