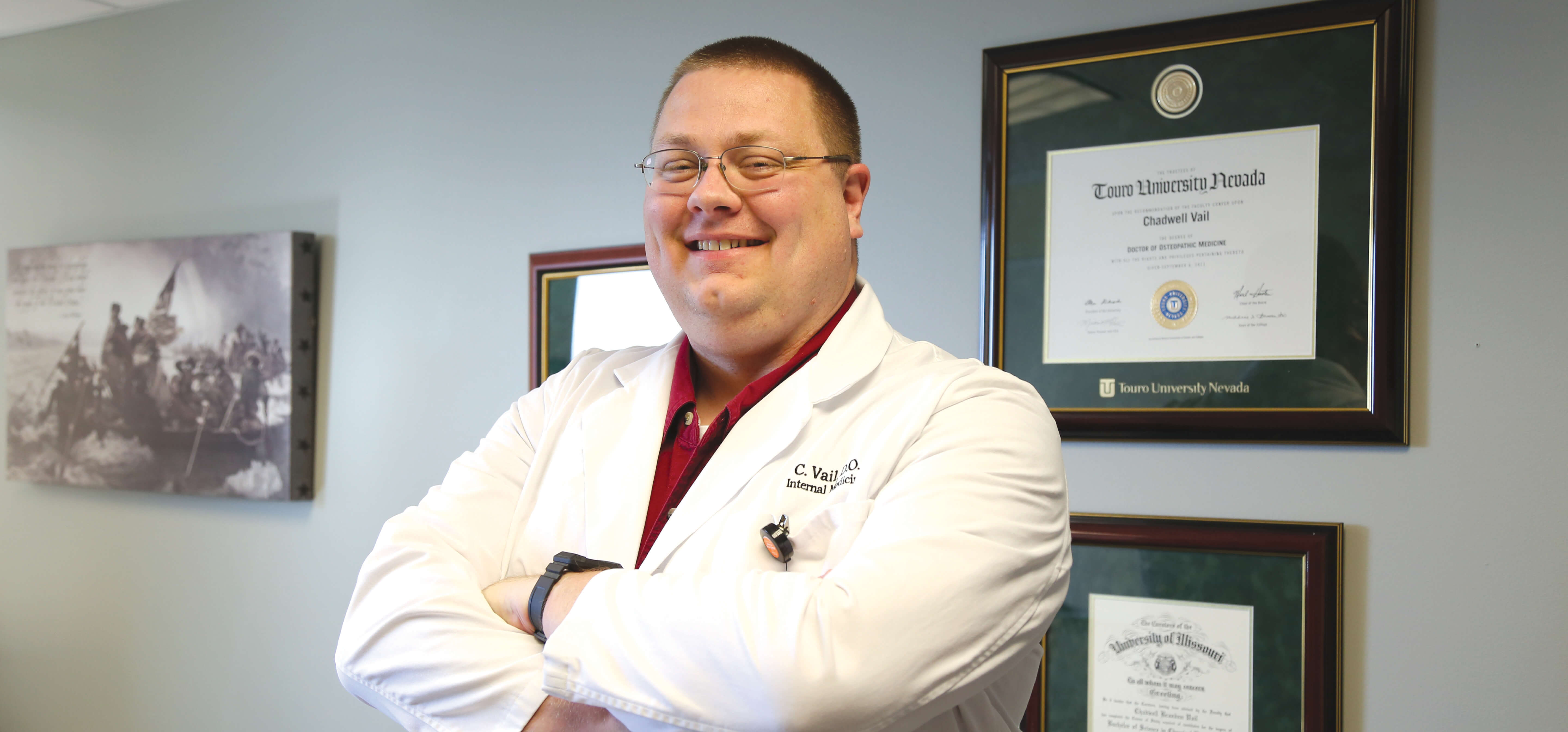 "Catching Up": Dr. Chadwell Vail DO, FACOI, College of Osteopathic Medicine, Class of 2011
"Catching Up" is a new monthly feature highlighting different Touro University Nevada alumni/ae and learning more about their journey after graduation.
In our first edition, we spoke with Dr. Chadwell Vail, a 2011 graduate of the Touro University Nevada College of Osteopathic Medicine.
Dr. Vail serves as a member of the Medical Group Board of Directors, Director of Medical Education, and Vice Chairman of Internal Medicine at Phelps Health Medical Center in Rolla, MO. He and his wife live in Southcentral Missouri with their three children.
Where are you from?
I'm originally from a small town called Belgrade, Missouri.
Why did you choose to attend Touro University Nevada?
I was actually working in the copper mines as a process engineer/chemical plant manager in Arizona when I applied to medical school. What I liked about Touro was that it was a relatively new school, so it gave the school some flexibility to grow and innovate. Also, the people I interviewed with were incredible and the campus provided a tremendous atmosphere that was much better than other schools.
The smaller class size was also a selling point for me. When you are part of a smaller cohort, you get to have more one-on-one time with the faculty.
What do you remember from your time as a medical student?
I remember that I was fortunate to have a really cohesive study group. If it wasn't for my study group, I probably wouldn't have survived medical school.
Was there a specific person at Touro who made a difference in your medical education?
Dr. Harris and Dr. Guadagnoli were huge mentors to me. Going into medical school is a different world than when you're an undergrad. The volume of information is much higher and the way you have to study for it dramatically changes. There are also plenty of pitfalls students can fall into. Dr. Guadagnoli helped me get out of some of those pitfalls, and Dr. Harris was always there to help alleviate stress and really showed me how to be a great physician.
Where did you complete your residency?
I did my family medicine residency at Blue Ridge Healthcare in Morganton, N.C., which is now Atrium Health. After my internship year, I switched to internal medicine at the same facility. I actually became chief resident during my final year of residency.
Where are you working now?
I wear a lot of hats now. I'm a staff internist and hold the title of Director of Medical Education at Phelps Health. With the mid-Missouri AHEC organization, I run an interdisciplinary clinical training program with nine medical students from three different osteopathic medical schools, 16 nurse practitioner students, and PA students from Ft. Leonard Wood. I'm also an Adjunct Clinical Assistant Professor of Internal Medicine with A.T. Still University/Kirksville College of Osteopathic Medicine and Kansas City University. I do a lot of precepting and sit on my fair share of committees, so I'm everywhere.
Do you still keep in touch with anyone from Touro?
Every now and then I get to catch up with my classmates. Strangely enough, the last time I was in Las Vegas, I ran into one of my old study group partners, Dr. Ryan Proctor. He's a kind and generous man and it was great getting to see him again.
What about family life?
I started medical school with two kids and ended it with three. When I started at Touro, my oldest daughter was 4, and my middle daughter was 1-week-old. My wife had our youngest daughter during my third year of medical school, and she's 8 now.
I married an extraordinarily strong woman. When I came home from school, I would detox for a while and put the books down. My wife and kids helped me get through medical school. It's important to have a sit down with your family beforehand and understand the importance of time management. You need to discuss how much time is necessary to complete your studies and still be able to spend time with the wife and kids. Also, my wife is a nurse, so she had an understanding of the rigors of medical education.
What are your plans for the future?
I want to keep educating. I also sit on the Board of Directors of Phelps Health Medical Group. Education has always been important to me, and I want to keep training the future generations of doctors and healthcare providers.
Learn More About Touro Nevada's DO Program