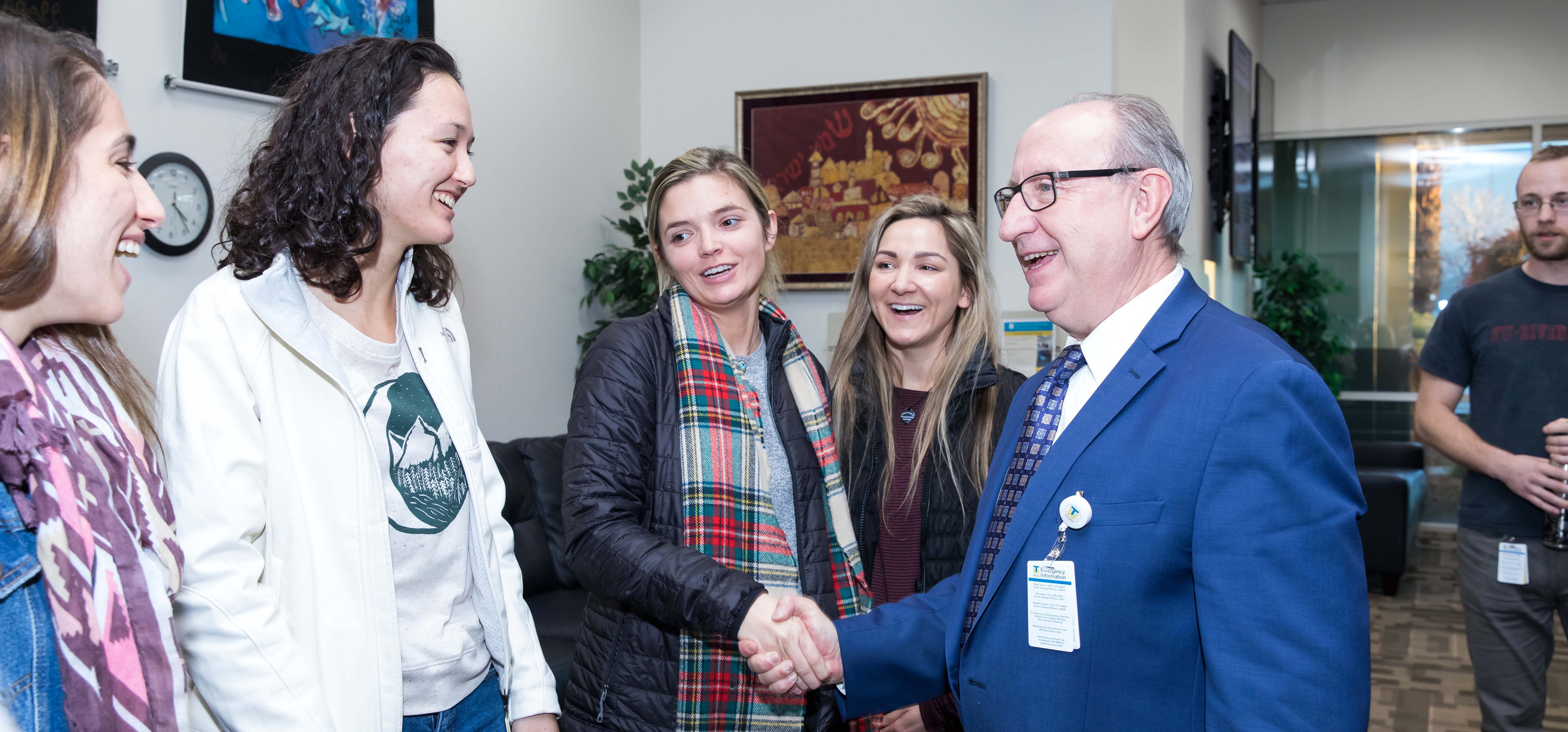 Faculty Focus: Dr. Wolfgang Gilliar, Dean, College of Osteopathic Medicine
As part of this month's "Faculty Focus," we interviewed Dr. Wolfgang Gilliar, in his new role as the Dean of the Touro University Nevada College of Osteopathic Medicine.
Dean Gilliar, who is double board-certified in Physical Medicine and Rehabilitation and Neuromusculoskeletal Medicine, began his tenure as Dean of TUNCOM on Jan. 2, 2019. He has a distinguished academic medicine career and has worked at a number of prestigious medical institutions across the United States. He has lectured and conducted workshops in Australia, France, Germany, Italy, Japan, Jordan, and Switzerland. Dr. Gilliar is the immediate past Dean of the New York Institute of Technology (NYIT) College of Osteopathic Medicine where he also served as the Chair in the Osteopathic Manipulative Medicine Department.
Tell us about your beginnings and your eventual journey to Nevada.
I grew up in the southwestern region of Germany, in a city called Karlsruhe. I spent one high school year (1973-1974) as an exchange student in Phoenix, Arizona – with one of the most gracious host families one could ever imagine. That year marked the beginning of my "U.S. life." Being able to see the U.S. school system first-hand, it fortified my desire to study within the American education and academic system, which I have always felt concentrates very much on the individual and fosters creativity, innovation, and scientific investigation with active student participation. I did my undergraduate work at the University of Arizona, in Tucson, medical school at Michigan State University College of Osteopathic Medicine, and completed my residency at the National Rehabilitation Hospital in Washington, DC. My first academic position was at Tufts Medical School in Boston, where I directed the Traumatic Brain Injury unit. This was followed by a clinical faculty appointment at Stanford Medical School in Palo Alto before I jointed NYITCOM in New York in the capacity of Department Chair of the Osteopathic Manipulative Medicine Department (OMM).
What was your first job that was pertinent to your career?
Incidentally, my first job out of high school was a typical summer job in the kitchen of a 1,000-bed hospital system. The hospital had an opening in its LPN program, which appealed to me. This experience was one of the best beginnings of my medical career. It also secured subsequent summer jobs. It gave me those real-life experiences that continue to serve me well today. I am so grateful for that period. While many people thought that I would not 'need this' when becoming a physician, I feel I would have never been the physician I am today – if I had not taken this opportunity.
When did you discover your love for medicine?
I discovered my love for medicine at the age of 11 when, one night, my grandmother suffered a stroke. Our family physician took care of her at home, and he allowed me to sit with my grandmother and him as he administered his 'art of medicine.' I still remember vividly how he leaned over to listen to the heart and lungs – and how he spoke to my grandmother in quiet ways, explaining what he was doling. From that moment forward, I knew it was what I wanted to do.
As a person with a wide scope of interests, at the time of graduation from high school, the question closest at hand was whether I should pursue Art or Medicine. My early hospital experience helped me later decide that I wanted to stay in medicine.
As a lover of the arts, how were you able to utilize those skills while working in medicine?
Even when I was working at an LPN level, I was quickly identified as someone who could set up photo shoots and produce clear photographic images as part of documenting various orthopedic surgery techniques. In addition, I was learning how to help bring X-rays and body structures to life in form of visual materials for doctoral dissertations, publications and presentations. Those were the days where I would routinely take photos of pathologic specimens and visualize them to make a 'teaching point or two,' based on the discussions with the authors. I built a little photo studio at home for 'medical photography.' I really learned team work, first hand. I learned how important it is to quickly find out 'what the central point' was of a task or problem, and it was all a fun and creative period for me.
Why did you choose the osteopathic route?
When I came to the U.S., I had no idea what osteopathic medicine was. I took an Honors class at the U of A in Tucson, and my adviser – who also served as an academic mentor – suggested that with my philosophy and holistic approach 'to life,' osteopathic medicine might be a good fit for me. After spending an eye-opening afternoon in the practice of Dr. William Brooks, a practicing osteopathic physician in Tucson, Arizona, I was hooked! It turned out that Dr. Brooks shared the office with the renowned osteopathic physician Dr. Robert Fulford, whose osteopathic approaches were mentioned by the famed medical author Dr. Andrew Weil. Interestingly, after I moved to California, Dr. Brooks would refer patients to my practice. It is a small world.
What was it about Physical Medicine and Rehabilitation that drew you to that medical specialty?
I always loved the neuromusculoskeletal system as applied to the locomotor system, so initially I thought I'd become an orthopedic surgeon. But after much reflection, I felt that the field of physical medicine and rehabilitation was more conducive to my idea of implementing the osteopathic manual medicine (OMM) approach into the standard medical routines. In practice, I was able to not only provide for disorders and issues arising from the musculoskeletal system but also apply what I had learned from my other interests in the field of traumatic brain injury (TBI). While running the Traumatic Brain Injury at Tufts Medical School, it was a natural thing to combine both fields in practice.
I believe that many decisions we make as physicians are founded in personal experiences that we may not connect with or realize until much later on in life. I took care of patients with stroke and other nervous system disorders – only to be reminded years later of how I sat with my grandmother at her death bed.
What is your philosophy on life?
As an "open-systems thinker," I continually adjust to the various life situations and remain as flexible as I possibly can. My open heart, open mind, and open eyes allow the universe to teach me daily what I have not learned already or need to retune. I trust the open road and my deepest lesson is that by giving freely and unconditionally, I receive what the universe will provide for me.
In my world, I've found that being grateful and generous makes me stronger. I find courage in being open and not worrying about 'losing things,' just as one song goes: "you never lose the thing that belongs to you."
You've had a very accomplished career. Is there anything you've done that you can say you are most proud of?
I separate things of 'pride' into two categories: outside success and inside satisfaction. During my life's journey thus far, I have enjoyed backroads and detours and stumbling blocks which have turned out to be stepping stones. Without these experiences, and yes, failures and trials, I would not have enjoyed the richness and depths of it all. I feel having been guided by my own compass and being able to follow it as I have is my biggest accomplishment. Or perhaps in keeping my own dreams alive and simply not being deterred by 'no' or 'that cannot be done.'
Is there anything in particular you are looking forward to bringing to Touro University Nevada?
My particularly diverse background and by contributing to and learning alongside some of the most prestigious educational institutional in the world, including Tufts, Stanford, Michigan State, and others have helped me to articulate an understanding of the complexity of health systems across the globe. One of the central questions about health that has guided me through all of these years is how I can engage and optimize the patient's own self-healing abilities. How can osteopathic medicine contribute to the best patient outcome while containing costs and best distribute medical resources. The new buzzword is 'population health.' I think osteopathic medicine, with its truly holistic approach, is particularly suited for this topic. Touro University Nevada is uniquely positioned to offer interprofessional education given the richness of the many education programs it offers such as physical and occupational therapy, nursing, physician assistant, and education.
How do you turn your goals into realities here at Touro?
As in my own career, only when the goal seems to exceed the imaginable and when dreams reach around realities, can we move beyond: rigor, resilience and unfaltering dedication sustain that reality. Touro University Nevada, with its dedicated mission to learning and contributing to societal needs, has shown how successful a dedicated medical school can be in a short 15 years. Perhaps what I am able to bring to Touro is this continued desire to build on an already very nurturing environment where students feel truly supported. We want to create choices for our students as everyone is as individual as their name. Even when they fail, they may realize that
'staying focused on the prize' accounts for more than the power of their own strength, and which often is conditioned by irrational fears. I would love to partake in and contribute to the overall next phase of TUNCOM's cultural evolution as one of the innovative and leading medical education institutions in the nation.
What is one of your goals for Touro University Nevada?
My goal is to help prepare future physicians who are readily able to balance science, technology and the social parameters that determine health matters, in the state of Nevada and the region. Let's find ways to look around corners and educate the physician of the future today by being innovative and courageous. I think courage is contagious. And our students want primarily two things, as far as I see it: to have real choices, and to be part of changing the health system for the better. Let's meet the students where they expect us to meet them and then move forward together.
What do you enjoy doing outside of work?
I love the arts. I enjoy painting and taking photographs, playing the piano and listening to all streams of music. Lately, I have taken an interest in film making. I love good food, traveling, and simply being outside. I love the Southwest and so being in Nevada, I look forward to doing much more hiking. Oh, to my own detriment (e.g. when moving) I love to collect old books, especially old medical books.
As someone who is extremely well-traveled, what are some of your favorite places?
There are so many wonderful spots that I have been fortunate to visit or live in. I do love New York City, Paris and Kyoto, Japan. My two favorite places are Sedona, Ariz. and the Black Forest region in Germany on one side of the Rhine river and the Alsace region to the West. In general, I love places where there is a river running through. I guess it's the quiet dynamic of motion that I like. Somehow motion and movement keep returning to me as a basic component of my life.
Learn More About Touro Nevada's DO Program