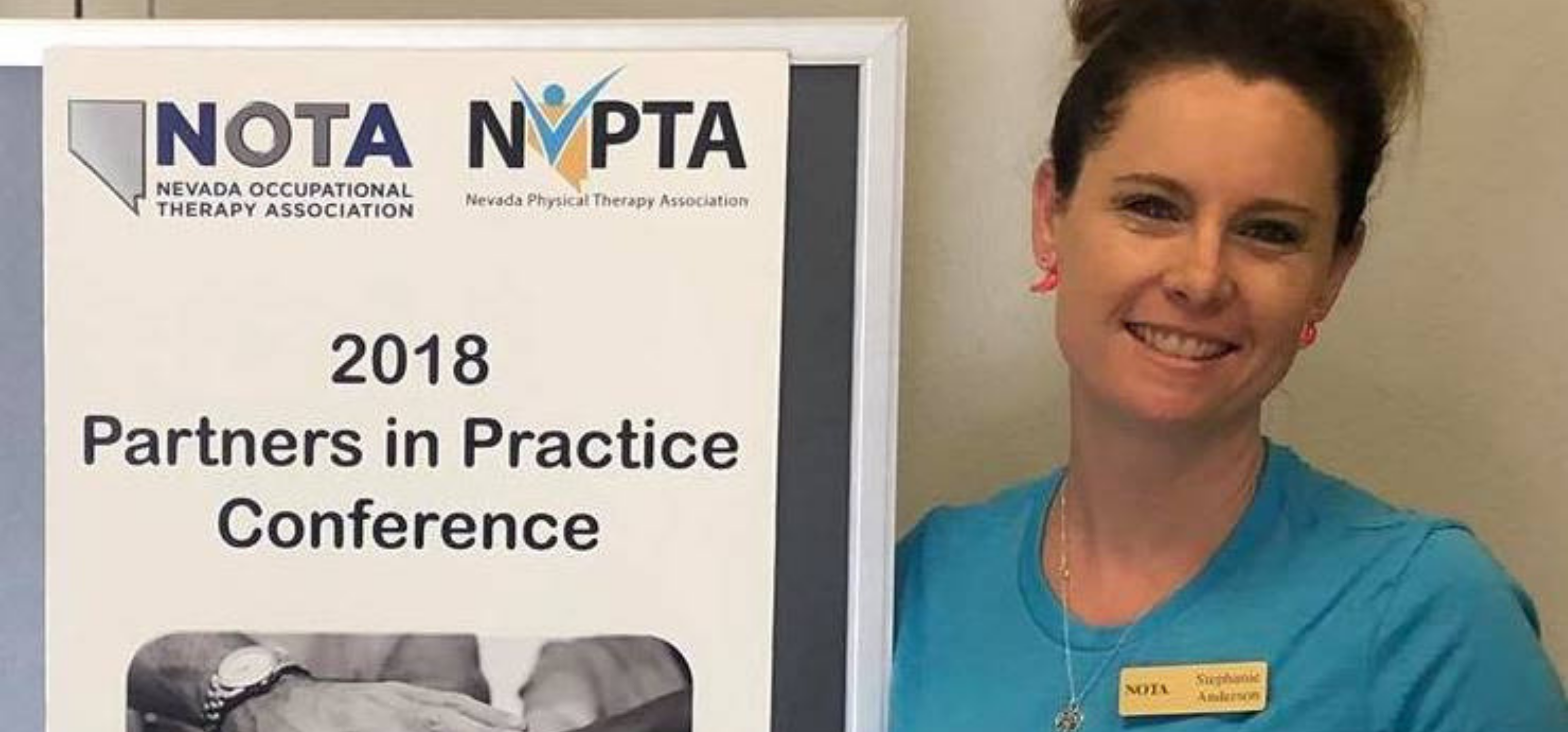 "Catching Up": Stephanie Anderson, School of Occupational Therapy, Class of 2010
Catching Up With Stephanie Anderson, a 2010 graduate of the Touro University Nevada School of Occupational Therapy
"Catching Up" is a new monthly feature highlighting different Touro University Nevada alumni/ae and learning more about their journey after graduation.
In this edition, we spoke with Stephanie Anderson, a 2010 graduate of the Touro University Nevada School of Occupational Therapy.
She works as the Regional Director of Rehab at CareMeridian 4 Kids and serves as co-Vice President of the Nevada Occupational Therapy Association. She and her husband live in Las Vegas with their son.
Where are you from?
I was born and raised in Las Vegas as a third-generation Las Vegan. I was raised on the Westside of town and went to Palo Verde High School for two years before completing my junior and senior years at Community College High School.
Why did you pursue occupational therapy?
OT actually found me. After high school, I didn't know what I wanted to do. My neighbor was an OT and she helped lead me to an occupational therapy assistant program which I eventually graduated from. During the program, I knew I wanted to be an actual OT, so that's when I decided to go to Touro. I always wanted to work with kids and decided to pursue pediatrics when I came to Touro.
Why Touro University Nevada?
First of all, it was in my hometown. I also really like the atmosphere of a smaller school. I looked into UNLV and I didn't care much for the big campus. I liked that Touro had a smaller cohort, and I had previous educational experience with some of the faculty as well. Touro helped keep me accountable because it's hard to slack off in a smaller class.
Is there anything specific that you remember from your time as a student?
I liked all of the community work we did. We volunteered at Three Square and renovated a building at Habitat for Humanity. Those experiences have always stuck with me.
Was there a specific person at Touro who greatly influenced you?
I would have to say Dr. Yvonne Randall. She's known me for a long time and pushed me out of my comfort zone when I was at Touro. She sent me out-of-state when it came time to do my field work because she said I needed to experience life outside of Las Vegas. I completed my field work at the VA in Albuquerque, N.M., and it was nice to get a change of scenery for a little bit.
Where are you working now?
For the last seven years, I've worked at CareMeridian 4 Kids, which is an all-pediatric facility in Las Vegas. We just opened a new facility in Reno, and I serve as the Regional Director of Rehab there as well. A lot of my job is coordinating with my teams and giving them the autonomy to do what they need to do. I'm there to make sure that they have the support to do their jobs.
I'm also an adjunct faculty at Touro where I teach the leadership course in the OT program. I've taught the pediatrics lab and a few additional courses over the last few years.
Why did you choose to pursue pediatrics?
I feel like kids have so much potential, and they have their whole lives ahead of them. If I can be that spark to send them in the right direction, then I'm doing my job. A lot of the kids I work with are in the foster care system, so they don't have consistent caregivers or parents. I like to be that crazy aunt who keeps coming back to give them the care they need.

Why is it important for you to work with Touro's current students?
I try to be that guiding light and be a good fieldwork educator so that they'll want to take students in the future as a way to keep the cycle going. I always take Touro students for their field work, though I've also taken students from Tennessee, Florida and California. I can say that Touro students are much more prepared and ready to jump into their case load.
What's it like to work alongside some of your former professors?
It's very cool. When I was a student, Dr. Otty was my adviser, and now she's the program director. Even though she's still calling the shots, I have some input this time around and she lets me do my thing.
Do you see yourself making the transition from a practitioner into a full-time educator?
I think I'll stay in the practitioner/manager group for a while. I'm very happy where I am now. I do have it on my bucket list to get a PhD. It's been hanging over my head for a while and I finally need to get that done.
Learn More About Touro Nevada's OT Program