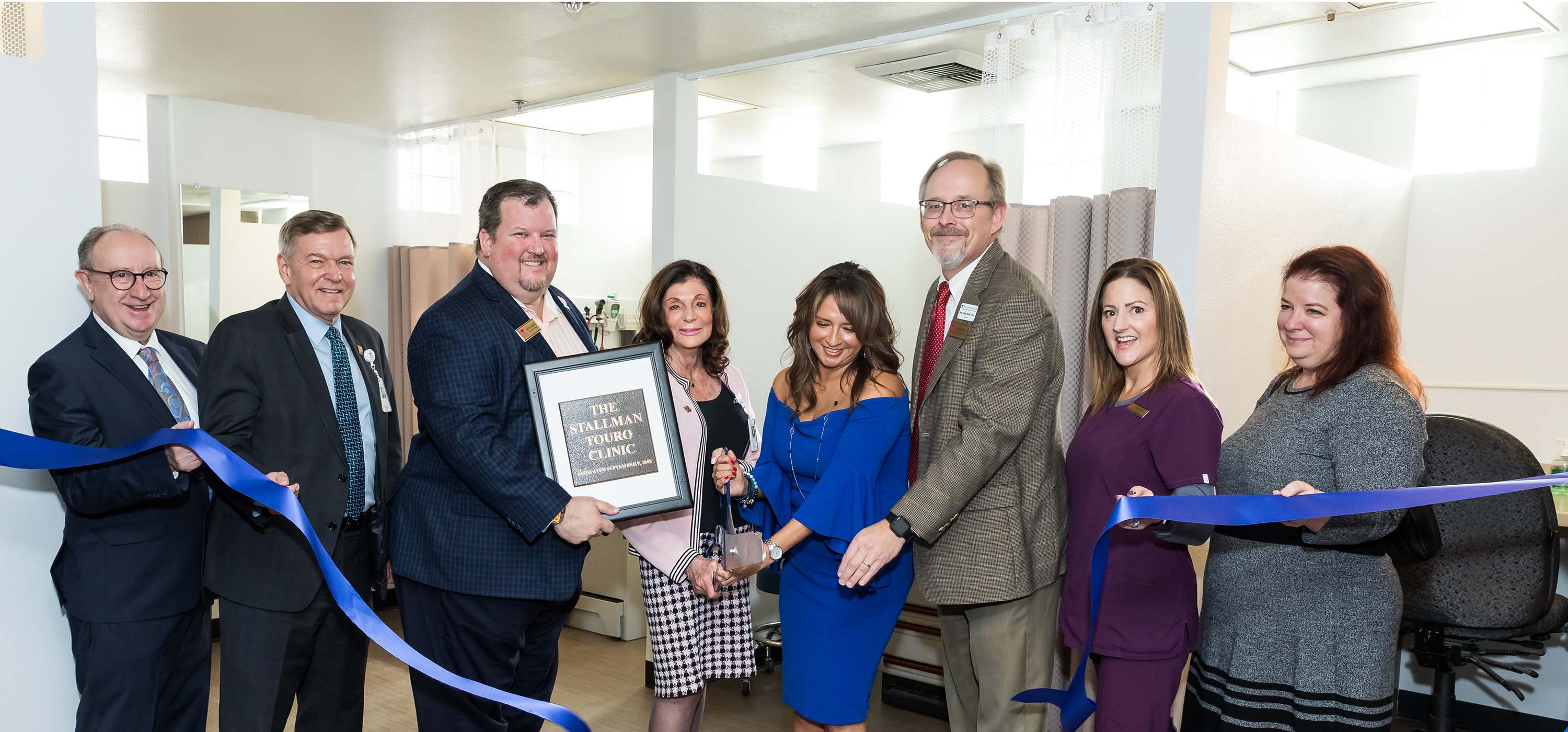 Improving Healthcare for a Better Future
Expanded Clinic at The Shade Tree Provides Patients and Students with Lasting Experiences
For the last decade, Touro University Nevada's physician assistant (PA) faculty and students have provided free healthcare to hundreds of abused women and children living at The Shade Tree.
Located on the third floor of The Shade Tree is the Stallman-Touro Clinic where Touro's PA students, under the supervision of faculty, provide free primary care services for the women and children who are temporarily housed there.
While the clinic provides a much-needed space for patients to receive treatment, as well as an opportunity for Touro's PA students to develop critical skills, conditions were not ideal. There were no individual rooms available as patient visits were performed inside a 350 sq. ft. room containing two hospital beds, partitioned by a blue curtain.
Taylor Scheller, a PA student who spent three days a week at The Shade Tree for her community medicine rotation, said the close-knit space made it difficult for patients to completely open up to them while they performed their examinations.
"Sometimes, patients chose not to discuss sensitive information with us because they didn't want anyone else to hear," she said. "We want them to feel comfortable, and the more open they are with us, the better the care we can provide for them."
Thanks to Shade Tree's effort under the leadership of TutorPerini Corp., a generous community-wide effort totaling $500,000 helped completely transform the Stallman-Touro Clinic, which now includes three examination rooms, a laboratory, reception area, and nurse's station housed inside 750 sq. ft. of space.
Scheller said the completely redesigned clinic allows them to provide more thorough examinations and develop a deeper trust with their patients. That openness, she added, will make it easier for her and her classmates to treat their patients with the quality and compassion they deserve.
"Hearing about the stories these women have gone through puts into perspective that I am going to have patients from all walks of life," she said. "Being able to have those private conversations with them lets them know that they can trust me as a provider. The expanded clinic will allow me to do that."
Scheller is still deciding on a career in either family medicine or emergency medicine after she graduates. Whichever career path she chooses to pursue, she said her Shade Tree experience has made her a more well-rounded and empathetic provider.
"Working with the patients at The Shade Tree prepared me for patients I will encounter long after I graduate," she said.
Learn More About The Stallman Touro Clinic