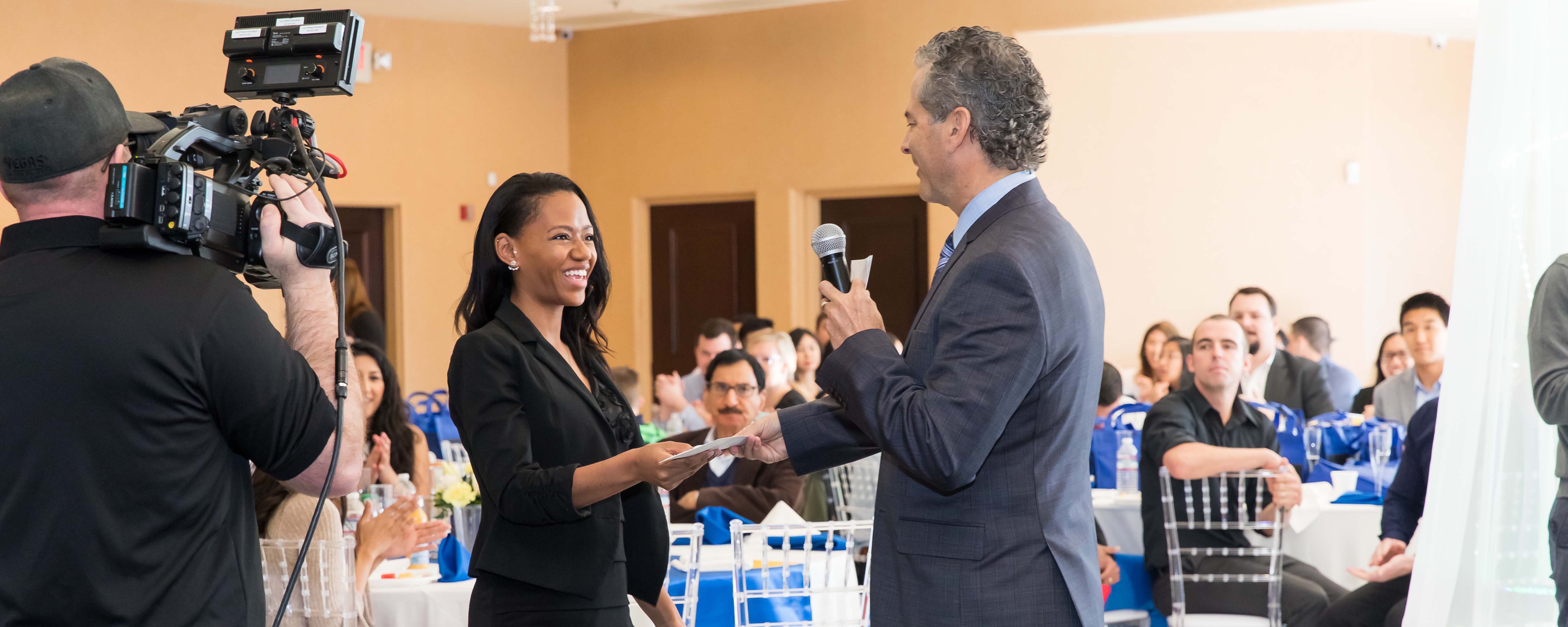 Student Spotlight: Mahdika Underwood, College of Osteopathic Medicine
Student Spotlight, a monthly series, highlights the students at Touro Nevada.
When Mahdika Underwood was 25, she was forced to make one of the most difficult decisions of her life: Choosing between graduate school and medical school.
The Seattle native, who completed her undergraduate degree in Biology from New Mexico State University, was fielding scholarship offers from a dozen graduate-level universities, including Yale, Brown, UCLA, UC Berkeley, and Baylor.
Her cancer biology research landed her a sponsorship to attend a summer-intensive research program at UC Berkeley, an opportunity she relished. Despite her penchant for research, Underwood questioned whether it was something she wanted to pursue as a career.
"I was always enthralled with research, but it was missing the patient-doctor social factor," she said. "I loved my lab partners, but I wanted to see what happened when I was on the other end of the spectrum and actually working with patients to be a part of their health journey."
Underwood was the third of five siblings and grew up with a single mother who worked full time as a nursing assistant to provide for her family. Underwood was forced to take on additional responsibilities at a young age, though she never saw it as a detriment.
"Growing up, it taught me to be really autonomous and self-sufficient," she said. "Even now, I don't mind taking initiative. I got plenty of inspiration from my mom who worked a lot to provide for us."
After moving out of the house at 16, Underwood became a nursing assistant the following year. She thought nursing school would be the right fit, but it took one week of classes to realize her destiny lay elsewhere.
"During that first week of school, I was constantly asking questions," she recalled. "So much so that by the end of that week, my teacher told me that nursing probably wasn't the best fit for me. She recommended that I pursue the sciences because I was so intrigued by the mechanisms and pathology, and I wasn't going to get that level of detail in nursing."
Still, Underwood never fathomed that she could become a doctor.
"Growing up, there wasn't a doctor who looked like me. I didn't think it was a path I could realistically take," she said.
As Underwood contemplated her future, she had to think about her two children at home. In addition to applying to 12 graduate schools, she applied to one medical school: Touro University Nevada College of Osteopathic Medicine.
"That's when I told my mom I was thinking about becoming a doctor," she said. "She was definitely skeptical about it."
"But how?" she recalled her mom asking after she told her about her application to Touro. "You have kids, how are you going to provide for them?"
Underwood was accepted into all 12 graduate schools she applied to, as well as Touro University Nevada. That's when she wrestled with the decision that would affect her entire future.
"I had to choose between receiving $50,000 a year to go to grad school, or paying $60,000 a year to go to medical school," she said.
Underwood chose to pursue medical school, a decision she questioned for almost a year. She packed up and moved to Southern Nevada, eventually settling in an apartment with her two young boys.
"That first year was really rough," she recalled. "I was scattered. I moved here alone; the financial hardships were tough; and childcare was $1,200 each month. But I always loved challenges, so I wasn't going to give up. Everything I've ever had, I've had to fight for."
Going through medical school as a single mother of two young children presented its share of challenges, but Underwood learned to manage her time effectively to create a better life for her and her kids.
"We can't change the number of hours in the day, but we can make each hour count. I'd have classes from 8 a.m. until sometimes 5 p.m. and in the mornings, the kids would go to daycare and school," she said. "I would pick them up when I got out of class and made sure that 5 p.m. – 7 p.m. was our time together. Once it was 8 p.m., it was bedtime for them so I could study. I'd be up until midnight or sometimes 1 a.m., but that still left me three hours behind my classmates each night to get work done."
Underwood explained the situation to her kids, a decision that helped make the process easier for all of them.
"I told them that mommy's going to school to become a doctor. I'd say 'you guys have homework, and mommy has homework,'" she said. "If you have children, even young children, I think you should let them in on what's going on."
As Underwood approaches her last month before commencement, she's grateful for the opportunity that Touro provided her.
"Even during my interview, I felt like Touro was the right place for me," she said. "It just felt like a family here. In order to thrive, I needed to be in the right, nourishing environment."
Being a minority in medical school helped to strengthen Underwood throughout her rigorous studies. And as a single mother trying to get through medical school, she tried her hardest to persevere.
"In some regards, I thought it wasn't possible to become a doctor because I just didn't see many African-American women becoming doctors," she said. "But as a minority in my cohort, it drove me to push harder. My kids need to know that they can do this."
During one of her OB/GYN rotations, a patient told Underwood that she wanted to bring her 6-year-old daughter in to see her.
"She wanted her daughter to see that it was possible for her to become a doctor. Having that visual helps to inspire people, regardless of the obstacles they've faced," Underwood said. "There are so many factors that can leave you with self-doubt. You may be the only one to do it now, but others will follow."
On July 1, Underwood will begin her pediatrics residency at UNLV where she will spend time between UMC and Sunrise Hospital.
She's elated to stay in the Las Vegas Valley so her boys can grow up in the place they've called home for the last four years. She's also excited to address the state's healthcare needs, one child at a time.
"I'm ready to be called 'Dr. Underwood,'" she said. "I think that's when everything will start to seem real."
Learn More About Touro Nevada's DO Program