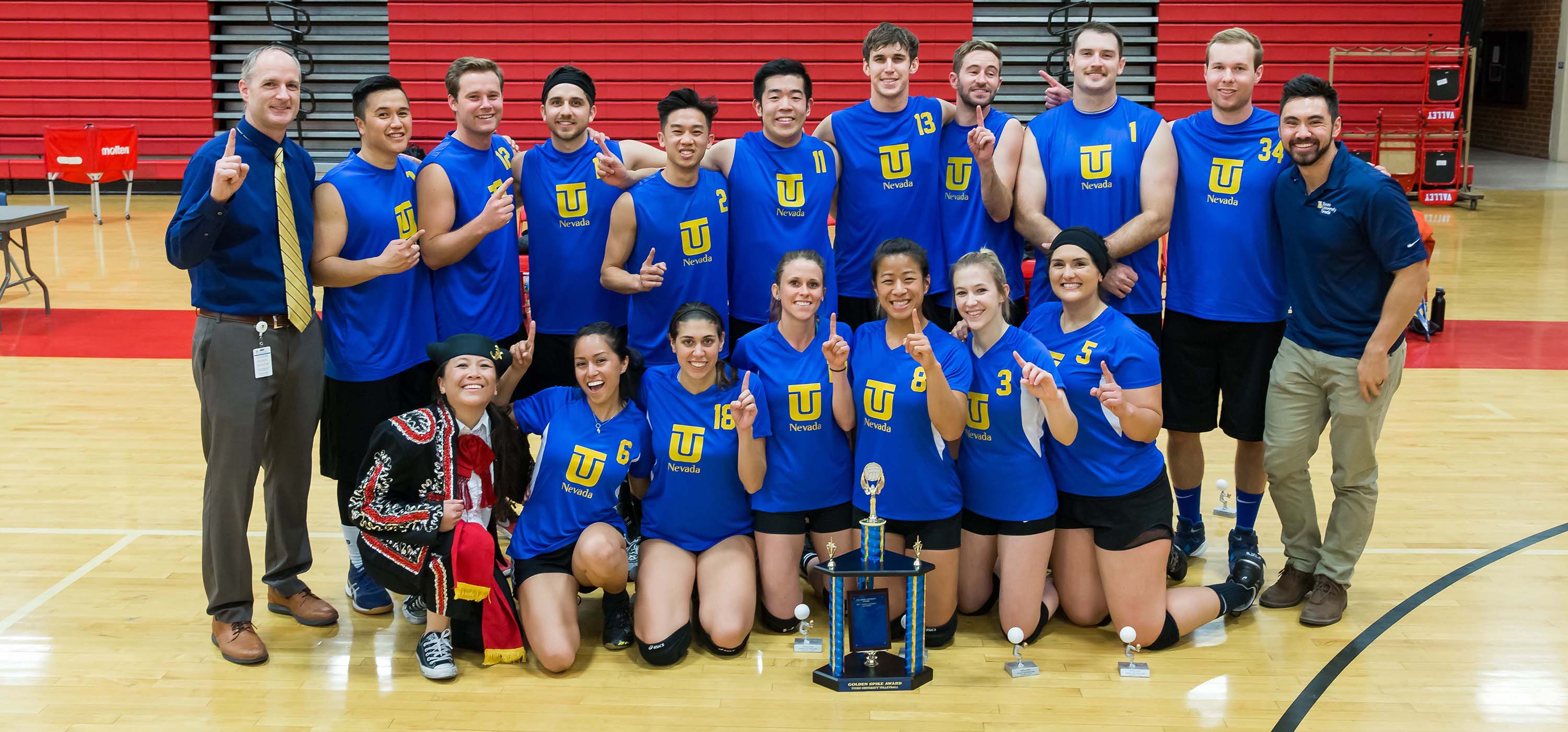 TUN Bests TUC During 'Golden Spike' Volleyball Game
The Touro Nevada Matadors took home the gold after beating the Touro California Bulls.
The Touro University Nevada Matadors defeated the Touro University California Bulls in dominating fashion during the "Golden Spike" volleyball game at Valley High School on Nov. 13.
The Matadors, who lost last year's match in Vallejo, Calif. in five sets, swept the Bulls to win this year's match. Fourth-year DO student Ryan Kedzie and second-year PA student Chelsea Phillips led the way for TUN with phenomenal serves and killer spikes from everyone.
Kedzie, who completed his undergraduate studies at The University of Illinois, has been playing volleyball since junior high school. He remembered how it felt after losing last year's game in California, so bringing the Golden Spike back to Southern Nevada was rewarding.
"Being surrounded by your classmates on your home floor makes it a lot of fun," he said. "It feels good to have the Golden Spike back with us. I'm really grateful for all of the fans who came out to support us. It's definitely a much different vibe playing in front of them, and feeding off of their energy helped us play better."
The Matadors won each set by at least five points and worked cohesively as a team to bring the Golden Spike back to Southern Nevada.
"We just had great team chemistry and worked really well together, especially since we only practiced for less than two weeks," said Phillips, who played on her college volleyball teams during her undergraduate years. "Since TUN lost in five games last year, we really wanted to win this year. I'm happy we didn't lose games and were able to get the job done."
Coach Dr. Robert Askey, Director of the School of Education, said he felt TUN had an advantage because the team carried a healthy mix of veteran players as well as first-year players.
"It was nice to have those experienced players because we didn't have a lot of time to practice together as a team," he said. "Those returning players had an idea for the style that we wanted to play, and we essentially used the same formula that we used last year."
Askey also credited the TUN crowd for energizing the team from the moment the match began.
"California has a really great environment to play in, which is great for them," he said of last year's match. "But our crowd was phenomenal. For our players, it was great that they had supporters from their own programs cheering them on. You could clearly hear everyone rooting for us, and I know that meant a lot to our players."