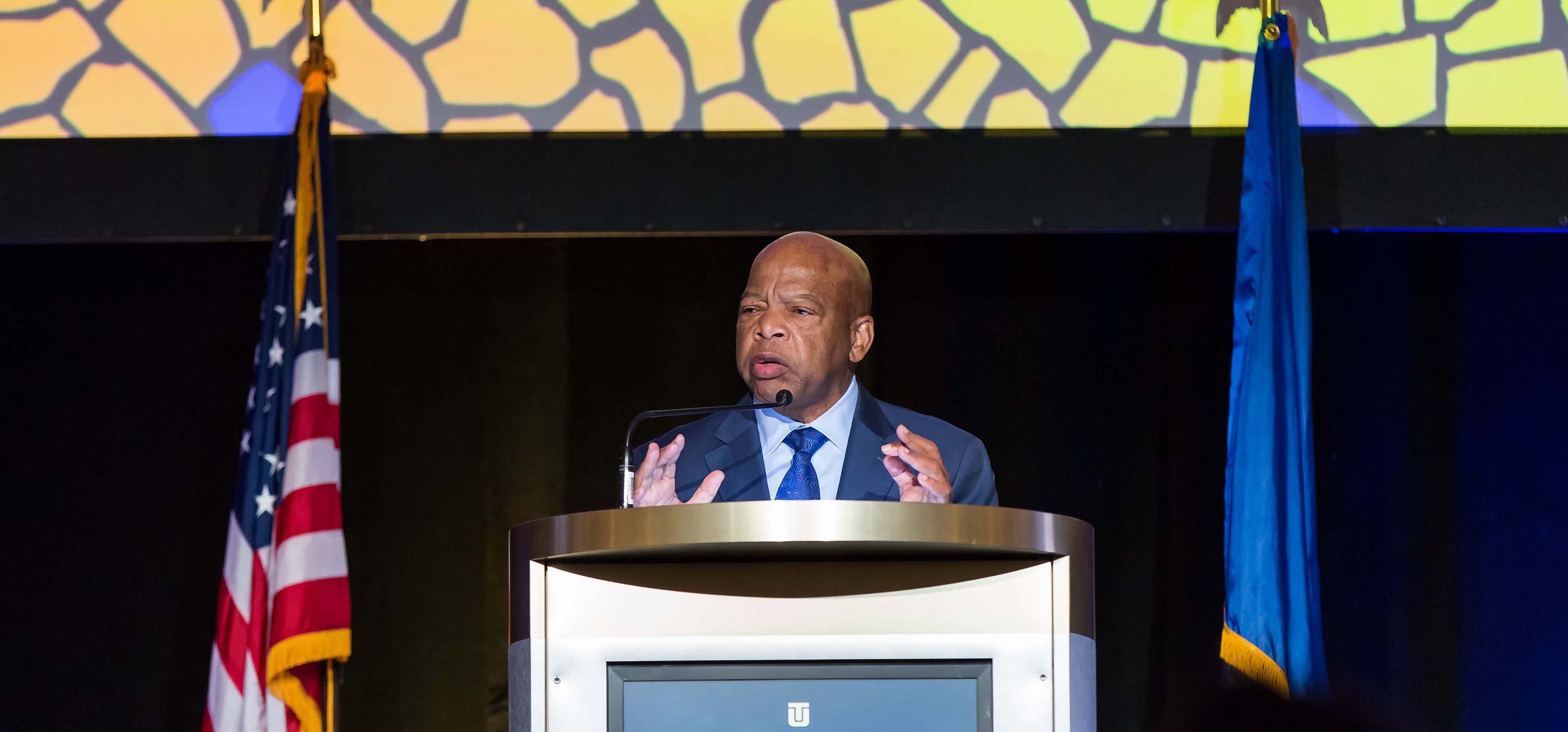 Touro Raises Unprecedented Amount of Money for Student Scholarships, Hosts U.S. Congressman John Lewis During Annual Gala
Hundreds of donors raised an unprecedented amount of money for student scholarships at Touro Nevada.
Touro University Nevada held its 5th annual Gala and Silent Auction which raised an unprecedented amount of money for student scholarships at The Four Seasons on April 22.
More than 550 donors, community partners, board members, and guests filled the ballroom to capacity at The Four Seasons for the evening's celebration. Guests bid on more than 100 items during the silent auction, including art, staycations, jewelry, and more.
To make the evening even more exciting, Touro University Nevada also hosted a live auction for the first time to offer guests more opportunities to purchase incredible gifts while providing for student scholarships. The live auction featured high-ticketed items, including an autographed jersey from Vegas Golden Knights goalie Marc-Andre Fleury, two extremely rare bottles of whisky from Mount Vernon Distillery, and much more, which brought in $57,000 for student scholarships alone.
While the evening offered delicious food and drinks, incredible auction selections, and quality company, the keynote speaker stole the show.
U.S. Congressman and civil rights icon John Lewis presented the story of his youth as part of his keynote address. Growing up in the small town of Troy, Ala., Lewis spoke of his difficult upbringing in the segregated South, his collaborations with Dr. Martin Luther King Jr. during the Civil Rights movement, and the importance of making healthcare a right for all Americans.
"Nobody should be denied the right to healthcare," he told the crowd to a rousing applause.
In 1965, Lewis was chairman of the Student Nonviolent Coordinating Committee (SNCC), a group of activists who fought for African-American equality during the Civil Rights movement. On March 7, 1965, Lewis and hundreds of additional activists led a 50-mile march from Selma to Montgomery, Alabama across the Edmund Pettus Bridge.
When the group reached the end of the bridge, Alabama state troopers assaulted the marchers in what would come to be known as "Bloody Sunday." Lewis recalled Bloody Sunday in his speech, telling the crowd that he thought he was going to die to that day.
"Seventeen of us were seriously hurt, so I appreciate the importance of medicine," he said. "I appreciate nurses and doctors, scientists and researchers. We must provide quality healthcare for all of our citizens."
After his speech concluded, Touro University Western Division CEO & Senior Provost Shelley Berkley presented Lewis with a certificate that made him an honorary adjunct professor at Touro University Nevada.
"Congressman John Lewis is an extraordinary man who has made it his lifelong commitment to fight for equality for all Americans," Berkley said. "Having Congressman Lewis as our keynote speaker for this year's Gala was wonderful. I know that he made an impact on everybody who listened to his incredible story."